Food-ictionary: Fried Rice with XO Sauce
Fried Rice with XO Sauce
Chinese Name:
XO酱炒饭
Pinyin:
XO jiàng chăo fàn
Jyutping:
XO zoeng3 caau2 faan6
Fried Rice with XO sauce is a dish made popular from Hong Kong back in the 1980′s when XO sauce is created. Fried rice mainly consist of rice, eggs, vegetables and poultry meat or seafood. The hero of the dish is of course, none other than the XO sauce itself. It is a spicy dried seafood based sauce created mainly using roughly chopped dried seafoods, including scallops, dried fish, dried shrimps which is then subsequently cooked with chili, shallots and garlic.

Posted by by velverse at November 26th, 2013
(versemark Cuisine - Chinese, Dishes - Rice, Dishes - Sauces, Food-ictionary)


Comments Off

| Link to post
Food-ictionary: Sesame Seed Balls
Sesame Seed Balls
Alternative Name:
Sesame Balls, Sesame Glutinous Ball
Chinese Name:
煎堆, 麻糰, 麻圆
Pinyin:
jiān duī, má tuán, má yuán
Jyutping:
zin1 duei1, maa4 tyun4, maa4 jyun4
Sesame seed balls or jin duei (also spelled according to different Cantonese pronounciation such as Zin Duei) is a type of Chinese pastry  made mainly from glutinous rice flour and sesame seeds. Depending on different country and culture, jin duei are also known as ma tuan in northern area of China and ma yuan in northeast of China.
The pasty is mainly coated with sesame seeds on the outside and is then deep fried, which makes it crispy on the outside and chewy on the inside. Inside the pastry is a large hollow caused by the expansion of the glutinous rice flour dough.
In general, sesame seed balls are served hollow as it is. However, some different variety of the pasty where the hollow pastry is filled with fillings. Fillings usually consist of red bean paste, sweet black bean paste, lotus paste, shredded coconut and grounded peanuts.

Posted by by velverse at November 25th, 2013
(versemark Cuisine - Chinese, Dishes - Dim Sum, Dishes - Pastry, Dishes - Snacks, Food-ictionary)


Comments Off

| Link to post
Food-ictionary: Nasi Lemak
Nasi Lemak
Alternative Name:
Coconut Milk Rice
Nasi Lemak is originated and known as the national dish in Malaysia. The name of the dish literally means "fatty rice", but is taken in the context to mean "rich" and "creamy". It is a dish made using fragrant rice cooked in coconut milk and "pandan" leaf. In the cooking process, the rice is soaked in coconut cream (santan) and the mixture is then steamed. Sometimes knotted screwpine (pandan) leaves, ginger and occasionally herbs such as lemon grass are also thrown into the rice in the steaming for additional fragrance.
Nasi lemak is traditionally wrapped in banana leaves, newspaper or brown paper with cucumber slices, fried anchovies (ikan bilis), roasted peanuts, hard boiled egg and spicy chilli sauce (sambal). For a more substantial meal, it is also served with a platter of side dishes such as fried chicken (ayam goreng), chicken/mutton/beef rendang and cockles, prawn or cuttlefish in spicy chilli sauce and many other accompaniments. In most cases, these side dishes are mainly spicy.

Posted by by velverse at November 10th, 2013
(versemark Cuisine - Malay, Dishes - Egg, Dishes - Rice, Food-ictionary)


Comments Off

| Link to post
Food-ictionary: Teh Tarik
Teh Tarik
Alternative Name:
Hot Indian Milk Tea, Indian Pulled Tea
Teh tarik is commonly milk tea drink consist of black tea, condensed milk or evaporated milk, found in restaurants, kopitiams as well as outdoor mamak stalls mainly in South East Asia countries, mainly in Malaysia and Singapore. It's name literally means "pulled tea" and is derived from "pulling" or pouring process the hot Indian milk tea beverage during it's preparation.
In the "tea pulling" process, the mixture is poured back and forth repeatedly between two big metal mugs from a height to give it a rich frothy texture. Originally, this process is supposed to cool the tea to an optimal drinking temperature while mixing the tea thoroughly with the condensed or evaporated milk. While it may sound simple, pouring a proper cup of the tarik is a skill which require years to master, and a skilled teh tarik maker will never  spill a drop.

Posted by by velverse at November 6th, 2013
(versemark Cuisine - Indian, Drinks - Tea, Food-ictionary)


Comments Off

| Link to post
eat.shop.learn.explore Hong Kong Day01: Shop and dine… till we drop
After a whole day of walking, exploring and of course loads of shopping for the first day..
We decided to call it a quit for the day.
But of course.. we need to end with a bang.
What better way than food. Like yes, literally our "dinper" (dinner/supper)
After all, eating is one of the reason why, without a doubt or question.. the reason that keeps me walking.
We walked passed this chaa chan teng , Tsui Wah Restaurant 翠華餐廳 which somehow seems so close to heart.
It seems like I've been there before.. weird.. but yes.
Address:
Tsui Wah Restaurant 翠華餐廳  (Jaffe Road Branch)
G/F, 483-499 Jaffe Road,
Causeway Bay,
Hong Kong
Telephone Number: (852) 2892 2633
Website: http://www.tsuiwah.com/
Opening Hours: Monday to Sunday (open 24 hours)


Hong Kong-style Milk Tea is definitely a must try when in Hong Kong.
I mean yes, it is after all the signature drink of the country.
Yes, you are only forgiven for not trying if you are caffeine-intolerant.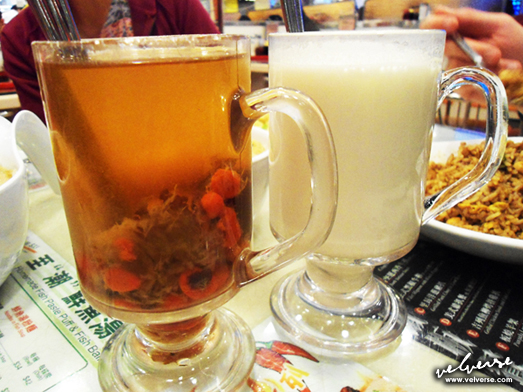 Almond Milk Tea and Eight Treasure Tea seems to also be quite a common drink served in most cha chaan teng in Hong Kong.
While I personally don't quite like the "cockroach taste-like" Almond Tea.. many seems to find it enjoyable.
Well, not that it has cockroach in it… and not like I had tasted one before.
Now I know what you're thinking… I wonder how do I come up with such a taste-term. LOL!
Being a pork lover, I couldn't resist myself from ordering anything pork.
This is one of the few country, finding pork-filled food is as simple as ABC.
I mean, seriously… I just have to end my day right with overload of pork!
What better than braised pork with dumpling noodle soup!
This might not be the best in the world dish or restaurant. But I am satisfied and feel contented!
Soft and tender braised pork *slurp slurp*.. pork dumpling with flavorful rich pork bone soup.
Arghh… now I wish I tapau-ed some back!
While we didn't manage to try the roadside fish ball stalls, we still ordered some to try out.
The different variety of fish balls in seaweed soup is really different.
The seaweed definitely adds the "sea flavour" to the whole dish.
As for the fish balls, they all have different texture.
But I must say, the fried ones are more my style. After all, I love the crunchy skin with bouncy feeling.
My cousin… oh my cousin! She of course, has a  stronger hongkie taste in her than me.
She opted for the Hong Kong-style Cheese baked Rice with Pork Chop.
Which I did steal a bite or two. I mean, how could I resist… a combination of all good things in one.
Yes… oozing cheese! Pork Chop! Button Mushrooms! and of course the Tomato Sauce!
Damn! Sometimes I just wish I had four stomach.. and well, that I won't get fat from just eating and eating and eating.
*ooo la la*, seriously.. nothing can go wrong with XO sauce.
If it ever happens, the cook should just never try to cook… ever again!
I mean right, it's a multi-purpose sauce.. created using more than 10 premium ingredients to create such a luxury sauce.
A dash of the XO sauce will instantly brings the dish to stardom.. probably brings the seafood and meat back alive!
So yes, bet you can guess we simply wallop everything… till the very last grain of rice of this fried rice with XO sauce
*nom nom nom* braised pork and dumpling is not enough to kill the crave.
I needed something more… something that has pork. Something familiar, something I grew up with..
Yes maam, that's gotta be luncheon meat.
We ordered fried rice with luncheon meat and kalian. And it was lovely! The crunchy kalian stem does give an extra texture to the dish itself.
Burp! *rubs tummy*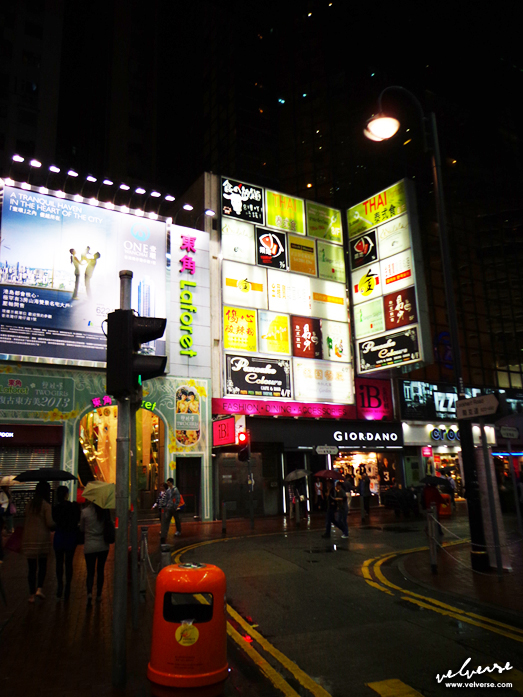 We will for sure need to walk it off a little.
And everywhere I turn too, I can't help but to see more shopping malls.
And they are all calling out for me.
Now isn't this scary? Aww.. don't be silly, it's just the night view of Causeway Bay..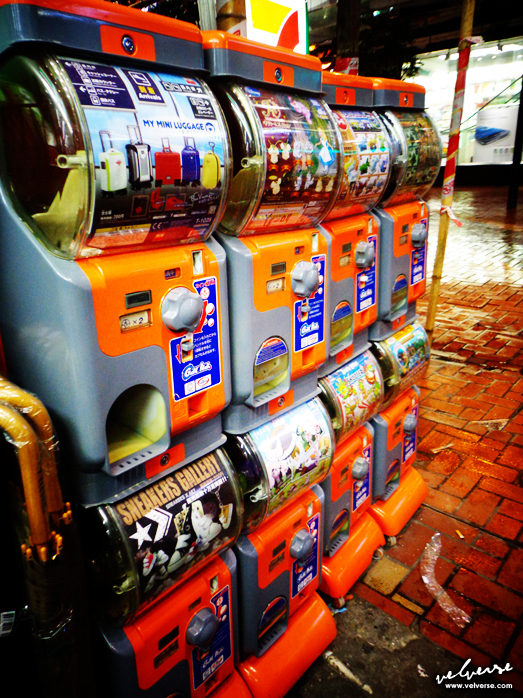 But wait! Look what I found.. OMG OMG OMG!! Gashapon machines.
They used to be easily found everywhere and anywhere. But now, they are like relics.
It has become incredibly hard to find items in Hong Kong nowadays.
Then again so sad. There isn't anything which I specifically like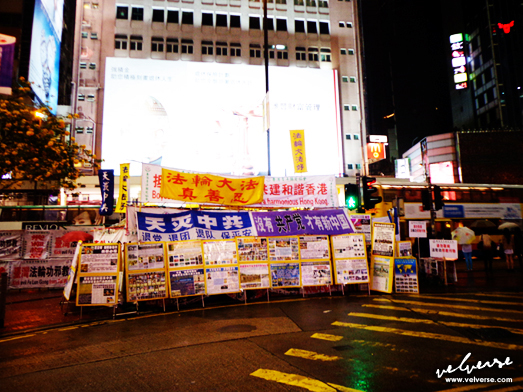 And guess what.. just before walking back to hotel… bump into some protest banners.
Not too sure what it's all about.. but yes, judging from the TVB series plots.. this all seems just too local.. too Hong Kong indeed


Posted by by velverse at November 5th, 2013
(versemark Cuz power!!, Happy Ho! Ho! Ho! Holiday, Hong Kong, In the Mood for Food, Restaurant Hopping)


Comments Off

| Link to post
Food-ictionary: Hong Kong-style Cheese Baked Rice with Pork Chop
Hong Kong-style Cheese Baked Rice with Pork Chop
Alternative Name:
Hong Kong-style Baked Pork Chop Rice with Cheese
Chinese Name:
芝士焗豬扒飯
Pinyin:
zhī shì jú zhū bā fàn
Jyutping:
zi1 si6 guk6 zyu1 paa4 faan6
Cheese Baked Rice with Pork Chop is a classic Hong Kong dish consist of fried pork chop with rice topped with melted cheese. This dish is a combination of Chinese ingredient and style cooking with influence of west such as use of tomato sauce and cheese. The combination is then baked in oven for cheese to melt.
There are different variety of sauces such as cream sauce, curry sauce and sweet and sour sauce. In some cases, fried rice is use as substitute to the plain white rice.

Posted by by velverse at November 4th, 2013
(versemark Cuisine - Chinese, Dishes - Cheese, Dishes - Pork, Dishes - Rice, Food-ictionary)


Comments Off

| Link to post
eat.shop.learn.explore Hong Kong Day01: Night walk in Causeway Bay
The walking and shopping in Hong Kong really has no limits.
Yes… one can just walk and walk and walk, from sunrise to sunset,
and from sunset to sunrise.. and yet, we can keep on walking.
And in Causeway Bay (銅鑼灣), the shopping malls are like  growing mushrooms.
To a point I almost got lost. Yes, me.. like a little girl.. got lost.
Then again, who can blame me. The malls here are quite small and packed.. but up to many levels.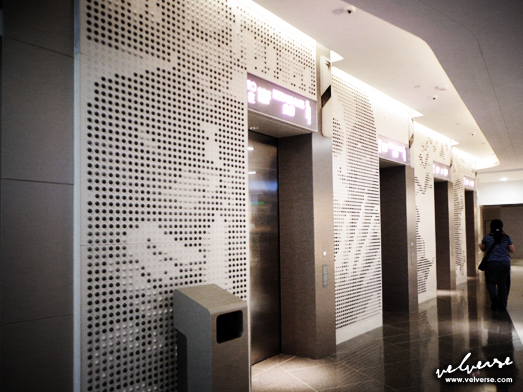 From Times Square (時代廣場) to Hysan Place (希慎廣場), the shopping experience never ends. And we all know the shopping mall competition is simply crazy. So standing out is crucial.
Address:
Hysan Place (希慎廣場)
500 Hennessy Rd,
Causeway Bay,
Hong Kong
Telephone Number: (852) 2886 7222
Website: http://hp.leegardens.com.hk/
Opening Hours: Sunday to Thursday – 10.00am to 10.00pm, Friday, Saturday, and the Eve of Public Holidays – 10.00am to 11.00pm
What I love most and got my attention is the lifts. Sounds crazy?
Totally not! The designs seems normal from near, with protruding pebbles.. but it actually forms some kinda pop art style portrait!
Oh.. I totally heart it!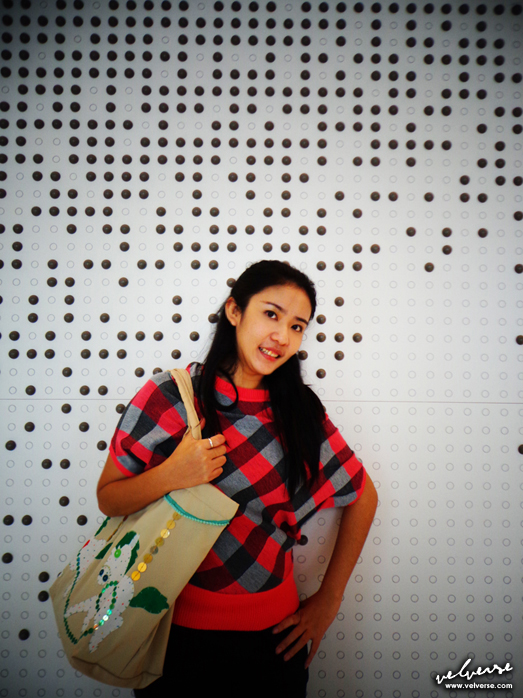 So yes, how can I not pose? LOL!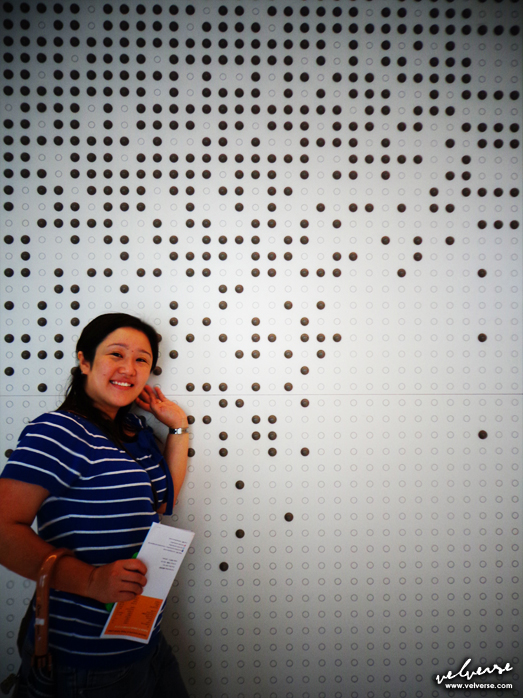 And yes, who says shopping in causeway bay is limited to malls. Shopping never ends there.
For sure the saying of "the night is still young" applies 365 days for Causeway Bay.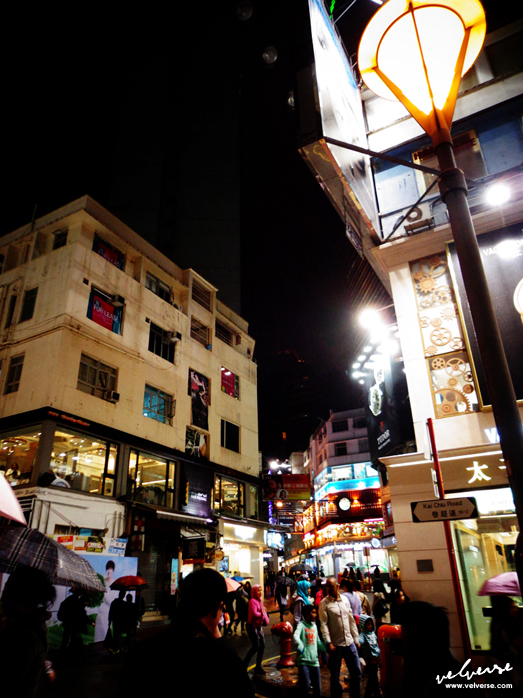 There is this one place, which I think hardly any ladies can miss out.. you know what I'm talking about for sure.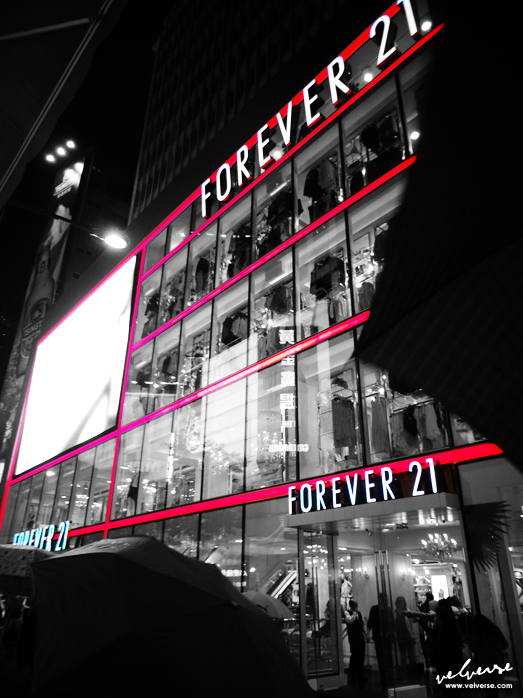 How can anyone miss "Forever 21″? It's just not possible. One can just go wild and crazy here.
Address:
Forever 21 Hong Kong Flagship Store
Capitol Centre, 5-19 Jardine's Bazaar,
Causeway Bay,
Hong Kong
Telephone Number: (852) 2890 4791
Website: http://hp.leegardens.com.hk/
Opening Hours: 10.00am to 1.00am daily
Right after the shopping craze, we continued to venture around.
And no one can believe what we bump into! *shocked*
Haha.. I found this waxed items such as ducks, chinese sausages that dad totally love!
If only I can bring all of this back.. I think dad will be jumping up and down. Hehe *doink doink doink*

Posted by by velverse at September 16th, 2013
(versemark Cuz power!!, Happy Ho! Ho! Ho! Holiday, Hong Kong)


Comments Off

| Link to post
eat.shop.learn.explore Hong Kong Day01: Miss You Much, Leslie
I used to wonder and doubt.. what makes this place so famous?
Why? Why Times Square?
Is it a given because of the name it carries?
I guess location plays a big role.
But what makes it a place to visit even if shopping is the last thing in your list or mind, is the events and display.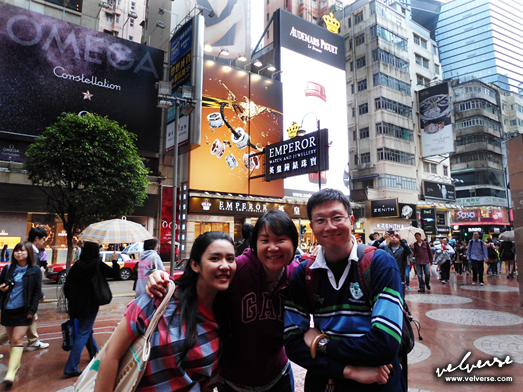 They just never fails to house interesting activities or events. Yes, something malls should learn and take note about.
And guess what I found? I was walking around and notice this..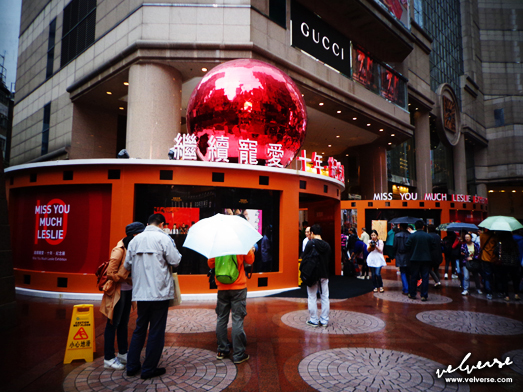 Right, was coincidently in Hong Kong and celebrated the 10th anniversary of the Hong Kong handover.
And now, I once again.. coincidently landed myself in Hong Kong.
This time, another 10th anniversary celebration.
Times Square is proud to present the Miss You Much Leslie Exhibition (繼續寵愛.十年.音樂會) which marks the 10th anniversary of Leslie's death. On the outside of the exhibition,  one can find a mini movie theater that housed many of Leslie's legendary works.
The design of the exhibition is very interesting. At the outside of the mall, you can find a giant bling bling red ball sitting on top of the mini theater symbolizes the immortal light (Leslie's charisma and spirit) will continue to shine brightly in his fan's heart.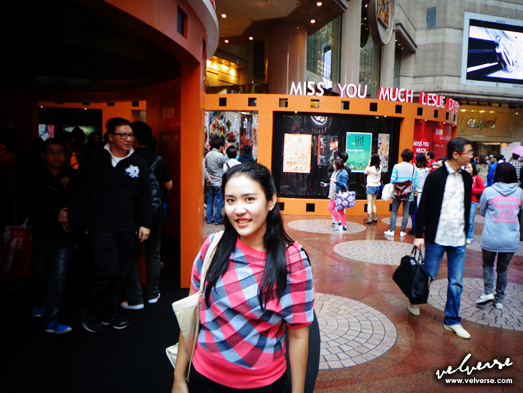 Audience can find  scheduled Leslie's legendary films, past interviews as well as interviews of some famous Hong Kong artistes and directors that used to work with Leslie. One can also see an array of movie posters and books from the earlier days of Leslie's career.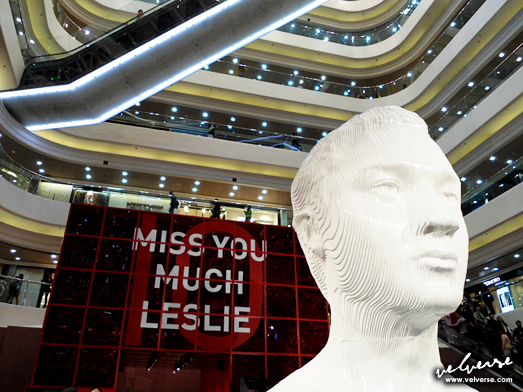 The moment I hit the concourse… I was wow-ed.


Yes, I seriously mean jaw dropping "wow" when I saw the 6 meter height statue.
Now tell me… who wouldn't be shocked.
Look at the layers and the amount of detailing in place.
To be honest… I am more than just shocked. I was speechless!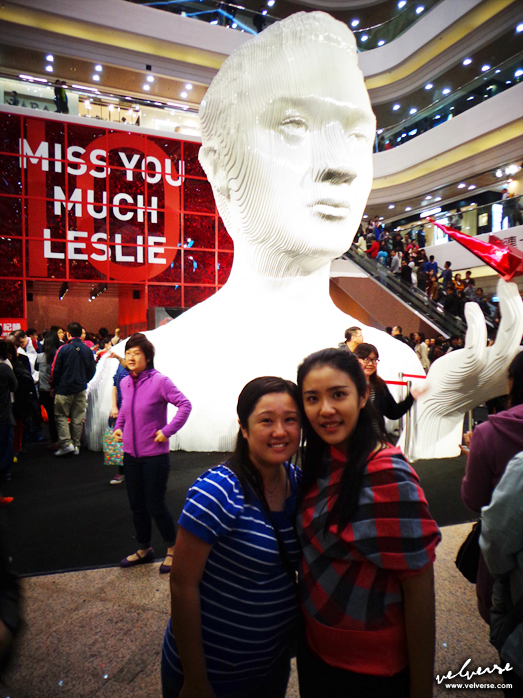 This is a definate must pose in photo.
Seriously, it is not something you get to conveniently "coincidently bump into" event.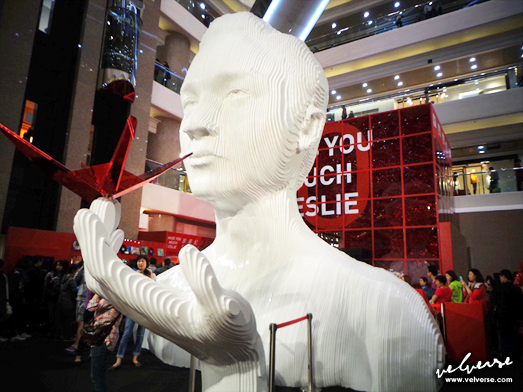 I kept wondering.. why red? why origami paper crane?
It's obvious I wasn't really a die-hard fans of Leslie. Apparently red is his favourite colour.
No idea why the paper crane.. probably it is a symbol of 'peace'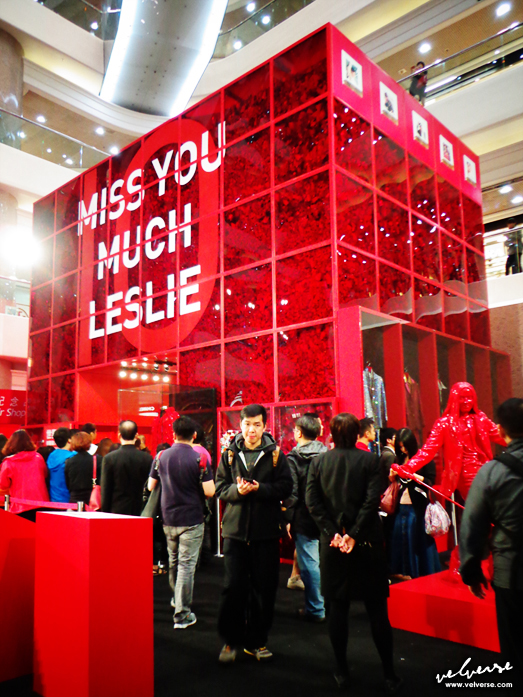 The exhibition is simply awesome as it also house a new Guinness World of Records for having the most origami created for a cause. Fans folded and collected more than 1 million paper cranes.
The original goal was to achieve 1,956,912 cranes to signify his birthday on 12th September 1956. However, the judges from Guinness World of Records confirmed that there were only 1,900,119 cranes were collected. The memorial origami are displayed at the large transparent red archway behind the large statue of Leslie's.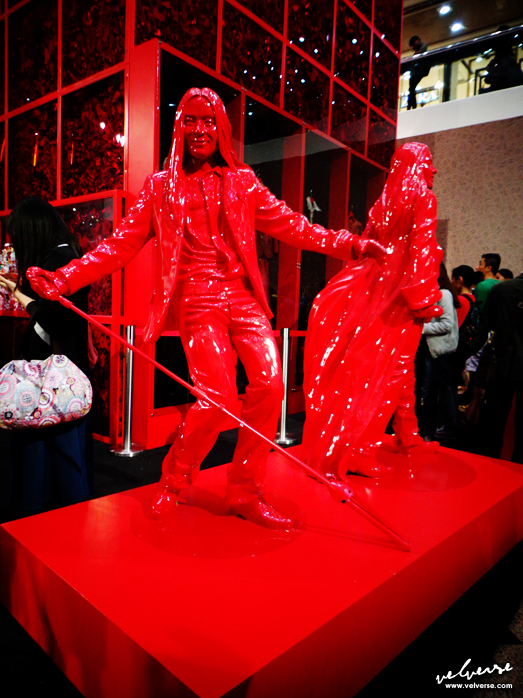 There were also a few red 1:1 scale statues with classic styles and pose of Leslie placed around the exhibition areas which also displayed awards that he received during his singing and acting career. One can hear Leslie's famous songs on the background while enjoy spotting Leslie's notable concert costumes.
How long did I spent walking around the Miss You Much Leslie's Exhibition?
You really want to know?
Hmm.. I would probably tell, after a good cup of coffee


Posted by by velverse at September 14th, 2013
(versemark Cuz power!!, Happy Ho! Ho! Ho! Holiday, Hong Kong)


Comments Off

| Link to post
eat.shop.learn.explore Hong Kong Day01: The Colours Of Causeway Bay
The walk begins..
There are just way too many shops and malls around.
I don't even know where to begin.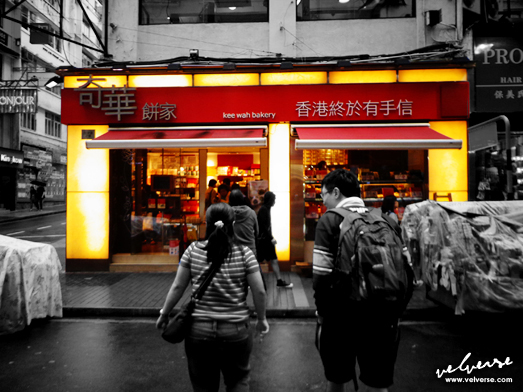 On the street itself.. there were so many interesting shop.
One that caught our attention was a famous local bakery, Kee Wah Bakery (奇華餅家).
I actually knew about this bakery mainly through HK movies which features Eric Tsang as he is the spokesperson for the bakery.
Yup.. any movies that actually stars him, would feature Kee Wah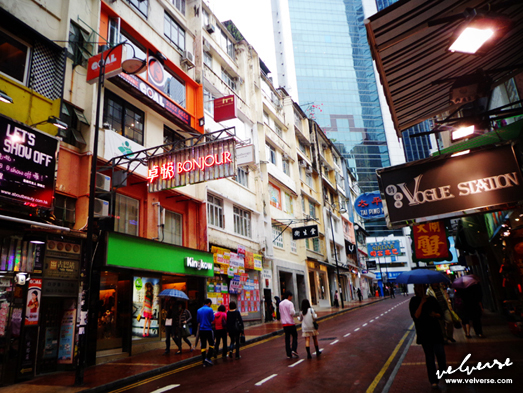 The rest of the street didn't change that much from I last recall.
The street are still as colourful and vibrant as I remembered it to be
With a lot of funky and cool shops.
But nevertheless, there are a lot of construction happening.
Revamping, renovations.. upgrades..
Some may find it weird, but I can't help but to take picture with the bamboo scaffolding and the "red blue white" cover.
Haha… this is just so iconic about Hong Kong.
Yes, seriously.. this is what I grew up remembering about Hong Kong anyway!
Yup.. where Jackie Chan jumps around and do their stunts. Haha..
But to be honest, some things that I am still getting used to..
Would be adapting to looking at nostalgic small stalls surrounded by tall high-rise building
Which in some ways does add flavours to the city.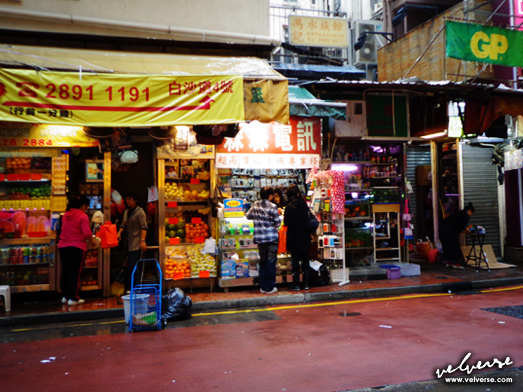 Some flavours that not many will still appreciate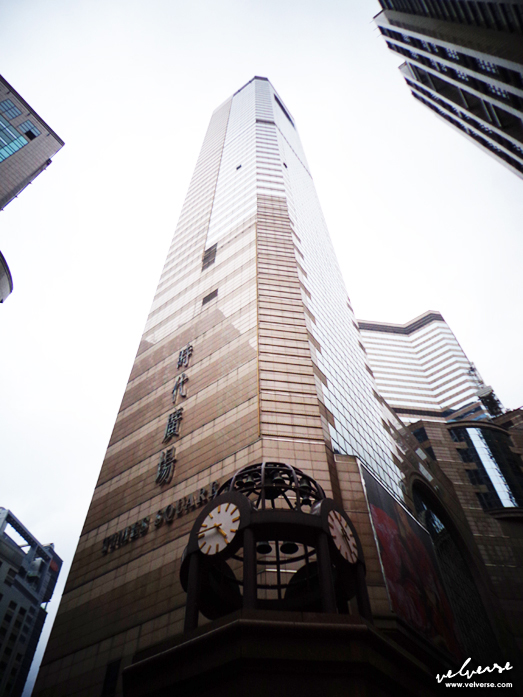 But look what I found.. the most memorable and iconic place, Times Square (時代廣場).
Time to shop!!
Address:
Times Square Hong Kong (時代廣場)
1 Matheson Street,
Causeway Bay,
Hong Kong
Telephone Number: (852) 2118 8900
Website: http://www.timessquare.com.hk

Download information on how to get to Times Square here.

Posted by by velverse at August 24th, 2013
(versemark Cuz power!!, Happy Ho! Ho! Ho! Holiday, Hong Kong)


Comments Off

| Link to post
eat.shop.learn.explore Hong Kong Day01: The Love for French Toast
Mmm.. I'm hungry! I want food!
I've been saving all my stomach spaces to try out the local Hong Kong cuisines.
And the moment we saw Hong Kong style restaurants.. we immediately gone crazy!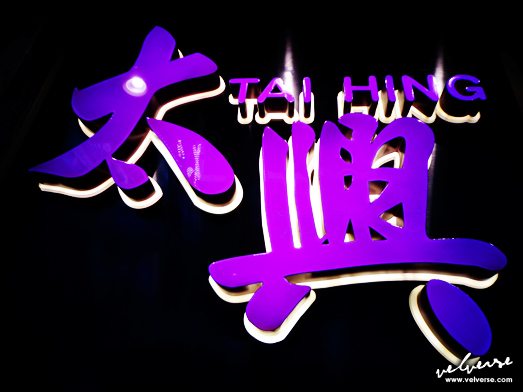 Right.. Tai Hing Restaurant (太興飲食集團) somehow manages to stood out among the others.
For me, it's clear that their logo are of my favourite colour.
And to add.. the amount of nicely roasted ducks, goose and chicken are enough to lure me
To add, they have big fat juicy chunks of roast and BBQ pork at the background
And that does it for me.
Ah… yes.. such a beautiful sight isn't it?
I know… I am kinda shallow. I tend to die in the hands of good looking food.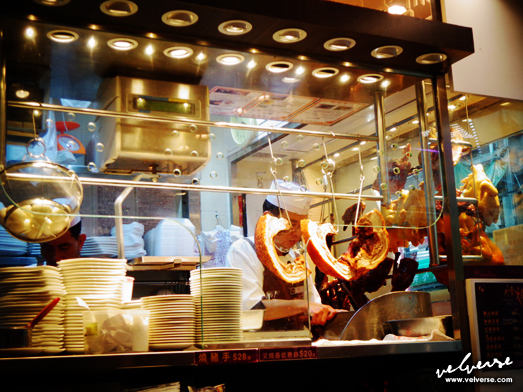 I can hear them all calling my name~
Can you?
Bet you can't believe that I gave them a pass over processed meat

Now, this is one of the sets from the Breakfast Set G (HKD29)
Which includes vermicelli noodles soup with preserved cabbage and shredded pork noodles + toast with scrambled eggs
Ooo… which I find the combination quite funny.
Yes, quite fusion in my opinion. Asian style noodles with western style toast.
But hmm… who cares, so long as it tasted good.
Me and my cuz.. yes, of course great mind thinks alike.
And with our undying love for luncheon meat…
We both decided on Breakfast Set E (HKD29)
Which includes luncheon meat and scrambled eggs instant noodles.
Oh yes, can see her happy and contented look right? Now who wouldn't!
I'm seriously have no clue what luncheon meat they use.
But I can for sure tell it tasted so damn good.
Even better than those type we found in Malaysia.
With the chunk of meats and it's rough meaty texture *saliva drips*
Yes, the luncheon meat in Hong Kong is something to die for.
And I ate like there's no tomorrow! *fat, fat*
To me, and probably my cute cousin..
Hong Kong is the land of french toast. Probably land of luncheon meat too.
But right.. the deep fried bread… done to perfection.
Look how golden brown it was

So yes, we ordered the french toast with butter (HKD20)
With a dash of butter right in the middle.
Oh.. and did I mention, I love how my cuz professionally poured the maple syrup.
Pretty isn't it?
Well.. it tasted good, crispy on the outside.. soft inside
But I was somewhat disappointed. Yup… sadden by the fact that there wasn't any peanut butter in the center.
I'm sorry but yes… peanut butter make hell lots of difference.
Yes.. you know.. the moment you cut it.. the melted peanut butter oozing out.
And you get the mixture of sweetness from the maple syrup, saltiness from the peanut butter, the aroma and smoothness from the melted butter.
Ooo.. it just blends in so well.
Although I was a little disappointed with the French Toast.. the iced yin yong (iced milk coffee mixed with tea), or I should say chilled yin yong (HKD3 to upgrade drinks from breakfast set) manages to brighten up my day.
The first time milk tea served to me in this manner, which I pretty much like.
You get a chilled drink, without the ice diluting the milk tea.
And yes.. this might not be the best milk tea in Hong Kong.
But beyond comparison to the ones in Malaysia.
But then again, me being me… I need my super kau-kau coffee. Hence I opted for iced coffee at the same cost.
Ah… *rub tummy*
Let's start to plan where to shop! Haha..
Address:
Tai Hing Restaurant – Causeway Bay (太興飲食集團 – 銅鑼灣)
Shop J, G/F, Po Ming Building,
49-57 Lee Garden Road,
Causeway Bay,
Hong Kong
Telephone Number: (852) 2576 8961
Website: http://www.taihingroast.com.hk/
Opening Hours: 7.00am to 11.30pm daily

Posted by by velverse at August 21st, 2013
(versemark Cuz power!!, Happy Ho! Ho! Ho! Holiday, Hong Kong, In the Mood for Food, Restaurant Hopping)


Comments Off

| Link to post
Want to chit chat with me but shy?
«
Mail to me!
Recently watched movie:
Movies, movies, movies... yeap I like watching movies. Lots and lots of em'. View my ratings list!
As you can see, this site is full of my crap shit which basically includes my opinions, comments and critics. Yep yep.. all mine!
If anyone finds content inside this blog as offensive, please stop browsing and .. let's see.. need me to show you the way out?