Shake that ass! Do that sleek dance move. Yes… I know you can do it. Everyone can dance… so can you! The salute this time.. is to the dancing queen. The ones that capture your attention, mesmerize you with their moves… make you drool. Now… that is what we call… "hips don't lie".
Okay… I gotta try out different different styles. This time a little more manga dance diva style. As usual… I still keep the sexy blue hair thing going. Don't ask me why. I still haven't get over the blue hair thing. Being a sexy and sleek dancer…. super short mini skirt is a must… not to mention long legs. *drool*
Throw in a pair of long shocking pink boots… ooo la la… Hit me baby one more time!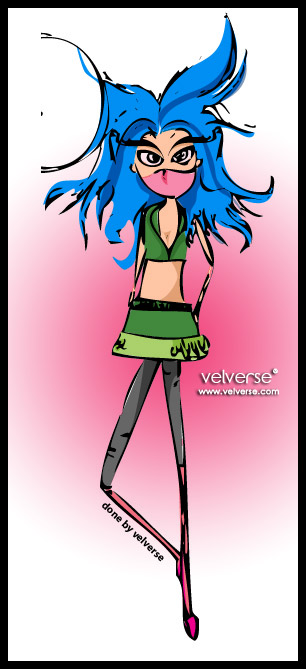 What is up next week?
Project theme: New Year, New You
Project description: 2006 is last year. 2007 is now. Everything needs a fresh start. Project deadline: 3 January 2007, Wednesday.
Submit to: mandy@velverse.com
Anyone and everyone is welcome to join. Be it good or bad… it's just something we do for fun! Generate some cool ideas and well.. surely fill up some of our boring times 😀
Click on the banner go link to the project crossroad gallery.