📢 The long awaited Andy Lau Vision Tour 2005 update 📢
I've finally got the time to post up this entry.
I better do before I forget more details about the concert.
Sadly, I have just gotten a year older and my capability of remembering things are getting worst .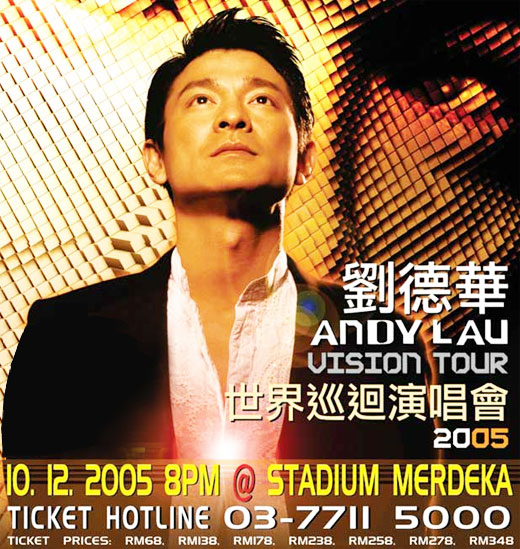 D-Day is here, 10th December 2005.
Definitely a day to remember, a day never to be forgotten.
It marks my first time in my life meeting Andy.
I arrived way earlier despite it was a number seated concert.
Arriving 2 1/2 hours earlier, I went walking around to experience the concert experience.
I went around looking at merchandise, water and food.
Check out my experience here.
I finally realise, waiting for a concert to start is a torture.
It felt like forever and time is ticking like tortoise .
Me and mom decided to go in and the first thing we do? Head to the toilet.
I don't want to be distracted and just want to focus my entire next few hours looking at Andy only.
The moment we went inside the stadium, we are shocked and were wow-ed by the majestic stage design.
Like really. WOW!  Wow! WOW!
That stage is just grand and large in scale.
I finally understood why in an interview, Andy proudly talk about how he and team carefully and diligently piece the stage together.
The design of the stage has a grand Chinese look and feel door. One that resembles the door of a grand palace in China.
I was seated there impatiently, kept looking at the giant door wondering when it will open.
I wonder what it would be like inside.
According to the media, the size of the stage is like a 7 storey building in height.
I was counting down and I kept asking my mum, "What time is it?"
Please start soon! I can't wait anymore!
While staring at the closed door, something caught my attention.
I suddenly saw a group of fans wearing orange shirt walking pass in front.
As they walk closer, I could clearly see the words printed on their shirt – Andy Lau World Club.
WOW! I never knew it was real. Like I have seen these scene in TV but in reality it felt great.
The Andy Lau fans club power. And it is really quite a big crowd. I think there were more than 80 of them.
They came seriously prepared. Every one of them are in the striking orange fans club T-shirt.
Each of them carries this big plastic bags, and I am guessing it was all their equipment such as fans sign, banners, glow in the dark signage, glow sticks and etc.
And some of them even brought flowers .
It's a first time I saw that many people carrying all these things into a concert hall. Please forgive me if I sound exaggerated. I'm only comparing it to a handful of concert I have been to in the past.
It's almost 8.30pm already and the show still hasn't began.
And I felt like going to the toilet again.
Just as I was about to go, the ✨ lights starts to dim.
And just like that, I completely forgotten the thoughts about going to the toilet.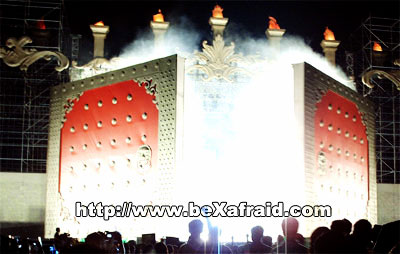 Image taken from: http://www.bexafraid.com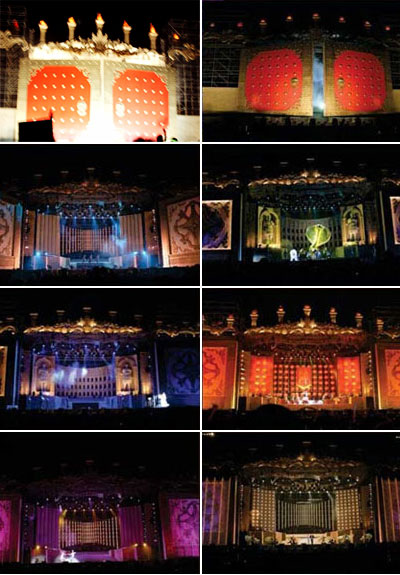 Image taken from: http://www.absolute-entertainment.com/
Dimmed lights. Background music. Check ✅.
You know the show is starting when we hear the introduction listing out the official sponsors and the event organizers.
While I wasn't paying serious attention to it, I want to thank them for making it happen.
My eyes were glued and stayed focus on the stage movement.
I think I try to even not blink cause I fear that I miss out Andy's grand appearance.
And soon, the giant door opens to a beautiful and contrast Western theatre like design.
The set and lighting was amazing. And I love how he puts in effort to make sure the theme of East meets West is showcased in the concert.
I recon I have saw the stage design somewhere online when I was reading up news on Andy Lau earlier.
Looking at the stage, I finally understood why it takes over 200 people across 2 weeks to assemble this.
According to online news and sources, the stage took 2 years of planning and cost over HKD10 million to produce.

Image taken from: http://www.bexafraid.com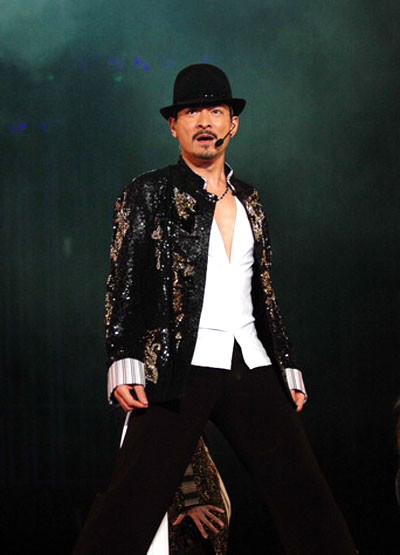 Image taken from: http://ent.sina.com.cn

Picture taken by Steven Sum.
The concert started of  with a more modern western setting.
Shadows and silhouettes are forming. And suddenly we heard Andy's voice.
The audiences including myself gone wild.
We can't contain our excitement anymore and every one at the front section starts standing up, jumping and screaming in excitement all the way.
In a way, we have no choice but to join in the excitement else we will miss out catching the grand entrance of my love!
Andy Lau finally appeared on stage and kickstart his Andy Lau Vision Tour in Malaysia with a mash up of 4 fast track –
但願未流淚 Dan Yuen Mei Lau Lui (loosely translated as Diamond Tears) / 鑽石眼淚 Juen Sek Ngan Lui (loosely translated as Diamond Tears) / 末世天使 Moot Sai Tin Si (loosely translated as Latter Days Angel) / 我恨我痴心 Ngo Han Ngo Chi Sam (loosely translated as I Hate Myself For Loving You).
Appearing in front of us in a Michael Jackson like style – a black fedora hat, a white shirt under his lavishly beaded black jacket. He looks so macho!
He even attempted to do a moon walk , even when he had injured his leg while filming his latest movie – Battle of Wits.
I know I am biased, as I think he still dance very well despite his injury.
Singing and dancing to the 4 songs and among them,  I love most is 鑽石眼淚 Juen Sek Ngan Lui
Right after the 4 songs, Andy started to interact with the audience and this made the crowd go wild!
"When you guys were at home earlier, are you guys worried/afraid that it will be still raining during the concert?"
"It has been ten years since I last step foot here."
"Most of the time, my concerts were held in Genting."
"Tonight, you guys can watch my performance in peace."
"You don't have to worry about your partner going to the casino and gamble."
"You don't have to worry about you wanting to go to the casino and gamble."
"The night is ours. You want me to sing how long.. I will sing how long"
💖 Aww.. such a sweet talker!

Image taken from: http://ent.sina.com.cn
Andy then continues with his solid performances when he suddenly asked:
"Who have known me for 10 years, raise your hands."
"Now, who have known me for 20 years, raise your hands."
"Those of you who are unsure, if you have listened to this song before then you would have at least known me more than 20 years."
Andy then started to sing his iconic song 如果你是我的傳說 Ru Guo Ni Shi Wo De Chuan Shuo (loosely translated as If You Are My Legend)".
To get the audience to sing together and have a wonderful togetherness atmosphere, the giant screens on the side of the stage showcase the lyrics of the song.
This helps and get all the audience to sing alongside Andy.
Love the whole feeling when we all get to sing a song together.
Andy then continued by saying
"Now, you have at least known me for 20 years."
"Don't worry, you will know me for a long time more."
"I'll force all of you to see for me 30, 40 even till 50 years."
He then continued to woo the audience's heart when he said his  heart is for all of this fans.
When he starts singing 心只有你 Sam Ji Yau Nei (loosely translated as My Heart Only Have You)", all the fans starts screaming.
Right after the performance, the lights we dimmed and Andy disappeared from the stage.
This was also a break where the stage and props transitioned from a modern theatrical setting to an ancient Rome inspired setting.
The backdrop is updated to a replica of the colosseum with 2 huge colossal Roman warrior statues at the side, which gives a strong heroic and bravery vibe.

Image taken from: http://www.ahsai.com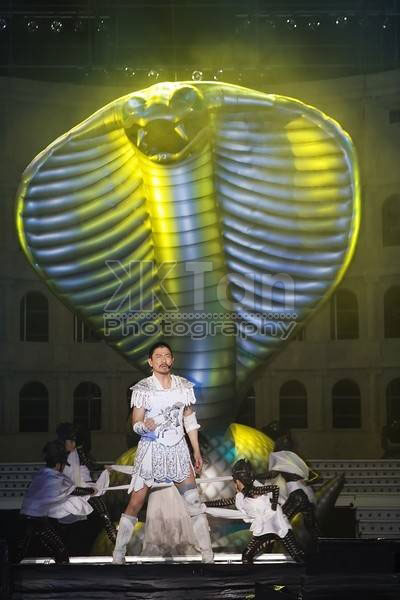 Image taken from: http://www.ahsai.com

Image taken from: http://www.ahsai.com
The most interesting props is the inflatable columns and a King Cobra .
Shortly after, the dancers appears and soon, the dramatic rescue happens.
In this performance, Andy portrays a hero trying to save his beau.
I must admit the props and the dancers were amazing in creating the mood.
Everything was being done to perfection. And the highlight of this segment includes a huge white lion .
Yes, a size similar to the regular lion dance.
Together with the white lion, Andy sang 谢谢你的爱 Xie Xie Ni De Ai (loosely translated as Thank You For Your Love) to thank everyone for their support all these years.

Image taken from: http://ent.sina.com.cn

Image taken from: http://ent.sina.com.cn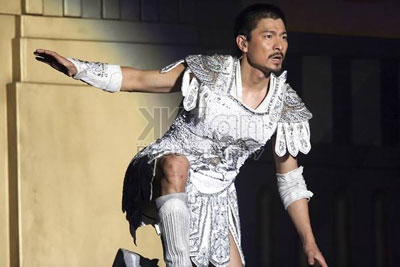 Image taken from: http://www.ahsai.com
"Many people ask me, why I kept holding concerts since it's tough and takes up so much of my time?"
"I just told them I won't have a chance to meet everyone of you if I don't hold concerts"
The crowd were screaming at the top of their lungs when they heard what Andy said.
💖 Super duper sweet, and I almost melted. 💖

Image taken from: http://www.ahsai.com

Image taken from: http://ent.sina.com.cn

Image taken from: http://ent.sina.com.cn
Right after the super sweet moment, the lion walk itself to the backstage.
And the props on the stage starts to transition from the inflatable snake to a huge crescent moon 🌙.
We can see a girl lying on the huge crescent moon.
The girl was such a great dancer, where she can dance and balance herself skilfully on the moon.
It's really impressive!
Andy interacted with the audience and ask them to shout as loud as possible.
"I want to be on the top."
"I wanna to go up higher but I can't do it without all of you."
"If you want me to go higher, just scream!"
And the crowd started to scream and shout .

Image taken from: http://ent.tom.com

Image taken from: http://ent.sina.com.cn

Image taken from: http://ent.sina.com.cn
As Andy moved up higher and higher, he said
"Wow, wow, wow.. Enough enough enough."
"It's high enough already."
"Ah! Now I am much closer to the people seated on the top."
"Haha , I would really like to thank all of you."
"Without all your support, I am sure I can't achieve such a high status in the entertainment industry."
"Okay! Now that I am at this height, I must sing something amazing"

Image taken from: http://www.ahsai.com

Image taken from Sin Chew.
Andy mentioned he has not sang 世界第一等 Seh Kai Deh Yi Ting (loosely translated as World's Number one)"  in a long time.
Hence, he invited the crowd to sing along with him (with lyrics shown on the giant screen so that we can all sing along with him).
This song was customized in the song list for Malaysia market as the Hokkien community are pretty huge in Malaysia.
Right after the performance, Andy was then being brought down to the stage.
"I prefer to be on the ground."
"When I am up there, the audience on the left will scream and shout."
"They were so worried I will fall and try to catch me fall."
"When I move to the right, the same thing happened."
When he finished singing his songs, he told us he is going to change on the stage since the audience want him to stay on the stage.
"Haha! I will change on the stage, since you all don't me to leave the stage."
"And you guys will soon find out, I can actually change my clothes very fast."
He then continued to elaborate and introduce his so-called girlfriend to the audience.
"Every time I change on stage, my face will turn red."
"Yes, they say I look sexy when I am changing."
He then laughs shyly .
"Ok! After I buckle my belt then I am done."
"Oh yeah! I forgot to introduce to all of you."
"This is my girlfriend."
"Give her a round of applause as she risked her life coming on the stage to help change clothes for me."
Right after he has changed, he continue to tease the crowd.
"After so many years, you guys still aren't bored of me and find me so refreshing."
"Is it cause of my moustache today?"
"Remember, if you think I am handsome just shout out aloud 'handsome boy'."
"I really don't mind."
"Ever since I keep this moustache, everyone says I'm not handsome anymore."
"I need all of you to give me some confidence."
The crowd then echoed 'Handsome Boy' from every corner of the stadium.
"When I first started my career as a singer, everyone categorized me as an idol."
"Idol singers would disappear as they grew older."
"But I don't mind being an idol. A mature idol."
"And to not disgrace all of you, I've been working hard to improve my singing skills along the years."
"I've really improved as a singer."
"You don't believe me?"
"Okay, I'll prove to all of you."
"I'm going to sing 每次醒来 Mei Chi Xing Lai (loosely translated as Each Time I Wake Up)."
"I can sing the song very well."
"And when you finish listening to it, you will agree that Andy Lau can sing very well."
Andy then ask the crowd if they have listened to this song before.
"Who here have not heard this song before, please raise your hands?"
A couple of people actually raised their hands which surprised Andy.
"Those of you who raised your hands, please drag them out of the stadium."
He laughed while pointing to the crowd seated in front who raised their hands.
"I could pretend I can't see those who raised their hands as they were seated far behind."
"But you, you are sitting so near and you dare to raise your hand?"
"Ok, I will give you another chance."
"I'm going to ask if you have heard of this song – 每次醒来 Mei Chi Xing Lai again."
The particular fan was laughing while she shake her head, which delighted Andy.
"Ah! I like her answer now. "
"The gentler approach."
"She didn't just raise her hand without much thought."

Image taken from: http://www.ahsai.com

Image taken from: http://ent.sina.com.cn
Andy gave his best performance when performing the song and as he finishes the song, he proceeded to interact with the fan again.
"Miss, have you ever heard of this song titled 每次醒来 Mei Chi Xing Lai?"
The girl then proceeded to laugh while nodding her head in which Andy then laughed as he received her acknowledgement.
"Ah!! Finally she nod her head."
The interaction between him and the particular fan made the crowd burst out laughing as well.

Image taken from: http://ent.sina.com.cn
Thereafter, the concert moved to a Eastern approach as the backdrop transitioned to a Chinese-styled  setting.
The stage is filled with rows and rows of red lanterns with a huge imperial flag in the middle indicating the return of the emperor.

Image taken from: http://www.bexafraid.com
And we started to hear a familiar background music, and guess what? It's my mum's favourite song.
Every time I bought Andy Lau's karaoke VCD  or his albums, my mom will ask if this song is featured in the CDs.
And she was excited when she saw Andy appears on the stage with a full Chinese opera costume
Andy appears on stage riding his horse wearing a traditional yellow robe with peacock feathers on his head gear, suggesting he was a heroic and brave emperor returning from a victorious battle.
While riding on his horse, he started singing 中國人 Zhong Gou Ren (loosely translated as Chinese People).
The beat of the song, the scene and performance and his powerful singing manage to wow-ed the crowd.
It is such an impactful performance with such an eye-candy to the audience's eyes.

Image taken from: http://ent.sina.com.cn

Image taken from: http://ent.sina.com.cn
From a majestic and heroic performance, Andy switch the mood completely when he suddenly started to sing his iconic comical and light hearted 笨小孩 Ben Xiao Hai (loosely translated as Stupid Child).
In the same exact setting, it completely caught the audience off guard when one wouldn't be able to relate the song to the setting and costume.
Andy continues his stream of iconic and popular songs and start to perform one of the classical crowd favourite 忘情水 Wang Ching Sui (loosely translated as Waters of Detachment), a song that brought Andy to greater heights during his early days as a singer.

Image taken from: http://www.ahsai.com
The stage was once again transformed back to a Western-styled setting where Andy and his dancers turned themselves to become Broadway performers in the cabaret scene.
He started the scene with cabaret version of 假装 Gah Jong (loosely translated as Pretend) which took me by surprise as I never see this coming.
It was simply smooth and fitted to the overall performance.
Just so amazing and he made it seems just so effortlessly done.

Image taken from: http://ent.sina.com.cn

Image taken from: http://ent.sina.com.cn
Andy were quickly joined by a group of female dancers.
Together they gifted the crowd wonderful dance performance which includes different styles of dance which includes tap dancing, Latin dance and Broadway's classic kick-dancing.
Every fans knew Andy's  love and passion to learn dancing especially Latin dance.
For him to perform all these and have a matching songs to each move is really hard work and special effort.
And fans truly appreciate his hard work, determination and strong will to make it happen, and he is a real role model to a lot of us.
Thank you Andy, for trying to give us something refreshing in every performance.

Image taken from: http://www.ahsai.com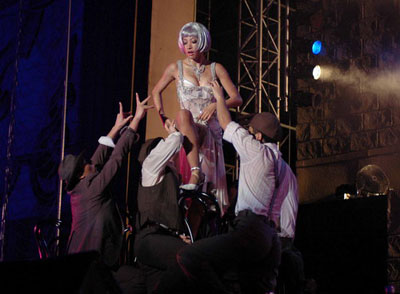 Image taken from: http://ent.sina.com.cn
While Andy did an amazing job, it wouldn't be so without the help of his hardworking and talented dancers.
I finally had the chance to see the duo's powerful performance – Andy and his personal dance partner .
It is widely known that she has been dancing with Andy for more than a decade and have been partners since then.
In the series of performance, one can already sense their compatibility.
To fit the scene. his lead dancer manage to challenge Andy to tap dance with her.
I'm in love with Andy's dance talent  is simply talented and his performance in Dance of Dream cemented the fact.

Image taken from: http://ent.sina.com.cn

Image taken from: http://www.ahsai.com
The female lead dancer then continues to tease Andy Lau and tries to  mess with Andy.
He then jokingly mentioned that will want to handle the lead dancer.
"I dun believe I can't handle you."
"Since you are playing hard to get, I will use my dance moves to win over your heart."
In which he then began to sing and dance, and the female dancer suddenly disappeared.

Image taken from: http://www.ahsai.com
Andy then interact with the crowd and asked:
"Am I too desperate?"
"Did I scare her away?"
"Never mind. I am sure she will come back to me when I sing this song."
He continues on confidently:
"You don't believe me?"
"I am sure, this song will work."
Just as he finished the line, Andy too disappeared from the stage.
Andy and his dance partner then appear on the stage again.
This time, in a more formal and good looking suit.
He then started to sing his popular romantic song 💖 愛你一萬年 Ai Ni Yi Wan Nian (loosely translated as Love You For A Thousand Years).
Haha, no wonder he is so confident in winning her heart. This is after all his secret weapon.
Did he ended up getting together with her?
Is that even a question? He is after all Andy Lau – one of the Heavenly Kings.

Image taken from: http://ent.sina.com.cn
The screen then starts playing short snippets and clips of Andy Lau movies, from the older to latest ones.
Most of the clips are from his best performances in movies which ultimately won him the best actor award.
When the screen starts showing Running On Karma, Andy appears on the stage in his movie character costume  –  大隻佬 Dai Jek Lou (Big Guy) .

Image taken from: http://ent.sina.com.cn

Image taken from: http://ent.sina.com.cn
He spoke on a serious tone:
"All your support have managed to help me receive opportunity to act in many different roles."
"Get to try work on many different things."
"But I must say, the role I love most is to be ANDY LAU."
"I know saying it once is never enough. So I need to 再說一次我愛你 Jai Shuo Yi Chi Wo Ai Ni  (loosely translated as Say I Love You One More Time)."

Image taken from: http://www.ahsai.com

Image taken from: http://www.ahsai.com
It is such a shame that Andy only sang this one song in this costume.
And I personally much prefer this LIVE version in comparison to the studio verion.
Listening to it in person made me almost cry! So touching!
Right after the song, Andy said he wanted to change to a more handsome outfit.
He promised the audience he will show up again dressed up in a very handsome manner.
While waiting for him to change, he entertain and shift the focus of the audience to his new MTV with Angelica Lee.
As promised, Andy Lau appeared back on the stage dressed up in a colonel styled outfit.
He even jokingly asked the audience if he looks like someone running for election.
He attempted to sing a few section of the popular local Malaysian song – Rasa Sayang.

Image taken from: http://www.ahsai.com
After performing a few songs, Andy starts introducing his special guests.
He starts off by thanking his guests for their understanding as he didn't have time to catch up with his friends due to his busy and hectic work schedule.
The first special guest introduced by Andy was Lam Ka Tung.
He asked Lam: "I heard you always visit Malaysia?"
Lam immediately rebuked: "I visited Malaysia not as many times as you."
Lam joked about the rumours on Andy having a rumoured Malaysian girlfriend, in which Andy Lau replied in a calm and steady manner: "I always come to Malaysia secretly. Nobody discovered it yet. Haha."

Image taken from: http://ent.tom.com
Andy continue to introduce Lam as an artist under his company.
"My company has signed Ka Tung as an artist for quite sometime."
"He always asked me when he will be able to release an album."
"Ka Tung, you really want to be a singer?"
Ka Tung responded that he would be delighted to held a grand concert in one of Hong Kong's Stadium, in which Andy wittily replied, "A concert in Hong Kong stadium can never match the amount of audience we have here."
The crowd was cheering happily and loudly when they heard that.
Andy then proceeded to invite Lam to sing a song.
Andy said he would like to try Lam's vocal and if the crowd loves his singing, he would help Lam release an album.
Ka Tung and Andy performed the popular duet 無間道 Mou Kan Dou (Infernal Affairs Theme Song), which was originally performed with Tony Leung for the trilogy movie they both acted in together.

Image taken from: http://www.ahsai.com

Image taken from: http://ent.sina.com.cn
After the duet performance, the audience cheered for both Andy and Lam to show their support.
Andy also gave Lam a thumbs up and agree to give it a try.
"Ka Tung, you must remember that there are at least 7,000 people here."
"They said they will buy your album"
"Great! We should give it a tray to see if you can break into the music industry!"
After sending Ka Tung to backstage, Andy proceeded to introduce his next guest – Felix Wong.
They both started to tease each other the moment they see each other.
Both were laughing and making inside jokes (one that you will understand if you watch Andy's new movie "Wait Til' You're Older" which also star Felix Wong).

Image taken from: http://ent.tom.com%20

Image taken from: http://ent.sina.com.cn
When Felix heard Andy is going to help Lam release an album, he also joined in the fun
"Boss Lau, why don't you sign me up too?"
"I'm not bad either. I love to visit Malaysia and I bought my first apartment in Malaysia!"
"My first concert was held in Malaysia for over 20 nights."
"Many who are present here and their friends were my benefactors of my first house."
"I really have to thank all audiences and fans from Malaysia!"
Andy then ask Felix to choose a song that he wanted to perform.
Felix chose 暗裡著迷 Am Leoi Zeok Mai (loosely translated as Secretly Fascinated) without any hesitation.
He continued to persuade Andy, letting him know that he have 100% confidence in delivering the song perfectly.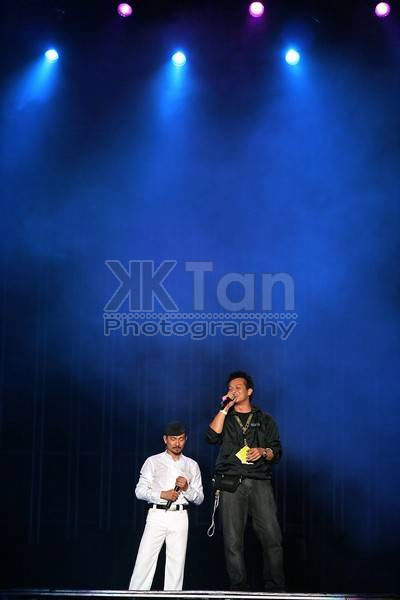 Image taken from: http://www.ahsai.com
After thanking and sending Felix to backstage, Andy continue to perform a few songs.
Fans were allowed to share their gifts and flowers for Andy.
Thanking the fans and sharing his gratitude, Andy gave a big smile and said he couldn't ask for more.
"With the achievement that I have achieved so far, I couldn't ask for more."
He continued to share his happiness and thank fans as he have such great fans.

Picture taken by Steven Sum.
"Remember, I am ANDY LAU."
"One day, when you saw an old man walking on the street that looks like me, please come over and greet me."
"Even if you don't greet me, I will come over and pull your hands and tell you, I am WAH JAI."
I must agree he is such a sweet talker! He almost made fans cry when they heard this.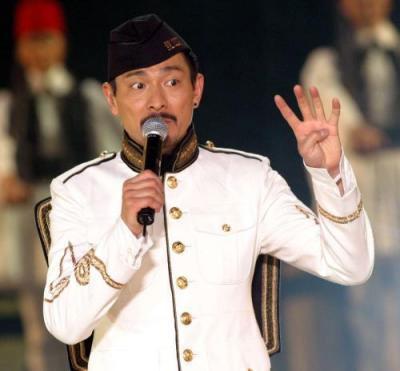 Image taken from: http://ent.sina.com.cn
Andy then continued to let the audience know that he has dedicated many songs to his female fans and now it is time to dedicate some songs to his male fans.
He proceeded to sing 男人哭吧不是罪 Nan Ren Ku Ba Bu Shi Jui (loosely translated as It's Not A Crime For Guys to Cry) which delighted the male audiences.
For the finale, Andy performed 十七歲 17 Sui (loosely translated as 17 Years Old) which tells the story of Andy's hardship that he has gone through to rise to fame.
It is indeed an apt song and adds a touching finale to the show.
Lau who promised himself that he would never cry, kept his emotions in check.
And I must agree that Andy Lau Vision Tour concert is truly an auditory and visual feast.
If the show were meant to prove that the 44-year-old superstar still have what it takes to still capture the heart of the audience, he completely succeeded.
Keeping up his promise to the fans, Lau gifted fans the final gift before the show ends.
He ended that he wished for all of his fans to be happy because "If you're happy, I'm happy".
Likewise Andy, likewise.
If you are happy, I'm happy.

Image taken from: http://ent.sina.com.cn
Andy gifted fans a lavish firework show ✨ as he proceeded to leave the stage.
Retreating into his castle and closing the iron wrought gates behind him.
Goodbye Andy! Thank you for the great show.
Thank you for a pre-birthday celebration!
It will definitely be one of the most  unforgettable memories in my life.
*Other songs that were sung but not listed above 千言万语 Qian Yan Wan Yu (loosely translated as Untold Words), 愛不完 Ai Bu Wan (loosely translated as Endless Love), 真永遠 Zhen Yong Yuan (loosely translated as Forever) and many more.
📢 THANK YOU NOTE:
The pictures above was gathered from many sources.
I would like to  send special thanks to all the people who actually allowed me to use their images.
THANK YOU! THANK YOU!
The pictures sure does make this entry more beautiful and memorable.
*Please do not repost these pictures without permission from the owner itself.*
For more articles related to the concert, you can visit
http://andylausounds.blogspot.com/2005/12/fans-doesnt-want-to-leave-in-malaysia.html
http://andylausounds.blogspot.com/2005/12/andy-bring-fans-into-vision-tour.html
http://andylausounds.blogspot.com/2005/12/andy-lau-vision-tour-2005-in-malaysia.html
Andy Lau official site: http://www.andylau.com