If you do follow my entries, I wasn't quite in the mood to celebrate my birthday this year. No idea why. Maybe I am reluctant to accept the fact I am aging. Yeah, I guess I hate to know the fact that I am getting old too soon. I wanna be a kid! 
Many people messaged me and ask me my plans, my wishes and stuff. Well, like I say before, I din make any plans this year. I just wanna see Andy Lau and then stay home. I eventually wanted to have dinner with Gigi but then.. guess what, her mum's birthday falls on the same day with me. Justin, Jess and Juanne (we not only have 3G, now we have 3J) birthday is same as mine (we are all monkeys) and new to the addition, my online friend Bob's daughter's birthday falls on the same day. Hem… maybe I should name myself Jandy. That sounds weird!
Hah~ December 11 th is a good day I guess. Now I start to wonder, will every one of us who born on the same day will have the same charisma? I hope not… but well, it's just so cool to know there were actually many people I know who have the same birthday with me. Yeah… at least we can celebrate together gether.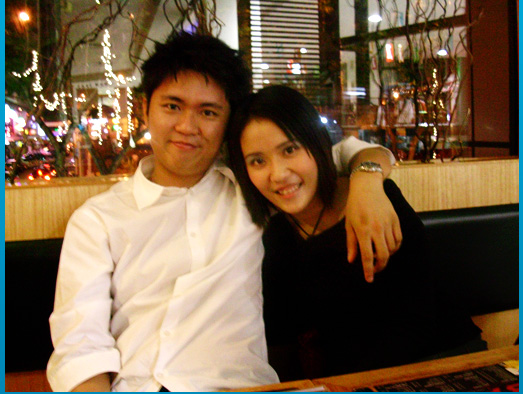 From top to bottom: ME and Brian, ME and Jerry, ME and Eunice, ME and Jane.
My uni-mates decided to celebrate my birthday for me. Nothing fancy.. just have a simple dinner. Yeah… sit down, chit chat a little… loads of teasing here and there… chit chat again. Opppsss.. forgot to mention the food. How could I. As a food lover, it's always important to mention about the food. The food was alright. Nothing much really hit me. I mean, it tasted like most typical Thai restaurant food. Yes.. I suspect they were one of those Thai chain restaurants. The food and all taste the same.
Me, Eunice and Brian share share and ordered some food. Yeah.. I think we have a luxury meal. We have toufu, chicken, prawns and of course the famous tom yam. Jerry… hahaha… I guess he is regretting by now coz he ordered the pineapple fried rice and din allow anyone else to order the same food as he did.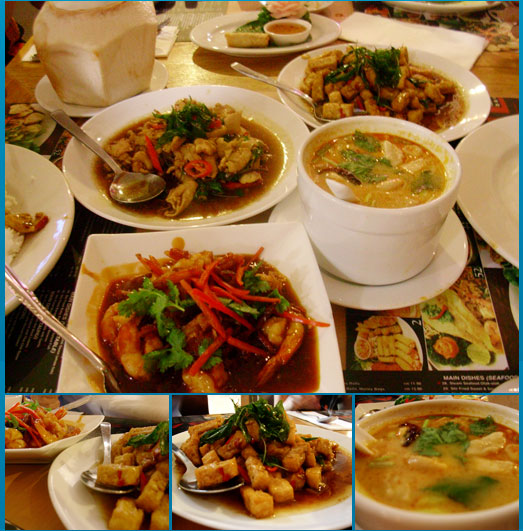 I was shocked to receive presents from Jerry and Eunice. I din expect to get anything from anyone. Like I say, I just tot we are going to have a simple dinner.
Eunice manage to get me this cute bear with chocolate. Yes… it's a special gift. It's got my birth date on the bear. Yeah… according to the box… ermm not that I'm a pro in Japanese language but well, they do create different designs bear for each day of the month. * ta da* This flower bear represents my birth date. Hahaha… I guess I must be a flower heart person. Or else how come my bear so flowery one? *poor poor lpc, she couldn't even find her own bear.* Hemmm…. Maybe my birth date is too common! SO they make more of it. (Ya.. you will have to wait for the next post)
Jerry bought me a cute piggie bank. Hahaha…. I loved it a lot (yes, obviously I do. I LOVE PIGS) Hahaha… the piggie bank have this huge nose. Haha…. Which I can see the amount of money I have inside. Guess what, I not only get a piggie bank from Jerry but according to him, there are RM12.11 in the piggie bank (it's suppose to represent my birth date). Ah… I am so happy now. I have a cute yet meaningful present. What's even better, he signed on the piggie's tummy. *sweet* (You will get to see it in the next post)
Oh ya~ forgot to even mention the coffee cheesecake they bought for me. Yum yum… well the cake wasn't exactly cheesy but it's cool. At least I won't feel too full eating the cake after dinner. I loved the coffee taste mixed with the light and fluffy cheesecake. I guess it's just a perfect combo.
Geez.. thanks Jessy, Jane, Brian and Eunice! Thanks for everything that night. I am really glad you guys spare some of your precious time celebrating my birthday with me. *muacks*