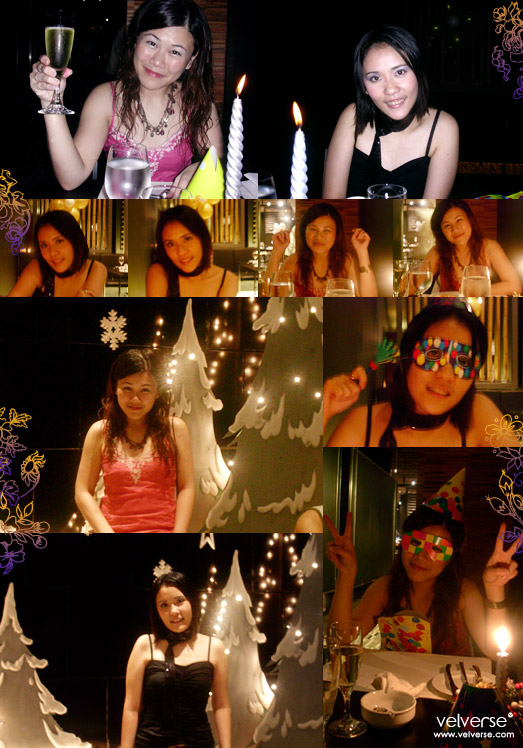 Backdated post. Actual event took place on 31 December 2005. Â 
Mmmm.. I can feel it, the new year is heading to me very very soon. It's like less than 1 day. I woke up early today. I tried forcing myself to sleep. Yeah, thinking I will party till late night, I figure I need to look good and feel good. I just can't sleep. I guess I am too excited. I woke up almost every alternate hour.
I finally wake up and head to office. Haha… yes, I am lepak-ing in the office again. Well, what to do, busy updating blog again. I need to blog lah. Too much stuff to blog about but too little time. So I really gotta treasure every free moment and blog it down.
I was busy with my stuff while waiting for Gigi. She told me she would come earlier and lepak, but I guess there was a change of plan. Hemm… Sometimes I wonder, am I too hardworking or what. When I am online, every message me and the first thing they ask me "Don't tell me you are working." Second question, "Don't tell me you are in office." What is exactly wrong with me working and me being in the office?
I couldn't be bothered. Haha… I gotta keep a happy and cheerful feeling and celebrate this new year
. I wish it would be a good start. Even if it wasn't, I wish it's a happy start. Yeah, I'm waiting for Gigi to reach and have buffet with her right below my office. Hehe… yup, I felt like eating buffet out of a sudden. It was a heavy down pour. She is totally wet.
To my surprise, many people didn't have any plans this new year. Which I thought most people will be busy partying and lepak-ing. I was rather surprise. Very surprise actually. But hey, according to my survey, it's not like they didn't have any plans, but they want plans that include a lot of people. I dunno… I think too many people is a little complicated and hard to handle at times. Worst if you have some fussy people in the group. Yes, they will ask you "Where you all want to go lar? Give some suggestions". By the time I open my mouth they will say "Hah, there are, very quiet one wor." Or "Hah, there very crowded one wor." Yeah so whatever… stay home and grow mushroom.
My advice, a few good people is more than enough. So this year, I only lepak with Gigi. Mind you, I am not a lesbian and neither is she. I love men. Haha.. especially the "Andy Lau" type
. Okay.. let's not get there or else millions of people will flood my messagebottle, my email, my yahoo or my msn telling me stop being so fanatic.
Yeay… we went and eat buffet at Maya Brassiere. Nice place and nice ambience. The lovely buffet cost RM90++ which comes with a sparkling white wine and a cool party pack. Yeah, a rather retro looking party pack but hey, It's a nice one. Food there was delicious. Yeah… I seriously enjoyed the fresh salmon. Geezzzz.. I forgot how much I have eaten. I know it's seriously lot. It's like I'm having plain sashimi dinner. But hey.. it was so good I couldn't stop eating. But then again, that's the whole point of eating buffet mar.
Can you imagine, we start eating at around 7.45pm and we finish eating, chit chatting and taking pictures at around 11.30pm. Haha… yes, I am a great eater. We lepak for a while and then head back to my office. We off all the lights and get ready to watch the fireworks from klcc. I don't really see fireworks. I guess this is the first time I actually stood still there and look at the fireworks. It was a great show but too bad, the smoke from the fireworks covers the fireworks towards the end. Yeah, by then not much of the fireworks can be seen. Luckily the last few blast was rather high and huge, thus it is clearly visible.
After the fireworks, we walk to the clubbing area. Yup, "ini mini miney mo".. we were looking for the most happening area as we walk down. Yeah… our stretch starts of with Poppy Garden, Rum Jungle, bar UNO, Modesto, Beach Club and ends at Thai bar. Well, okay we walk till the end of the road dy. Gotta pick one and just hang out there. Rum Jungle it is. Well, at least they play the best song (IMHO) that night.
Haha… Poppy was good, they have quite a crowd, but the music that they play when I pass by, it's just not my type. Geez.. we walk in to Rum Jungle. The service is bad. I dun blame them, so many people and it was packed. We gotta open a bottle in order to get us in. Yeah, cover charge was just not worth it. RM80 per person, and the worst part is, this freshie girl at the reception told me it's not inclusive of drinks. *shocked* How can this be?
Haha.. I asked another girl, she told me it's inclusive of 2 drinks. *phew* That's more like it. But hey, we still get a bottle. It's easier, at least we can lepak a few more times in Rum mah. Well, everything in Rum Jungle is fine except the fact that there are many ware wolf's in da house. Yes, when I say ware wolf. I mean it.
It's either they are seriously desperate for girls, or they seriously go clubbing for the sake of picking up girls. The drama begins when we finished our drinks for the day and head down to the dance floor. I never actually like to leave my drinks behind unattended.
There is this 3 guys in their early 20's dancing closer and closer when suddenly one of them pop right next to me. Yeah… what's new, they always start with this lame pick up line, "Hi, can I be your friend?" *yawn* I am beginning to wonder if there is a better line than that. They are just so predictable. But hey, this guy… hahaha he did something shocking. Before I even say anything, he grab my hands. I shake his hands off and started to move around and yet he still didn't get the point and continues. *hey bugger, DON'T TOUCH MY HANDS!*
I seriously have this big taboo with guys holding my hands. I mean, if you don't fall in to the category of "my partner, my best friend or my family member", please do buzz off. I just hate it!
Bah… the best part comes when they actually picked up some girl in the bar. Yup, 3 guys surrounding a girl. Okay… the girl rather enjoy the attention. Yeah, before long. The 3 guys took turn hugging and kissing her. Then she dance over to over side and suddenly tell us "Don't be shy, let's dance". Me and Gigi was stoned for a second and quickly move to other sides.
The worst part is when me and Gigi was at the podium. We tot we were safe, when suddenly the guy came back. This time putting his hands on my waist. NO CHANCE man! I push him off and gave him a big NO sign. Haha.. everyone around was looking at him and he shamefully left the dance floor. *yeay… ware wolf disappeared*
The rest of the night is rather cool. Nice music to dance to. But hey, there are still a few buggies here and there but they weren't the extreme kind. They sorta back off when they see that we are not paying any attention or interest in.
*burpz* I still have a rather full bottle to finish before 31 February 2006. Yeah, you didn't read wrongly. On my custody card, it's written there valid till 31 February 2006. Haha.. which means never~
p/s – No pics were taken in Rum Jungle. Reason so? I was too lazy to carry too many things when I go clubbing. Yeah… Nutjob knows it well enough