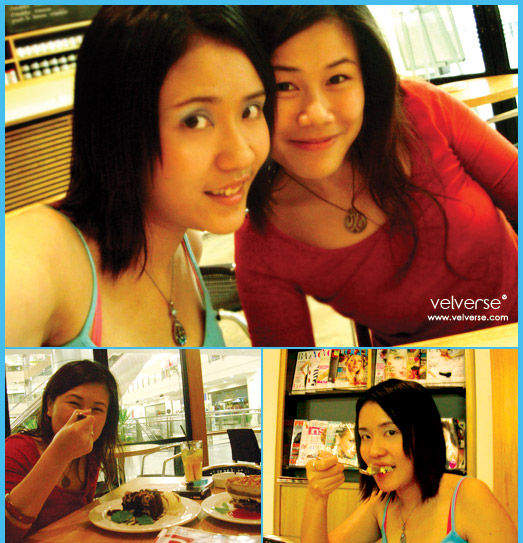 Backdated post. Actual event took place on 4 January 2006.
Ever since the cake conversation on Monday, this tiramisu thing has been clinging on my head. Yeah, I was thinking up and down… dreaming and imagining all about cakes. Yeah, Gigi told me how nice and special the tiramisu at Alexis is.
Well I kinda trusted her taste, coz when she says it's good… it's normally good. What's even better, lots of people say it's good, thus I decided to give it a try. What got me more motivated? Yeah… I watched this movie quite some time a while.. ermmmm I still remember I watched it in 2001. This show call "Tiramisu" by Nicholas Tse and Karena Lam. It was a romance movie. Yeah, in this movie it says.. when you eat tiramisu, you will have this "first love" kinda feel.
Okay… I gotta try this. I wonder if I will have that feel. Mmmm.. this is interesting
. "First Love" hahaha… Maybe everyone of you should try this and tell me if you can find this feel while eating tiramisu.
Me and Gigi head down to the Alexis at Great Eastern Mall. It was quite a large and spacious place compare to the one in Bangsar. We stepped in and quickly place our order. Yes, tiramisu is a must. We wanna feel our "First Love". We didn't have our main course as Gigi took dinner at home while I had late lunch. Thus we both order a slice of cake and drinks. I ordered a slice of tiramisu while Gigi ordered Chocolate Walnut cake to share.
Our food was being served quickly and I saw the cakes. Okay… the grass is always greener on the other side. The Chocolate Walnut cake looks so much nicer. Yes.. warm cake with ice-cream. Hello… what can be better than warm cake with ice-cream
. *Okay, focus girl.. focus… "first love", yeah "first love".*
I wasn't happy with the cake when the cake wasn't at it's perfect shape when it arrived. The tiramisu seems to be sliding down. It's as if it's melting and I dunno, when I am eating cakes at places like this, I expect to see my cake come in a perfect form. A proper and neat piece.
I can't wait and I quickly dive in to the tiramisu. Oooookay. It was not what I expect it to be. The feeling I mean. As for the taste, it's quite good compare to other places ones. What made them special, the additional nuts glazed with honey on the outer side of the cake
. It adds in this special kick to the cake. Yes, soft and smooth in the middle but crunchy and sweet on the outside. It's quite good. But the feeling… no where near "first love", as a matter of fact, it brings in this strong sense of bitterness and sadness in each bite. Maybe it's my expectations to the cake. I have no idea. I just felt it didn't give me that feel… then only I remember, in the show, you will only get the "first love" feel if you eat the cake together with your loved ones.
So that explains everything. Hahaha… so I gotta wait till I have a loved ones to share it with me to feel the "first love" feel.
As for my personal opinion, I prefer the Chocolate Walnut cake to the tiramisu. Yeah, I love warm cakes more. Well, what's better than a cake with loads of walnut. Yup, lots of it. I can feel and taste it. Best of all, it's being served warm and with a scoop of vanilla ice-cream. It just felt like heaven. If you ask me…. I have more of the "first love" feel while eating this cake than the tiramisu. Guess everyone just have different preferences.