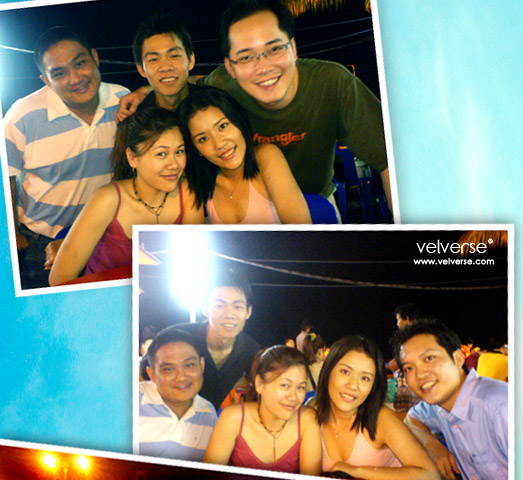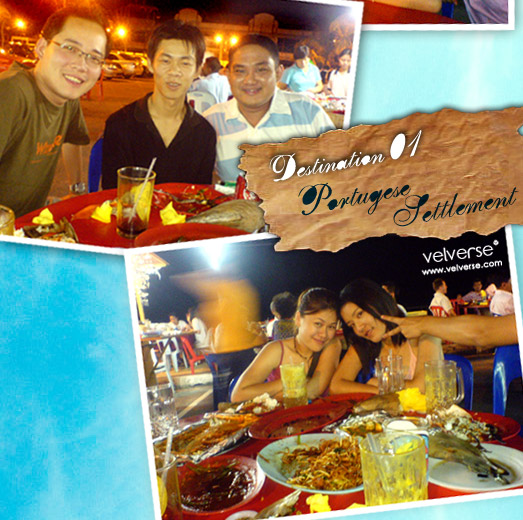 Backdated post. Actual event took place on 08 April 2006.
Yahoo… the first food trip and road trip with the gang. Ah… it's been a while. As a matter of fact… it's been a very long while. I just love the fact of going out in a group, enjoying and happily eating without worries. Yes… food… just what I need to cheer me up.
It's been a long talk and discussion before this trip actually works. Yeah, everyone is so busy that it has got postponed so many times. Yes, so many times that I lost track. I just know it was supposed to happen right after new year but guess what, we are 2 months backdated.
Hey… at least it was made possible this time.
We started our trip quite late that day. Yeah, Brian went to play paintball with his colleagues (some company outing) and we all waited for him. Jon (our honourable walking food guide) went to malacca earlier to visit his auntie so yeah he met us up there.
We depart from KL around 4-ish and reached malacca at around 5-ish. Woohoo.. the moment we landed, I can feel the intense excitement. Yeah… I never knew why, I just love malacca so much that it never get me bored going there from time to time. The food, the people, the culture and the arts… just amazing.
We walked at Jonker Street for a while before meeting up with Jon right in front of Geographer (the cafe where Sammi and Richie is at in the movie call Mo Mo Tea). Jon then took us to check into our hotel. Ah… luxurious hotel, located just a street behind Jonker Street. How convenient! (Pictures of the hotel to be included in the next post)
Our food trip soon started right after we smack our bags in to the hotel. We then headed to the Portugese Settlement to have our dinner. Yes, seafood…. ah… I love it
. Two of Jon's friend join our adventure that day. We ordered food that could feed like 8 people when there is only 6 of us. Opss.. sorry no pictures.. too hungry
We had like a big curry fish, otak-otak,baked black pepper crabs, fried sotong, kangkung belacan, mee mamak and half a dozen clams. Wooo….. I still felt like rubbing my tummies while writing this now.
We then quickly head to some hawker stall at Jalan Bunga Raya to eat the famous Fried Oyster With Eggs as time is seriously running out. By the time we left the Portugese Settlement, it was almost 9.30pm.. and well, stalls in malacca sorta close early.
Fooooih… the fried oyster is simply superb. Even gigi who normally dun take a bite ate quite a bit of it. Yeah… it's best combined with the dessert as the fried oyster can be a little on the spicy side and oily too. Two thumbs up!
Hahaha… back to back.. non-stop we jump up to the car and drive straight to Jalan Ong Kim Wee to eat satay celup! Can you believe it, the guys has already stop touching the food saying they were too full already. Sigh…. look down on them except for Brian. Hahahhaa.. well done Brian!
Continue the good job of exploring and eating good food. Well, we din eat that much of a satay celup but well at least we tried! But seriously, this satay celup wasn't as good as the previous one I ate. Hemmm.. wonder why.
We then suppose to go somewhere else to ta pau "yau char kwai" but got lost and seperated from Jon's friends. So we decided to just head back to the hotel and call it a day.
Well… to most people the night stops just there… but well, obviously there is still some inside dramas and fights and chasing here and there. Which well, I guess it takes me years to finish writing this post if I were to put it in details. *No, don't even think of asking me to write it.*
Looking at the title, you should know it's a food trip! So we talk all about the food and the nice place!