We slept late last night although we initially arrived at the hotel room around 12-ish. Yes, everyone queue up and wait for their turns to bath. Hahaha…. while some busy make coffee, eating some freshly baked pineapple tarts that we bought while walking through Jonker Street while waiting for our food to digest. Well… with all the hoo-hah and what not… we all actually doze to sleep at 2 – 3am.
Obviously I was a dead person by then when no sound or voice could practically wake me up. Yes, nothing.. except for my alarm clock to wake up the next morning. We woke up early to have breakfast complimentary of the hotel. Yeay… see Brian and Gigi's morning look!
*exclusive in velverse* Hehehe.. everyone is too blur to pose and could just give me the "I want more sleep" look. Why you dun get to see my picture? None of them are awake enough to take my morning look 😀 *thank god*
The breakfast wasn't really great. Maybe it's the not enough of sleep… but hey… malacca… place with nice food and culture… who needs hotel breakie! We anyhow went down grab something to eat and some coffee and juices. Despite the not-so-okay breakie, the place for us to have our breakie is simply superb. It's in this garden with a human-made waterfall and lots of chinese feel statues. Which I totally love.
I find the environment very cool… and if someday I could afford a big house.. I would surely want a garden like this where I can have my breakfast there…. put a morning bed and roll around~ Ah… that is life~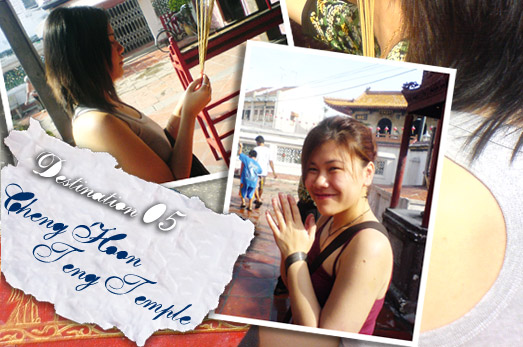 Food need time to digest.. yes correcto! So we went walking around. Yes, first time I walk around Malacca streets in the morning. There were loads of people selling antique stuffs. Yeah loads of it, from super old magazines, bottles, bowls to old vinyl records.
We then walk past the oldest temple in the country, the Cheng Hoon Teng temple. Yes, it it believed to be the oldest temple in Malaysia. Built with no nails at all. Not even a single one. However, this temple has been refurbished few years back due to some parts of the temple is falling apart. However, they still try their very best to restore most of the buildings.
Ah… the temple in the morning… it's simply so quiet and peaceful. Normally this temple is very crowded as it is one of the famous tourist spot as well. Something not to be missed when visiting Malacca. The temple I love to go each time I am in Malacca.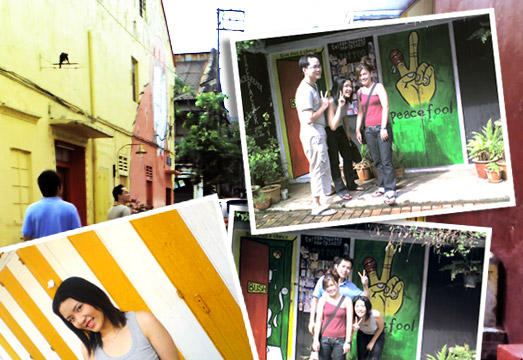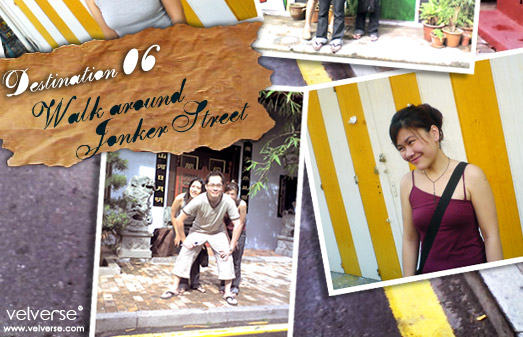 We continue walking from the temple and we came across some cute shops… which weren't open yet. I wonder what they sell… but well… it doesn't matter as all we ever do is just walk around and snap pictures here and there. Jon snapped some pictures of me and gigi at the yellow and white stripes background. According to him, it will make us look "thinner". Yes… I get the hint. Do you?
Hahaha.. there is even this tattoo shop with funky drawings on the wall. On the wall, there is 2 doors. One on the right has this "peace fool" image while on the left, it has this tolet door written "Give piss a chance" with the word "Bush"written to the board on the door.
*groovy*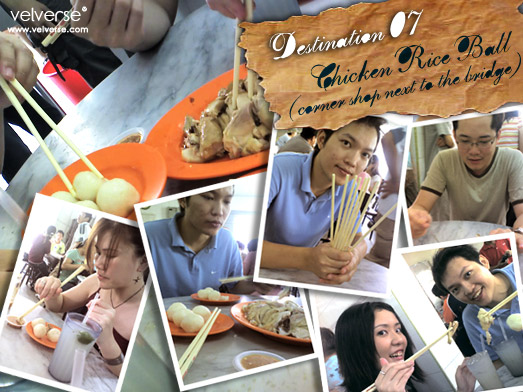 It's time again to eat. Oooo yeah.. the time has just clocked 10-ish. We all have to continue to eat as Jon dared us that he would bring us to 10 places in Malacca to eat.. but we couldn't finish. Well… until now, we only eaten our fourth dish. Which is the famous malacca chicken rice ball. This shop is surely some famous shop. On normal days, they have loads of people queing up and it's seriously hard to get tables around here.
By the way, there is not much chance for you to sit down, chit chat and take your own sweet time. There are loads of people waiting right next to you here and there.. as if rushing you to eat faster. But it's really worth it. The chili sauce… ah…. I WANT MORE~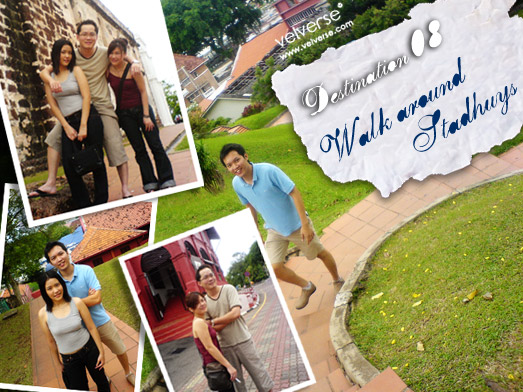 Wooo… it's time to walk around to digest food. Yes, everyone looks tired and restless… yes a result of a food trip. You dun get tired from excessive walking and running around but just eating. Everyone decided to walk around to digest a little. And how could we not walk around the famous Stadhuys and the A'Farmosa. Brian is having a hard time climbing up and down the stairs… yeah… due to body aching from paintball activity the day before. Jon is too tired as he slept quite late. Hahaha.. his old friend in Malacca decided to look for him and he oni reach the hotel around 4-ish which means he have too little sleep.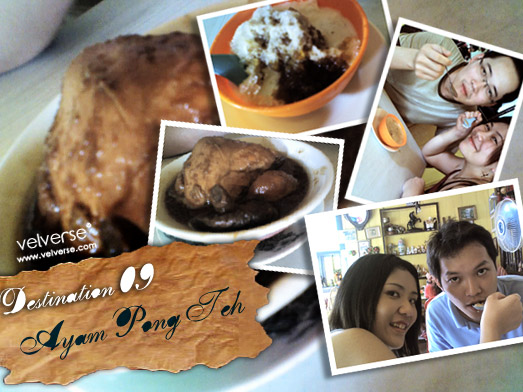 After a long walk… we decided to stop by a stall. Don't as me where's it located. I have no idea. Yes, I am lost! Hahahah… okay.. we went to this small stall and decided to cool down after walking in the hot sun. We ordered the famous cendol! Wooo hooo yummy~
It seems like ayam pong teh is also a famous food by the baba nyonya society. So we decided to give it a go. Yes, this place might not sell the best ayam pong teh, but we just wanna try something special. Haha… it does taste rather different. A very strong garlic and onion taste in the thick and rich sauce.
On our way back to the hotel, we manage to stop by a famous designer shop. The Orang Utan Shop. Hehehe… a shop open by local designer, Charles Cham. Hehe… over at this stall, there were many t-shirts and art being sold. Shirts that potrays much about our country. There were even tons of arts for sale. Which looks brilliant.
Gigi manage to buy some cute tee's. While I was just looking around. Yes.. arts… malacca… they just gel in so well. Can I stay there like forever?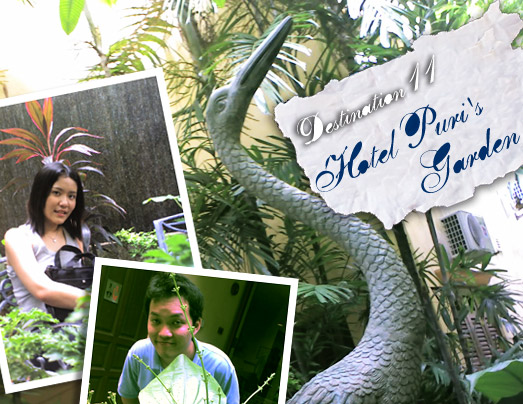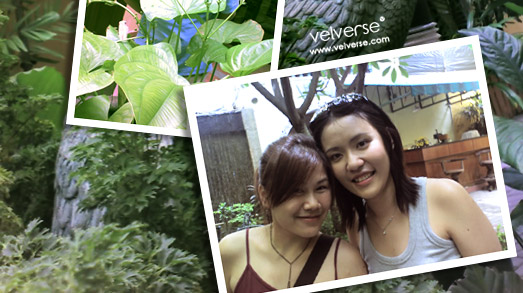 We were tired! very tired from walking around and eating. No… I should rephrase… tired from walking around carrying a tummy that grew bigger each time we make a pit stop. We then decided to go back to our hotel and pack our stuffs as the check out time is near.
Before we went up and pack our bags, we quickly snap pictures here and there again!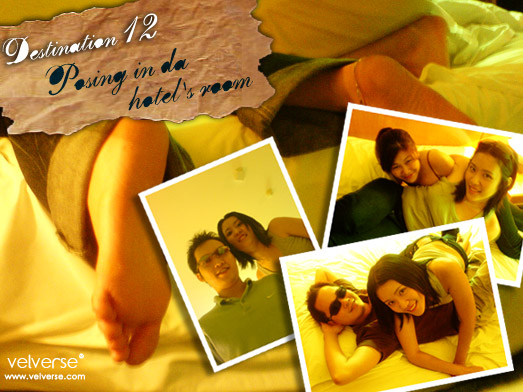 Right after snapping some cool pics around the hotel, we then quickly went up and pack our stuffs. Being real posers, we even decided to jump around and snap some pics before we leave the hotel room. Hehehe… yes that's right! Pictures.. pictures and more pictures.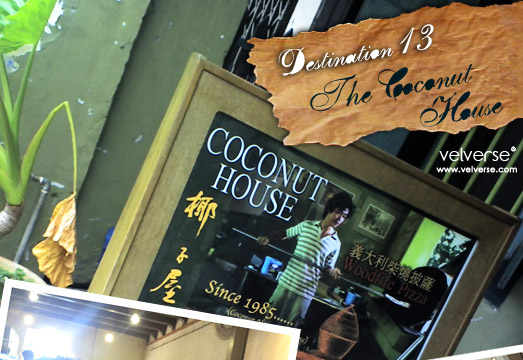 We then throw our stuffs in the car and continue to walk to a few galleries. Woo… art galleries is just around. Every corner you turn to… you can never miss those art stuffs. And Malacca is really a place you should go if you want to see loads of art. I can simply call Malacca as Malaysia's Paris… as you can seriously see loads of art and cultural stuff.
The antiques were simply amazing as well. If only I have my camera with me… I could snap like millions of pictures
. It's okay! I've still got my camera phone.
After the walk… we decided to hop in to this cafe called the Coconut House. Unbelieveable, the shop was established since 1985. And has been constantly there. Looking at the floor tiles makes thing just so believeable. The shop got it's name due to this particular coconut tree growing in the middle of the shop.
Well.. at the first glace of the poster they did… I tot I saw Eason Chan… but well… it wasn't. The ambient of the shop was very simple. They have simple setting. The tables were quite old looking but it still manage to blend in well with the shop.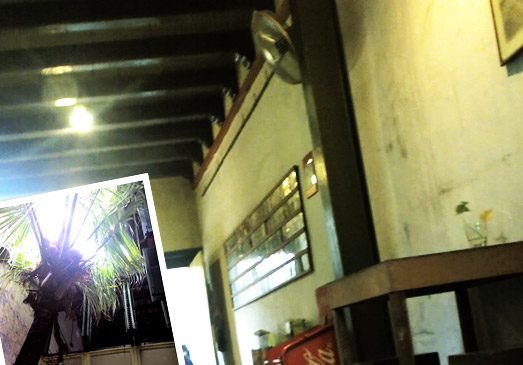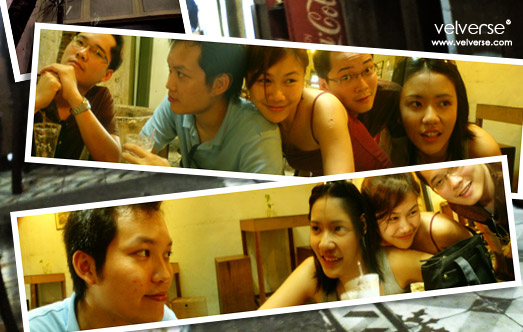 On top of it, they have racks of old records. But they somehow did add a modern touch to the shop. They actually had an iMac at their counter. To play some songs and all. I guess this is the place we sat down the longest. Yeah…. we seriously took loads of photos (you can see the extra's in the next post). We manage to take some panoramic pictures which was fun. Everyone move around here and there to get to be repeated in the pictures as many times as possible.
We each ordered the famous coconut drink (according to Jon). It was okay… except it brings quite a strong milk taste. Yes…. M.I.L.K! Ermmm something that really wasn't my cup of tea.
However the more I drink.. the taste seems to be lesser and lesser and eventually I find it very refreshing and nice. How ironic!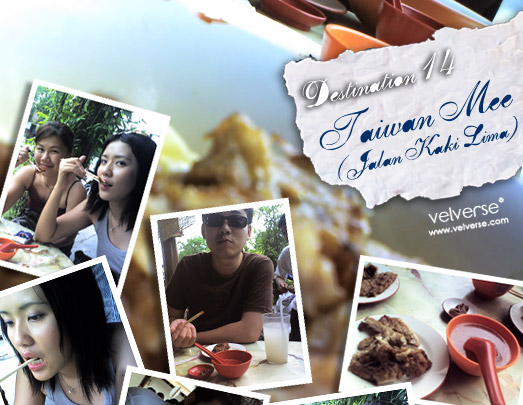 After a long rest at the Coconut House (a very very long rest) we all decided to go to Jalan Kaki Lima and eat Taiwan Mee. Which actually shocked me when Jon suggested. We go all the way to malacca to eat TAIWAN MEE? Haha… well according to Jon, the owner's wife is a taiwanese and well the signage does write "Taiwan Mee" Hahaha… it is famous for it's deep fried pork rib noodles and their beef noodles.
I totally love the deep fried pork ribs. But the noodles… okay… I have this weird feeling when I eat noodles that is not black. I mean… I dunno… it gives me this weird feeling each time I eat noodles like this. It's not really soupy and it's not really dry…. it's not black. I dunno… everyone enjoy the noodles. And well.. it's not that it's not nice… just… I wasn't used to eating noodles that….
ermm… looks like noodles. Haha~
We would have continued but everyone is too tired and some were super full! So… we decided to leave the remaining 2 behind and head back to KL as we have another outing to go.
We then head back to KL. We went back and celebrated Evan's farewell as he will be leaving us to go US for a few months (more details in next posts to come). Yeah… his office sent him over there! How nice! I ALSO WANT!!!
Malacca….. oh malacca…. I will be back soon! To visit the eat more stuffs. Yeah according to Jon, there are loads more stuff that we hasn't try!
Yes! Yes…in less than 24 hours and we ate 8 of somewhat Jon's best recommendations. Bravo!!