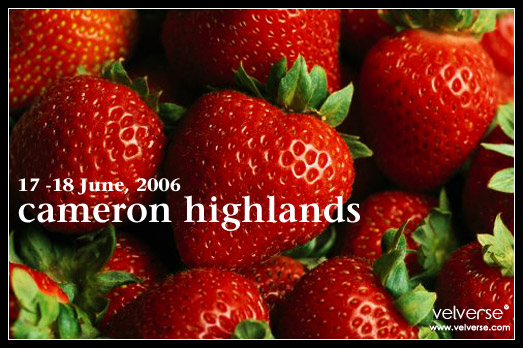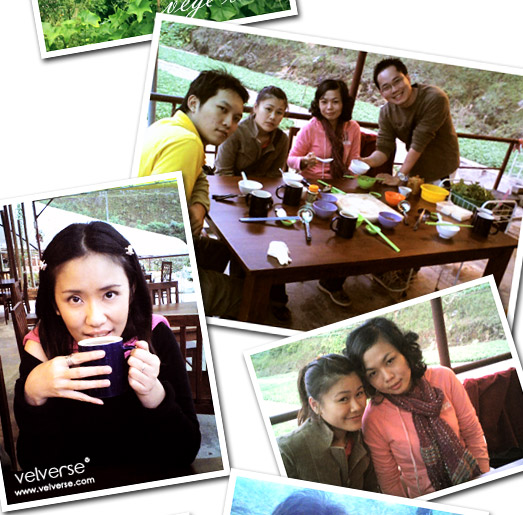 Backdated post. Actual event took place on 17 June 2006.
*blink blink* I am awake now and we are all set to eat. Brian suggested this place where it's been describing how cool and fun it would be eating steamboat there. Yeah, we have been listening of how delicious, how yummy it is since like few months back. Finally we are there.
We can't wait, our noisy stomach just can't shut up and make noise. The boys drove us to the Water Crest Valley. It's really a cool place to dine. We were actually surrounded by farms. Yeah… loads of vegetables around us. According to Brian, the owner actually owns the farm and all the vegetables we are eating are fresh from the farm. Not to mention, we get free flow of veges for our steamboat. Yeah, eat all you want vege.
So if you are on a diet or you are a vegeterian… that's just great news. The place is rather cold compare to other stuffy shops as it's open air concept where you can see everything beside and around you.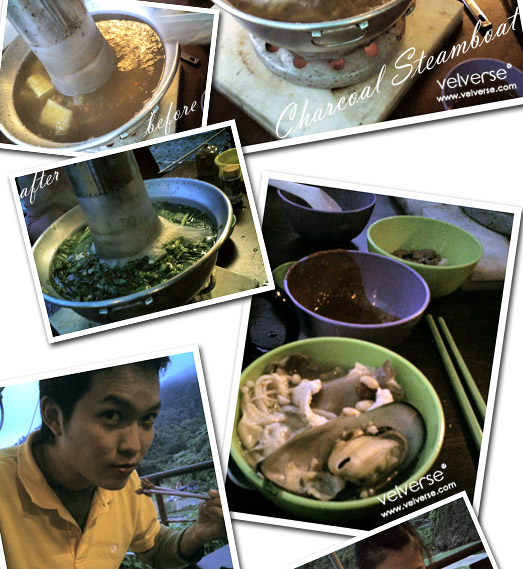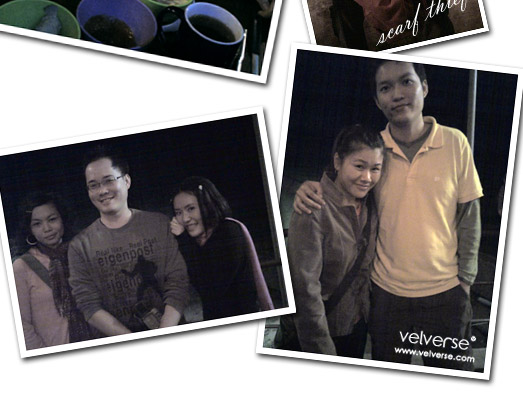 We waited for a while and then we went to the fridge to choose stuff we want for our steamboat. I must say everything is reasonably priced and it comes in seperate plastic containers. I must say… do not.. I repeat.. do not miss out the chance to try their tofu (beancurd). It's very tasty as it has this strong soya bean taste to it.
After choosing the ingrediants we gotta wait for sometime for them to heat up the Charcoal Steamboat. In the mean time, each of us ordered their signature drink (water crest with red dates). Gigi and Angeline couldn't coup with the taste so they both ordered a pot of tea.
The steamboat finally came and I must say the soup is impressive. Very very good. It's full of beans and herbs and it tasted just so sweet even before adding anything in to it. When the pot just touch down, we can't help but to pour everything in.
Woohoo… munch munch munch.. non stop munch munch munch.. until everyone sit down and burp. Ah.. it was a fun dinner. Feeling cool each time the wind blows at us but warm each time we drink the warm soup. Ah… mixed feelings.
We then continue to walk to the night market at Brinchang. Too bad my camera phone is not good enough to shoot pictures in dark conditions.. or else… more post to come.
After the short walk, we headed back to the chalet, sit down outside and chit chat until we all were so tired and decided to jump to our bed and sleep!
Address:
Water Crest Valley (Lee/Chiew Farm)
Lot UT/KF/F 160, 159 Jalan Besar Batu 44,
Tringkap 39100 Cameron Highlands.
Other Cameron post:
Day01 – Cameron Highlands Trip: The Journey Begins…
Day01 – Cameron Highlands Trip: The Tanah Rata Stop
Day01 – Cameron Highlands Trip: Bala… here we come~
Day01 – Cameron Highlands Trip: Hong Kong is now in Cameron
Day01 – Cameron Highlands Trip: We are at the Bharat Side
Day01 – Cameron Highlands Trip: Our Robin's Nest