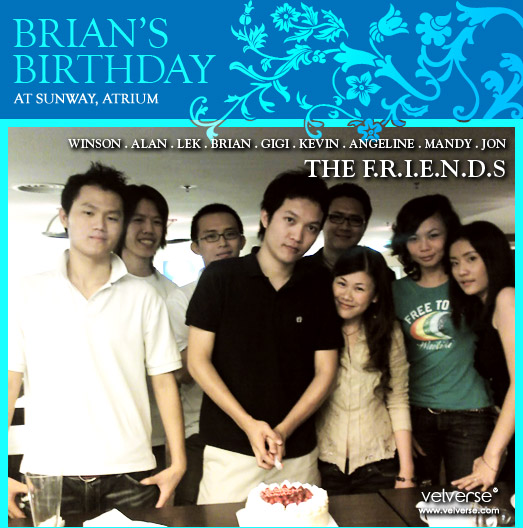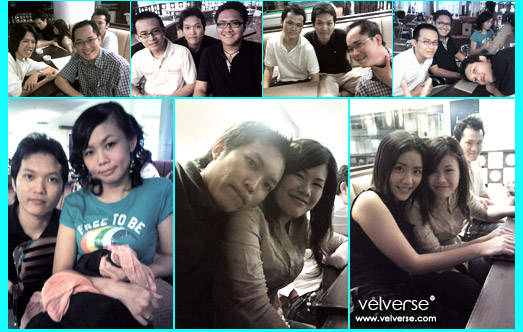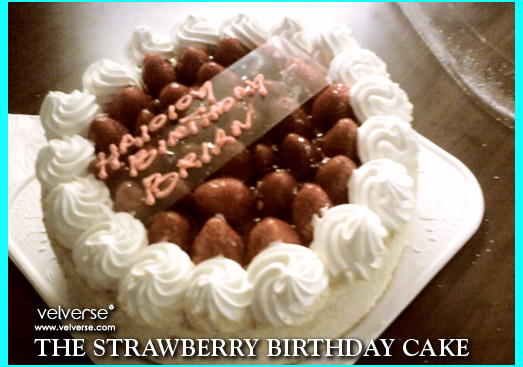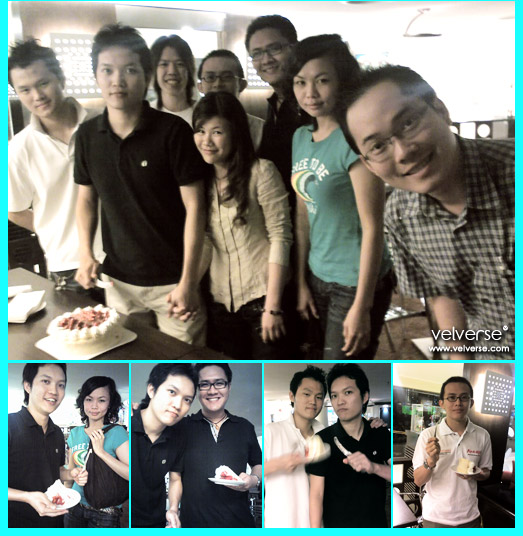 Backdated post. Actual event took place on 17 July 2006.
Okay.. many people tell many lies in order to make this surprise party happen. So yes, many humans were harmed in the processed. Many trust were broken… many human resources were brought together to make the event happen.
It was the first time Gigi celebrating Brian's birthday together. Yes, she wanted to surprised Brian. Well, obviously everything was more panic, scary, exciting at the same time since it was the very first time. They just got together and I could understand how she tries to get everything to perfection.
We all decided to sneak to Brian's office to surprise him. Gigi didn't know how to as, when she offlines.. Brian would sensed something. I told her to leave her YM on and asked Alan or Winson to close it for her when they decided to leave office.
Gigi left work early, got ready and come and pick me up. I then help her get down and pick up the cake she ordered 3 days ago. Ah…. together, we just drive all the way to Sunway. Yes.. Gigi was so panic. I can tell from her voice and actions in the car.
When we arrived, Angeline, Winson and Alan arrived as well. We all then sneak up quietly to Brian's office. Oh yeah, how we know he will still be there? We teamed up with Jon a few days before hand and make sure he gives Brian enough work to make him stay. Hahaha… we gotta be cruel to be kind at times.
Brian was sorta surprised when we all bashed in. His colleagues Lek and Kevin was sorta surprised as well. They then stop work and went dinner together at Atrium, Sunway.
The food there was not really good. It was rather cold and what can I say, pricy. I had the fettucini cabonara. I think it tasted sorta weird with the overdose of olives. Brian had the tandoori chicken with puri. The chicken was sorta cold and the puri was sorta soggy.
Right after we had dinner, the cake that we asked the people at Atrium to keep aside was brought out. The lights were dim and everyone started to sing the traditional birthday song. Ah yes, lots and lots of strawberry. Everyone have their share of strawberry cake.
Hehe… Gigi kept her promise by giving Brian a kiss. Mouth-to-mouth one when she asked us to help surprise Brian. Haha.. she have been thinking of ways to dodge us from taking pictures for days. Hemmm.. notty notty! But it was sweet~ to see both blush and smile like little kids.
Jon, Lek and Kevin left the place after the dinner as they still have work to rush. The rest of us just stay back and play some pool.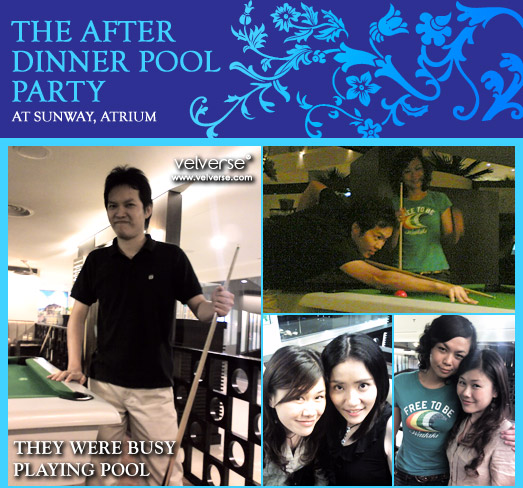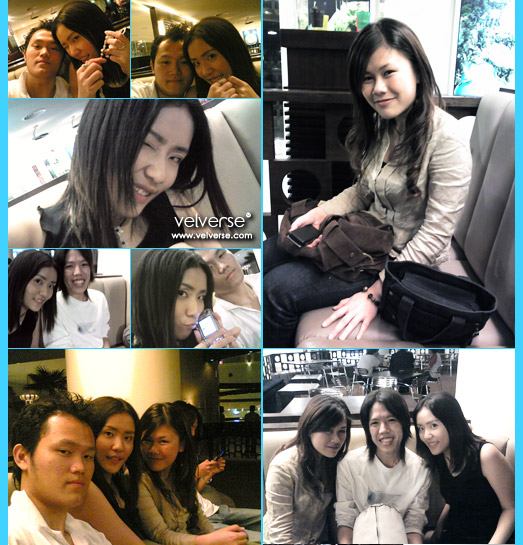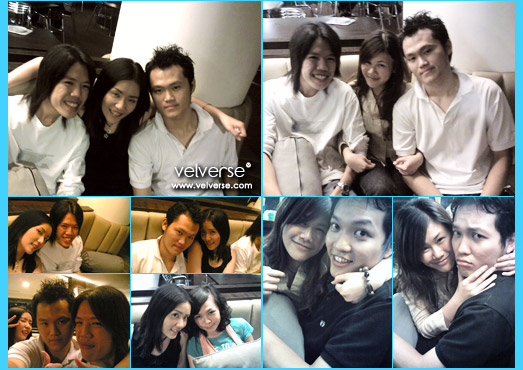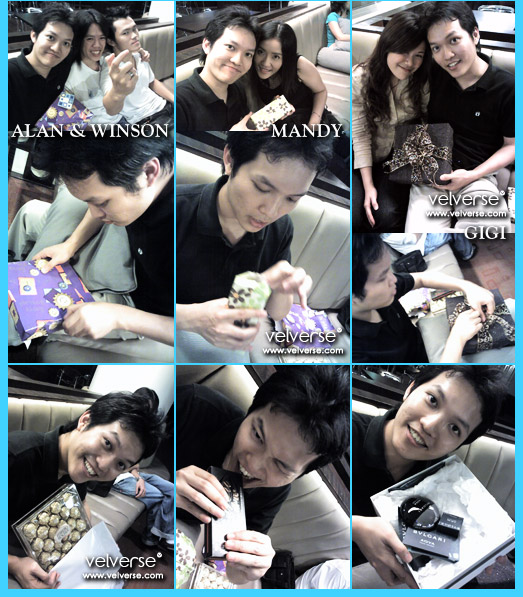 Brian and Angeline was busy playing pool. The rest of us were rather bored… that is when me and Gigi decided to snap snap snap and snap photos all the way. Wooohoo… not only my cameraphone was used. Winson's cameraphone was busy snapping pictures as well.
Everyone was busy with their own thing.. those that were playing pool.. continue playing pool.. those that were busy with the cameraphones continue being busy.. while those that were busy talking… continue talking.
Before everyone goes home, Brian opened up all the presents. Alan and Winson bought Brian Ferrero Roche. Haha… I bought him chocolate as well. But I bought him some japanese dark chocolate. Yes, he loves dark chocolate. The process of buying him this gift was simply hilarious and funny. Yeah, doubt I will talk about it here (right, if you really are that curious to know, come ask me when you see me).
Ah.. the lovely present from Gigi… hehe. Gigi bought Brian a Bvlgari perfume set. I went and help her picked the present. I can say, that is the first time in my life, my nose just can't differentiate any perfume smell at all and it all smell the same. We smell so many perfumes that I think the coffee beans barely help anymore.
But well, it was a fun and exciting birthday party I must say. Hehehe… now everyone's heart can pump a little slower.
Adress:
Atrium Café & Lounge
Lobby Level, Pyramid Tower Hotel,
Persiaran Lagoon, Bandar Sunway,
46150 Petaling Jaya,
Selangor Darul Ehsan, Malaysia.
Telephone No: 03. 7492 8000 Ext. 6305
Fax: 03. 7492 8001
Website: http://www.sunwayhotels.com/eat/atrium.asp