Now.. this header looks very familiar? Oh yes, coz I long long time ago post an entry with this title. It pretty much tells about me. Actually a lot about me (click here to read).
I always love december coz it's my month. It's were all the celebration and massive parties to go. This year.. hemmm extremely busy… which is why I initially target to finish my backdates before december. Yes.. you obviously notice… I FAILED! At least I tried.
Now… let me prepare you mentally and physically… and er… visually…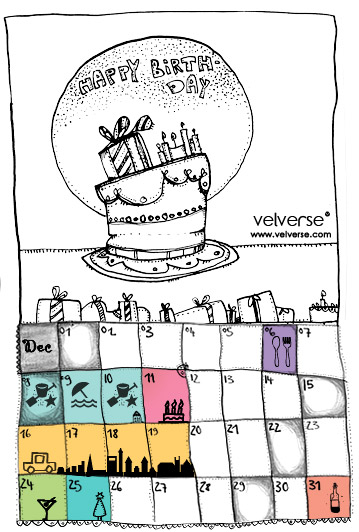 p/s – I din sketch this. I just search around and add stuffs to it.
Now…Like I say.. it's a month of celebrations… party… travelling and so on for me. So yeah.. more backdated than usual as I will not be blogging on these days.
Yeap yeap… where exectly I will be doing?
06 Dec – Early Birthday Dinner with friends
08 to 10 Dec – Hanging out by the beach in Kuantan with colleagues! Yeay!!! Our first company trip!
11 Dec – Ah… my BIG day… How I'm celebrating… I dunno.. no plans yet!
16 to 19 Dec – Yeay…. I will be in Singapore… in search for merlion.
24 Dec – Oh yes! First ever "Design My X'mas" party!
25 Dec – Ah… X'mas… what I plan to do.. er… jump to may's house and pose in front of her christmas tree.
31 Dec – Hemmm… I still dunno what I will be doing… but Gigi just stamped a "reserved" stamp on my forehead!
Look at it on the bright side… I still have 18 days to blog.. before 2007 hits me! I still strive to finish up my backdates before 2007. I know that look you are giving me when reading this. Trust me… I am trying. Montaging takes time… and sorry… I am not settling down with some montage I am not happy with.
Till then… I hope everyone enjoy DECEMBER. 🙂