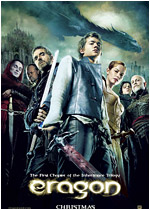 Movie Title: Eragon
Rating: ⭐⭐⭐⭐⭐ (5/10)
Year: 2006
Eragon official site: http://www.eragonmovie.com/
As everybody knows… I hate reading so.. Eragon was like an alien language to me when I first saw the poster. Which well… I think is a corny name (no offence to all Eragon fans). The first time I pass by the cinema and saw this poster coming soon, I just walk pass it without even wanting to take a second look.
It was one of those "ops… I did it again" poster. So overly used. Put it next to the "Four Brothers" poster and it just gives you the same look and feel. It was until someone pointed out it was some movies about this dragon which first thing that comes to mind… something like "Dungeons and Dragons". Hmm… dragons eh?
Well… I sorta entered the cinema with a moderate expectation since… it was an adaptation from a trilogy novel. Hem… and yeah…. so I did get a moderate return. It wasn't that great as what everyone was expecting to see. But I guess the only reason I think it was still okay was because I just came out from watching the "Curse of the Golden Flower" a few days ago.
Pretty self-explained title… replace the d with an e and you get Eragon. Everything in this dragon time started of with this young boy named Eragon (Edward Speleers) who supposedly is a farm boy go hunting in jungle. Instead of bringing back a deer, he brought back something more valuable. That's right… a big blue colour egg which was teleported to Eragon when Arya (Sienna Guillory) was surrounded by King Galbatorix's (John Malkovich) army and a powerful Shade, Durza (Robert Carlyle).
Of course the life of the young boy will never be the same again ever since he brings back this egg. Ever since his cousin Roran (Christopher Egan) left the town, his only best mate was Saphira (voiced by Rachel Weisz). Yes, you guessed it right, so much for wondering what's in that big blue egg.
One day while hanging out, he accidently heard Brom (Jeremy Irons) telling stories about dragons and the dragon riders… which was a taboo thing to talk about since King Galbatorix was a traitor and he is the man who whipe out the Riders. He then went looking for Brom to know more about the dragons.
Unknown to Eragon, King Galbatorix has already sent lots of people and weird creatures looking for him to kill him. Why? Cause it is said that when the dragon rider dies, so does the dragon. So yes… kill kill kill. The only person who have a plan for this is Brom.
Brom is an ex-rider. His dragon was killed when Morza tries to hurt Brom. Brom tries to help Eragon as he is the only hope. Going through a big cat and mouse chase, Brom taught Eragon lots of spells and learn lots of stuffs. This has also strengthens Eragon and Saphira relationship.
Everything was going fine as Brom and Eragon is on their way to look for Ajihad (Djimon Housoun) as he is the man who is brave enough to lead his people to fight against Galbatorix. It was until Durza cast some spells on Arya and make her appear in Eragon's dream asking him to look for her.
Being some typical movie, Brom dies in the process of trying to save the stubborn Eragon. Upon rescuing Arya, Eragon have to hurry as Arya's life is in danger. He then met Murtagh (Garrett Hedlund). He leads Eragon to Ajihad only to find out he is Morza's son.
Of course trilogy like this will have to have the "big battle" scene between good and evil. Eragon the mighty hero partner together with the mighty dragon. Looking good in the shiny armour.. hmmm… is all set to fight saving the entire community and killing Durza. *yawn*
Now… comes to the point where I can throw in my 2 cents worth of comments. From the starting… I think this movie was going at a too fast pace thing. It's like a big rush… from finding the egg to it hatching.. to it growing to the journey to the ending. Not to even mention most of the characters were under developed.
Now… it then comes down to the casting. I can say they really didn't do very well in picking up the main cast. I don't know… he just seems so emotionless. It's as if he is reading the lines and just couldn't put himself to the position. Even towards the end when he acting is still lacking. I personally think the Rachael Weisz could be better. It was rather the same tone most of the time despite it was an exciting or just another boring scene.
Now talking some sense… I still don't understand… it takes Eragon and Brom like days to reach somewhere near to the Ajihad's. That is when Eragon decided to fly back to save Arya. I mean yeah of course he can reach in no time since he is flying. But Brom saving Eragon. How? He fly too? With AirAsia? The best part is, a dragon could not carry the weight of 3 person but can manage to fly wearing some funky armour and his rider who happens to wear some heavy armour too.
At least there is something I am happy about. The CGI for the dragon was amazing. The detailing was super cool. I just love it. Now… no matter how unlogic it turns out to be.. it is a way better plot than Curse of the Golden Flower.