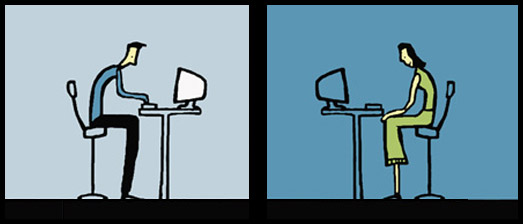 Hem… now I guess this year is like a year with lots of different experiences for me. Firstly… the "I got lock outside the office" drama… which well, I am glad many people take the effort to memorize phone numbers, write down a copy of important phone numbers and set aside and well… happy that many people give me lots of constructive advice of what to do next time it (touch wood) happen again.
This time… haha… it was something which I can only describe as totally insane thing happen. Okay… as usual when I reach office, I would turn on my pc.. do my routine like making milo and filling up my other cup with water. Sit down… check my mails… and and talk to my friends on MSN and Yahoo a little before going to work.
Now, I was chatting with Kenny Ng on happy lau sai-ing day. Yeah.. he message when I was half way battling in the war. Okay lar… I need to chat a little while working… hahaha. Now… we then got in to this IRC topic out of a sudden. He told me he used to IRC a long long time ago and tell me funny stories since I needed a laugh. I told him I used to IRC too and there were many fake people inside. I said some takes IRC to a very serious level… come out negotiate like gangsters because of channel stuff, some girls would offer their body to get an OP in the channel while many others would just fight and backstab.
He agreed on those points and the exciting part soon starts.
Kenny: sleep with channel founder get ops… mostly happened in famous channel
Me: famous channel but then that is stupid
Kenny: yalor
Me: ops oni ma
Me: can dong farn sik (literally translate as: can eat ah)?
Kenny: example Penang channel
Kenny: i was a SOP there once…
Me: ooooo…
Me: what is ur nick hah
Me: maybe i know u ger wer
Kenny: last time beginning time i use XXXXX (You want to know ar? You ask him loo but I can tell you he is damn famous.)
Me: oh my god
Me: i know u one u know
Kenny: ahhhhhhhh??????
Kenny: u know me?
Me: oh my god!
Me: you know AAAAA (some other chatter's nick)?
Kenny: sei!
Kenny: yes i know him
Me: you know BBBBB (some other chatter's nick)?
Kenny: he married ledi
Kenny: BBBBB my classmate
Me: oh my god!!!!!!!!!!!!!!!!!
Kenny: OMG!!!!!
Kenny: who r u ah?
Me: I met BBBBB before…
Kenny: wat nick u using ah?
Me: I am VVVVV *laughs*
Kenny: u!!!!!!!!!!!!!!!!!
Me: oh my god!!!!!!!!!!!!!!!!!!
Kenny: VVVVV……
Kenny: wei….. dig out old time story only know is u
Me: This is insane!!!!!
Kenny: wat a small world
Me: Yeay… I have met XXXXX before!!
Kenny: hahaha
Kenny: I have met VVVVV before!!
(we were like so excited and then continue talking about how other chatters were doing and all)
Me: okay okay
Me: i still kenot accept the fact
Me: i know u so long dy
Me: i must drink some water first
Kenny: u always happy go lucky 1
Me: hahaha
Me: good mar
Kenny: me also cannot accept it
Me: that time i just 17 u know
Me: wah
Me: 10 years
Kenny: if say it out… sure they all laugh
Kenny: i was just….. 19 or 20
Kenny: can consider lost n found net friend ah?
Me: wah long lost lar
Me: this is super duper amazing lar
Me: OMG!!!
And the OMG!!!! This is insane!!! AMAZING!!! keeps repeating and repeating and repeating as we both could not believe it. I mean.. the first time I met Kenny was when I tag along with may to meet up winn, angel and cocka to go have dim sum at hartamas. Yeah, I never actually met Kenny when IRC-ing.
Ah… I finally meet the famous XXXXX but yeah… he is now more famously known as Kenny Ng dy. But yeah… it was an amazing discovery. You really never really know.. someone you chat with now might be someone you actually know for quite sometime.
If it's not for the digging out old stories and stuff… we won't even know. Then again… now that it feels so weird. I always just tot I know hime for like a few months and like now… bang… 10 years! I dunno… just weird! But cool!
Wonder who will be next in the line to say… "You know I know you one". Now I think I can make a tv series out of my life lar. Haha.. damn dramatic huh?