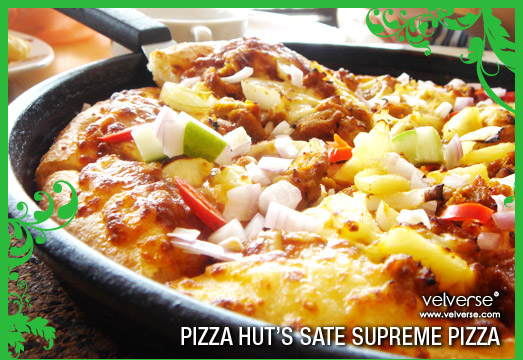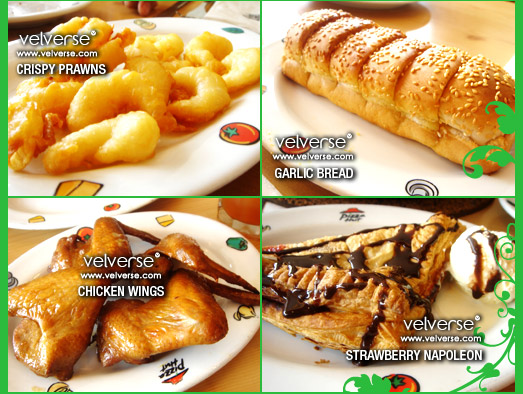 Backdated post. Actual event took place on 14 October 2006.
Time really flies. This is practically the last day Nicole will be around Malaysia. So yes, we woke up pretty much early, get ready for lunch. Okay.. to be honest… not that early la… I rush to finish the Goong drama hence I sleep late the night before. But well… while I am busy getting out of bed, bathing and getting ready, Nicole is busy stuffing everything in to her suitcase and jumping on it so it could lock.
We then have a hard time deciding where to go for lunch since it's Puasa month. We all decided to head to Pizza Hut for lunch. This Pizza Hut shop was pretty much bigger and spacious compare to many others (view image here).
We ordered their special Sate Combo. Right… not everytime of the year we get to try new flavours that comes out following specific seasons of the year. The combo includes a Sate Supreme Pizza, 1 Large Crispy Prawns, 4 bowl of soup-of-the-day,1 Garlic Bread, 4 glass of Ice Lemon Tea and 1 Strawberry Napoleon. When asked if I wanted to add anything… I quickly say yes to their Chicken Wings. No kidding… I love their Chicken Wings more than their Pizza.
I remember I went there once and just ordered their Chicken Wings only. Wooo… lovely~ Yeah… back to their set… I think the Sate Pizza is not happening for me. Er… I don't know why. Just not my taste for fusion food. It just didn't mix well. Satay… sweet peanut sauce.. cucumber… and pizza… er… they just don't mix. Honestly… I think it was a terrible combination and thank god it's only available during puasa month.
Their Crispy Prawns… hemmm nothing much to shout about. It tasted like those you could get from the frozen food section in the supermarket and deep fry it ourselves. As for their Strawberry Napoleon… hahaha… I think it should taste good if the waiter/waitress would ask if want to serve it later or now. They just serve everything at one go… which of course people like me is busy eating the main course would set desserts like this for later. Hence… the ice cream melts like nobody's business. The whole things turn out pretty much scary with the melted vanilla ice cream now looks brownish red due to the chocolate sauce mixed with the strawberry filling.
Jason had an additional dish. Haha… Nicole brought a can of silk worms for him to try out. Jason always love to eat those weird weird insect dishes. Nicole didn't believe he would eat it and dared him to eat the worms in front of her… which of course he seriously did. Haha… Isn't that amazing~
Address:
Pizza Hut (Wangsa Maju)
Wangsa Maju Commercial Centre
Lot PT 6878 Pusat Bandar,
53300 Wangsa Maju, Kuala Lumpur.
Telephone: 03. 4142 9023
Website: http://www.pizzahut.com.my/