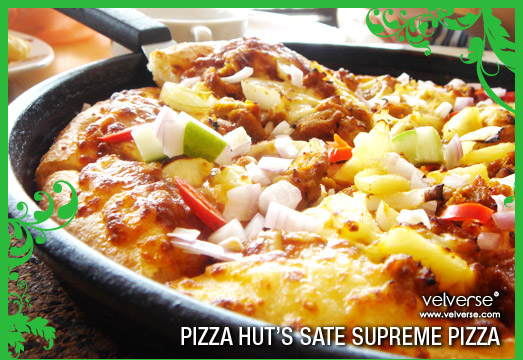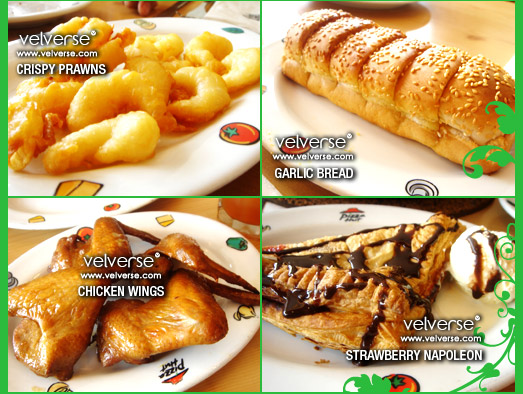 Backdated post. Actual event took place on 14 October 2006.
Time flies by so quickly and today is Nicole's  last day in Malaysia.
In order to make every minute counts, we woke up pretty early to get ready for lunch.
In which to be honest, it isn't that early after all since we spend the whole night binge watching  Goong drama.
To save time we split our tasks. While I am busy getting ready, Nicole is busy stuffing everything into her suitcase and sitting on it just so it could lock.
Since it is the fasting month, food options are pretty limited.
So we finally decided on Pizza Hut for lunch.
Interestingly, this Pizza Hut branch is really spacious in comparison to many others branch (view image here).
We ordered their limited time offer which is their Sate Combo.
It is basically their new flavour that they offer during the Raya festive season this year.
The combo includes a Sate Supreme Pizza, 1 Large Crispy Prawns, 4 bowl of soup-of-the-day,1 Garlic Bread, 4 glass of Ice Lemon Tea and 1 Strawberry Napoleon.
As usual, Deli Wings is a must during each Pizza Hut visit.
I'm not even joking. I personally love their chicken wings more than their pizza offerings.
And I remember on many occasions, I went to Pizza Hut and only ordered their Deli Wings and nothing else.
I remember I went there once and just ordered their Chicken Wings only.
Now back to their Sate Combo.
The Sate Supreme Pizza really isn't hitting the right spot for me.
I am not too sure what went wrong, but somehow this is one of the times to say not everything can be "fushionised".
Somehow the satay meat, sweet peanut sauce, cucumber and pizza dough just doesn't mix well together.
And in my humble opinion, the combination was just terrible and thank god this is a limited time offer and not a staple in the menu.
The Crispy Prawns just seems like something one can get off the frozen food section in the supermarket.
Really don't worth they hype and definitely not freshly battered and fried.
As for their Strawberry Napoleon, it would have been great if they waiter/waitress were more sensitive and ask when we would like our ice cream served.
The ice cream were served together with the mains, leaving the ice cream to melt and turned into milkshakes.
To be exact, disgusting brownish-reddish looking milkshakes due to the mix between the chocolate sauce and strawberry sauce.
Nicole smuggled in an additional dish, she brought a can of silk worms from Korea for Jason to try.
As suspect, it is no challenge for him since he enjoys eating weird insect snacks.
Nicole initially don't think he could do it and dared him into eating one  but turns out shocked.
Wrong person to dare, my dear cousin.
Pizza Hut (Wangsa Maju Branch)
Address: Lot PT 6878 Pusat Bandar, Wangsa Maju Commercial Centre, 53300 Wangsa Maju, Kuala Lumpur, Malaysia.
Address: +603-4142 9023
Website: http://www.pizzahut.com.my/