Backdated post. Actual event took place on 08 December 2006.
Ah… my very first trip to Kuantan. Haha.. sort of exciting for me since this would officially be the first time I set foot in kuantan (excluding the kijal trip). This is our Flare's very first Away Day and Prem decided to bring us to his hometown and have some good food while we could breakaway from office environment and have some creative meeting.
We split in 2 cars to go to Kuantan. Adrian went back the night before as he have something else to do back in Kuantan. Prem drove Azli and Zul to Kuantan. As for me…. being the little princess, of course I have the privilege of my nearby neighbour… Loh to pick me up from my house. Since our place is near to the highway to Kuantan… we decided to have breakfast while waiting for them. Amazingly even after our breakfast s session, they guys still never called. We then decided to move on first since Prem would be driving in a very fast manner and would probably catch up with us.
And yes, we stop at one of the stops as Loh needs a ciggie break. True enough… the others join in just like 30 mins later at the stop nearby to Kuantan. By the time we reach Kuantan, we went and pick up Adrian and decided to look out for places to have lunch. Sadly but weirdly, there isn't much place which is open for lunch. According to the locals (Prem and Adrian), most of the good food only happen at night. Hence we decided to head back to the hotel and just check-in and eat there.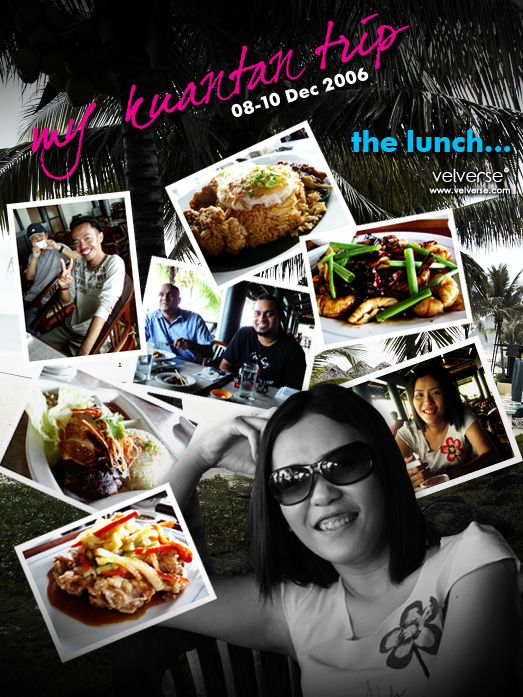 Lunch was at Hyatt's main dining area. There weren't much people at that point of time. There weren't much options hence we head for the ala carte menu and ordered what we feel like eating. I would say the food weren't really great but it wasn't that bad. Prem, Zul and Adrian have their specialty fried rice which comes with loads of fried chicken and satay. Yummy~ As for Azli, he had the chicken rice. Hehe… yes, Azli loves chicken rice I would say.  I tend to notice he orders chicken rice at most of the places we dine in. Loh tried their Thai Style Chicken. I never gave it a try.. but the looks of it is tempting enough. As for me, Stir Fried Sotong with Spring Onion. Hemm… it tasted quite okay except the fact that it is a little too sweet. I taste sugar! Yup, I dun really like my food to be sweet. Seriously!
Right after lunch, we each head back to our room. Haha… everyone gotta share room… except for the cute me 🙂 Now… that is how you spell luxury when it comes to being the only girl in the office 😉 After a short break, we all head to the meeting room and have some small creative meeting.
There were small games to keep everyone participating and alert. It's a game similar to "Win, Lose or Draw" and I sorta win the game. What shocks me is actually there is a cash prize to it. Wooohooo.. so yeah, I bagged extra cash! Yippie yay~ I am really good at this game… and that gesture guessing game 🙂 I pay attention one you know!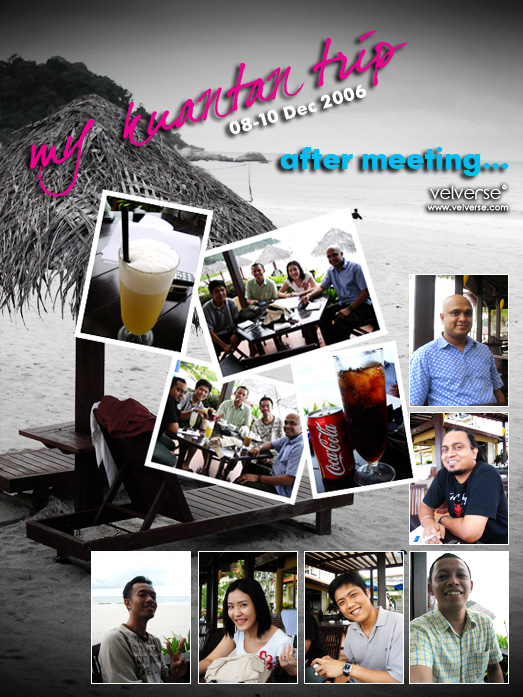 After the meeting, we head out to the pub like place next to the beach at our hotel. While rest and relaxing by the beach, we have some small talks and discussions. Yup, ah… the brain function just so well while sipping the chilled pineapple juice, looking at the ocean… focusing on the white sandy beach. Now, I wish I could work from places like this everyday! And this is not even half of what happen on the first day. So yes, stay tune for the part 2. When work is fun and relaxing~