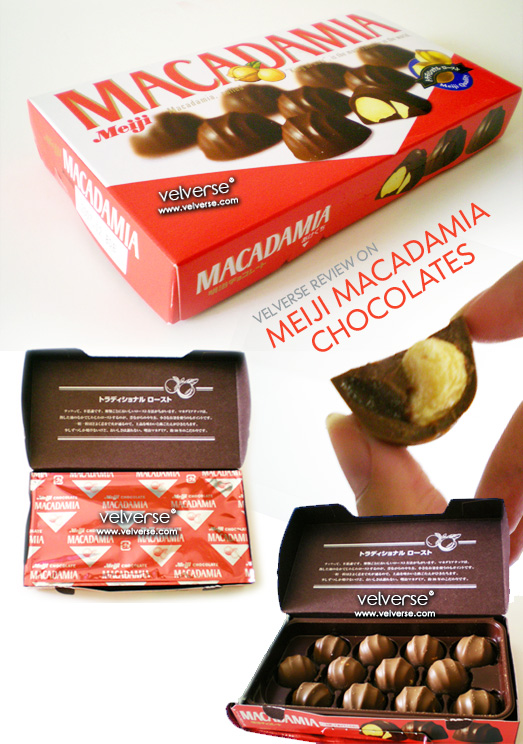 Taste Review:

Packaging Review:

Place of Purchase: Isetan, KLCC
Price: RM7.90
Chocolates~ Yummie!! In my opinion, chocolates need not be expensive in order to taste good. At times, I would say cheaper chocolates taste way better. Call me weird… but it is true.
Meiji have always been a pioneer in producing tasty snacks. Yup, and our country simply imports loads of them. I must say, I simply adore their Meiji Macadamia Chocolates. It is packed in a marlboro looking like design whereby their prominent colours are red and white with the classic arrow pointing down. A simple looking box with a one-liner I find… funny. It reads Macadamia, called "King of nuts", is the most valuable in the world.
But nevertheless, I would say it is a what you see is what you get packaging. You will get 12 pieces of chocolates (9 on the top cover of the box and 3 at the side) and yes, a big chuncky piece of macadamia nut.
As for how it taste like… I would say it tasted good. Not really top notch, but for that price… it is considered good. I love how I can feel the big and chuncky macadamia nut. I love how crunchy the nut taste… and how it blends in so well with the chocolate.
Best of all it comes in small pieces… which means… I can just go on munching and munching and munching.. without even noticing I am munching on the next piece. Seriously, I can finish eating this one box in less than 5 minutes. And  yes, if you ask me I don't find it that sweet cause the crunchiness of the macadamia nut practically overcome the sweet taste.
It's really something worth to chew on if you have cravings for something sweet and crunchy!
Additional Info:
Ingrediants :
Sugar, Macadamia Nut, Whole Milk Powder, Cocoa Butter, Vegetable Fat, Cocoa Mass, Lactose, Flavouring, Emulsifier.
Nutritional Information :
Serving size: 87g
| | | |
| --- | --- | --- |
| Â  | Per Serving | Per 100g |
| Energy | 551 kcal | Â  |
| Protein | 6.5g | Â  |
| Fat | 41.8g | Â  |
| Carbohydrate | 37.1g | Â  |
| Sodium | 42mg | Â  |
Website: http://macadamia-choco.jp