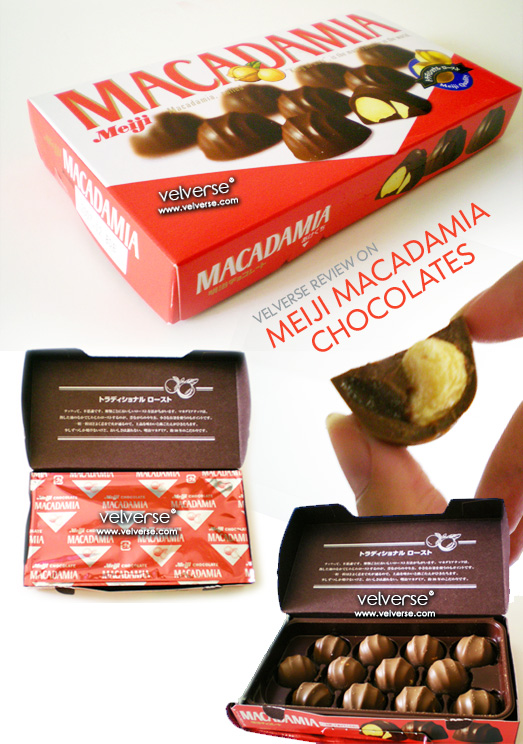 Taste Review: ⭐⭐⭐⭐⭐⭐⭐ (7/10)
Packaging Review: ⭐⭐⭐⭐⭐⭐⭐ (7/10)
Price: RM7.90
Website: http://macadamia-choco.jp
Chocolates 🍫,  in my opinion doesn't need not be expensive in order to taste good.
Often times, I find cheaper or more affordable chocolate taste much better than the expensive ones 💸.
I know it sounds weird, but it is true.
I think the Meiji brand needs no introduction as they have always been known for producing tasty snacks with good packaging design.
While I love the Hawaiian Host Milk Chocolate Covered Macadamia Nuts, I think it is slightly costly to buy and eat them all- the time. Hence, Meiji Macadamia Chocolates is my next best options for my weekly snacks.
Designed similar to a pack of Marlboro cigarette box 🚬, both leverage on the red and white theme and also played with the diamond arrow shape pointing downwards.
The minimalist design is simply functional yet pleasing to the eyes.
All you need to know as in what does the box 🎁 contains and how many units of it are literally on the box – 12 pieces chocolate covered macadamia snacks (9 on the top cover, while they slot in the other 3 at the side of the box).
And I love how it provides a one liner introduction to the main ingredient – Macadamia.
It reads Macadamia, called "King of nuts", is the most valuable in the world.
Taste wise, while it may not be the smoothest and silkiest milk chocolate 🍫 I have tasted before, I think it still taste decent for its price. But the big and crunchy macadamia nut in the middle manage to add an extra kick to the whole experience.
Meiji just manage to find that perfect balance between the amount of chocolate per piece and the macadamia nut size.
That crunch just makes you feel like a bursting nutty flavour were released in your mouth and that crunchy texture with the chocolate melting in the mouth. Wow ✨! Just unbelievable.
The chocolate sizes were also in a dangerous ⚡ size – bite size!
It's so dangerous as one won't even realize they are eating one, eating another one, and another and another.
And before we knew it, it's all gone.
But what is even more dangerous? It's not as sweet as the other chocolate bar I had.
Probably due to the balanced ratio of chocolate and nuts that made me focus all my attention to the crunchiness of the macadamia nut rather than picking up on the sweetness of the chocolate.
Love it, and definitely recommend it to macadamia and chocolate lovers!
Ingredients :
Sugar, Macadamia Nut, Whole Milk Powder, Cocoa Butter, Vegetable Fat, Cocoa Mass, Lactose, Flavouring, Emulsifier.

Nutritional Information :
Serving size: 87g
| | | |
| --- | --- | --- |
| | Per Serving | Per 100g |
| Energy | 551 kcal | |
| Protein | 6.5g | |
| Fat | 41.8g | |
| Carbohydrate | 37.1g | |
| Sodium | 42mg | |