Rating:
AVPR: Aliens vs Predator – Requiem official site: http://www.avp-r.com/
I finally understand why they use the tagline "There will be no peace on earth". Cause the show is TERRIBLE! I couldn't understand the show. In terms of making sense. Cause things seriously don't make sense. Hence, it sorta disturbs me. The fact that the aliens is breeding so fast while there is only one predator that comes to earth is weird enough. How the predator show his true face in the last fight is just funny. Initially, I thought it would be some scary show. But I think I end up laughing out loud. Watch only if you have watch every other aliens and predator movie, cause I know how it feels like to miss one out. 
Rating:
National Treasure: Book of Secrets official site: http://disney.go.com/disneypictures/nationaltreasure/
I can never get enough of treasure hunting. Of course it's not as exciting as the prequel. I would say it do me good. The mystery solving, the clue finding somehow just manage to fill up my 2 hours worth of time. This time Nicholas Cage goes all out to clear his family name. That includes kidnapping the current president of the United States. It's clear that there will be a sequel to it and I will still patiently wait for it show.
Rating:
I Am Legend official site: http://iamlegend.warnerbros.com/
I start to think that Hollywood is out of great ideas to produce great movies. It felt so similar to Resident Evil. After the first 30 minutes of the show, I can tell what the ending would be. And for one second in my life, I thought it was deja vu. Will Smith's character seems weird… he is potrayed as a US Army personnel. He is the only sole survivor from the disease that turned the population of the entire planet into mutant, zombie-like, hive mind, blood-thirsty monsters. He is then seen as someone who tries his very best to cure the zombies and have such high-tech lab. One thing for sure, the cinematography and Smith's acting really did save the show.
Rating:
The Golden Compass official site: http://www.goldencompassmovie.com/
Ever since Lord of the Rings made it's big name, everyone else just tries to ride on it's success. Similar to LOTR, The Golden Compass is an adaptation from a famous book. I must say, the movie is simply disappointing. The show is boring… so boring even the talented Nicole Kidman couldn't save the show. Despite being a long movie, many things still seems so unclear. The animation seems fake and just couldn't gel with the rest of the look and feel of the show… especially the polar bear. And the best part, they kept showing the polar bear. Argh… the ending made it so obvious that there will be a sequel to the show, but I am still wondering if I will be in the cinema watching it's sequel. I honestly think it's bad! I would rather watch re-run of LOTR for the 6th time.
Rating:
The Warlords official site: http://www.warlordsthemovie.com/
One of the best Hong Kong movie that actually gather 3 megastar together. I love the fight scenes. I love the true meaning of loyalty. It is really a movie that caught me emotionally. Yes, it's one of those movie that you can't actually put any blame on anyone… it's just a matter of where and how you look at things and which stand do you take. I seriously love Andy's character. Ah… you just shouldn't miss it.
Rating:
Initially I never plan to watch this show. But after listening to the radio promo for quite some time, it sorta interest me. The radio promo goes asking female listeners what and how are they going to kill all the bad man in the world. Haha…. interesting? Yup, that is what it is basically about. I would say Nick Cheung really impress and surprise me with his acting talents. His character is so beliveable and interesting. Now, some guys caught peeping girls in the toilet. If they say they weren't peeping… would you believe them? No? You might start to believe them… after you see this show.
Rating:
Mr. Magorium's Wonder Emporium official site: http://www.magorium.com/
If there is such thing as a wonder emporium, I would be the first to queue up and look for a job there. Toys, lots of toys and not to mention it is a place where anything could just happen. It's almost like what every kid is dreaming about. I think it is a wonderful movie… a great movie to tell young kids, anything is possible. But it is rather boring as the show simply have no spark or climax to it. It just goes on and on and one and on… and not to mention, I expected more from the wooden cube block. Yeap, a movie with great believe but poor ending.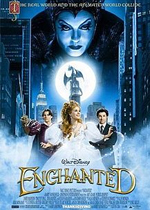 Rating:
Enchanted official site: http://enchantedmovie.com/
What can be better than a happily ever after ending. Something really refreshing and fun from Disney. Hahaha… yes, as a person who loves to daydream… movies like this suits my taste. A mixture of some 2D cartoon… to bring back my childhood memories and a mixture of modern show. Best of all, the popup card like look and feel is simply amazing. More to that… the singing and talking to animals thing that we used to see doesn't really apply anymore in real life. Ah… I miss those good old cartoon days.
Rating:
Brothers official site: http://www.brothers2007.com/
It's been a while since the "5 Tigers" got together. The last was probably a decade or so ago. This time around, Eason join in the crowd to come out with a brotherhood story. A story that strongly talks about trust, brotherhood and power. Of course the fact that Hong Kong triad movies always sell like hot cakes, this movie doesn't differ. I somehow think the casts over power the show. In terms of all are veteran and great actors. But the story just fails to shine through. It started of strong and solid but towards the end, it just lost it's charm somehow. Rather predictable but trust me… you will see many powerful acts in it.
Rating:
Beowulf official site: http://www.beowulfmovie.com/
One movie I could never understand why on earth they need to work the whole movie in 3D. I seriously still couldn't figure out why. If you wanted to make a 3D so real that it resembles the real person… and the real person is still alive and living, you might as well just use the actual person in the movie. I mean what is the point? With the current technology, the human still looks fake/plastic and walks as if there's soemthing sticking at their butt. I personally felt cheated, and I honestly think such a great greek myth could work better if it's real acting. But I must say, it's really one of those violent movie with loads of bloody scene.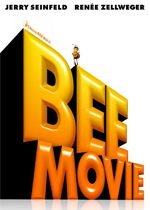 Rating:
Bee Movie official site: http://www.beemovie.com/
The trailer made it clear that it is pretty much boring. If you insist to think otherwise, then be prepared to yawn a little. I personally think it is quite boring… and the movie sorta bring out weird message (in my opinion). It tells how bee's daily life is. The morale of the story is just weird. It just seems to say, humans can conveniently take away honey from bees because if we don't bees will have nothing to do and they won't fly around spreading pollen and flowers will eventually die. So, what happen to butterflies and bugs and birds? Simply misleading.
Rating:
30 Days of Night official site: http://www.30daysofnight.com/
More vampires, more blood… more red. I always love the vampire stuff. From Van Helsing to Underworld… it just interest me. 30 Days of Night really is a movie that goes all out to sell Josh Harnett. Really…maybe I watch too little movies to recognize anyone else. But I think it is pretty much a cool story considering how they piece everything together very well. Everything sorta makes sense when flashback. But I really love the classic scene whereby the vampire uses his long nails to scratch the vinyl disc. Ooo… that scene itself scares me more than any other bloody scene.
Rating:
Resident Evil: Extinction official site: http://www.sonypictures.com/movies/residentevilextinction/
If you watch the first and the second one, how could you possibly miss this one out. That is also the main reason why I still ain't giving up. Of course the fact that Milla Jovovich is in the show does play an important reason as well. What!! Who says I can't watch a movie for the sake of looking at pretty chicks! After what happened in the first two movie, our world have come to a near extinction. With loads of infected zombies roaming around freely, no where is safe. The one cool part I really love in the show is one can see there are so many Alice being cloned.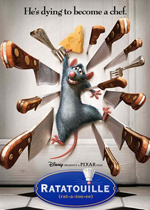 Rating:
Ratatouille official site: http://www.ratatouille.com/
A rat movie to welcome the new rat year. How appropriate. What makes it even better is, the rat knows how to cook good food. For a person like me… yummie yummie food always tempts me. I love the movie it combines and really shows of what Pixar can really do… minus out the lovey dovey section which in my opinion, think that it happens too fast and without much purpose. So yes, if a rat can cook… so can you~
Rating:
The Bourne Ultimatum official site: http://www.thebourneultimatum.com/
Bourne… bourne, bourne. I can never get over Matt Damon in this one. I guess this character is tailor-made to fit him. Well balance of action and fight scenes. Of course there are many repetative or similar shots from the previous 2 prequel to carry on the continuity. But I must say, I think this is by far the best Bourne movie. Not like I didn't enjoy any of the previous ones. This one really rocks! Especially the fight scene in the toilet. Hungry for a solid action movie? This is the one for you!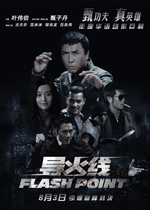 Rating:
Flash Point official site: http://www.flashpointthemovie.com/
Donnie Yen… Louis Koo… ah… and many other macho guys in the Hong Kong style action movie. It's really true, Asian action movie style is just so different from the western ones. Of course being a typical chinese girl, I still prefer the way we asians do it. No doubt I would go wow over explosions and stuff in an English movie but then… they could really never catch up with the stunts. So yes, you will get a similar feel of watching some Jackie Chan movie. All the fight choreography, stunts, blood, wounds and scars. It's all real! But don't expect to have a decent and good storyline for the show.
Rating:
Rush Hour 3 official site: http://www.rushhourmovie.com/
Yet another Jackie Chan Hollywood movie. The 3rd episode of Rush Hour basically continued it's story from where it las left off. This time is another scenario with more additional cast in it. I seriously think this movie is done just to ride on it's previous success. It didn't really showcase Jackie's talent. The story and humour for this really isn't that great. But well, worth the watch… considering when it launched… there weren't that much competitor.
Rating:
Premonition official site: http://www.sonypictures.com/movies/premonition/
Thursday jumps to Tuesday then goes back to Friday then jumps back to Wednesday. Ah… I seriously would go crazy if this thing does happen to me. Yeap yeap, it's one of those Sandra Bullock show. Not really highly promoted. Kinda laid back show that would hit me and made a mark. Yup, you would find some mild similarity to her previous movie, The Lake House… also about time travel thing. But this one really have a twisted ending. Really really lovely.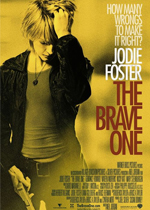 Rating:
The Brave One official site: http://thebraveone.warnerbros.com/
Surely isn't one of those big budget movie… but with Jodie Foster in it, it's enough to appeal to me. It's a story that tells how one could change into someone else and there basically is no turning back. How hatred can change everything we see. How revenge is just so powerful it could leave a deep scar in one's heart. A touching story… with a weak ending 🙂 But it's still worth the watch.
Rating:
The Invasion official site: http://theinvasionmovie.warnerbros.com/
Aliens~ Would believe it's all about aliens? As a matter of fact it is. But you don't get to see those green weird creature with big eyes and three fingers. You don't get to listen to weird language. It actually takes the form of a human. It's really quite interesting how they invade the world. How people around you can detect small changes that happen to you. I seriously can't imagine how the world would be without emotions. You can catch some interesting lines… but ending is dead predictable.
Rating:
Live Free or Die Hard official site: http://www.livefreeordiehard.com/
After like a decade, Bruce Willis is back to his Die Hard role. I could still remember how the TV stations would repeatedly show the re-runs. This time it's different. A whole new Willis, a whole new story. I kinda like this new one. Probably because of the technology now, more things can be done. More cars exploding and flying around, more explosion and of course more technology. Best of all, it's all about hacking. I must say, Bruce Willis is still a macho guy!
Rating:
Dancing Lion official site: http://www.dancinglion.hk/
A comedy solely to make you laugh… and probably used to promote new actor/actress in Hong Kong. Seriously, the storyline sucks. It seems like a no story, no script and "you do and say whatever you like" movie. It's really disappointing considering the fact that I like all three of Anthony Wong, Francis Ng and Teressa Mo. I watched it twice, it still didn't change my perception of it being one of those do for the sake of doing movie.
Rating:
Perfect Stranger official site: http://www.sonypictures.com/movies/perfectstranger/
You twist and turn and you twist and turn. You think how strangers are so scary because you never knew anything about them. You chat online and talk to strangers, disclosing secrets… thinking it would be safe since it's someone you never know. But what if it's someone you know, trying to find it's way to revenge and put the blame on others. Things is always not what it seems to be. The eye tells it all~
Rating:
Shrek the Third official site: http://www.shrekthethird.com/
Shrek is back! This time he is about to be a king. The trailer itself is enough to make one laugh out loud. Can you imagine… a big and clumsy green orge to be king. Not only is Prince Charming not happy, in fact… Shrek himself isn't happy. All he ever wants is to live happily in the swamp. Of course in thie episode, a lot of good vs. evil thing is happening. Who could imagine… even snow white has a tattoo and can fight so well. Loads of thing to laugh about… and surely lots of unexpected stuff to expect from.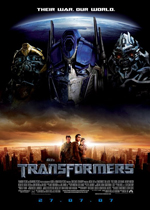 Rating:
Transformers official site: http://www.transformersmovie.com/
Everyone talked about it. Everyone waited for it. Many were amazed with what was done. But I figured it was just alright. Yup, you can tell how much I ain't such a fan of robotic elements. But of course Micheal Bay's name is big enough to catch me there. I am really amazed how much effort is placed in creating the huge robots but I somehow think the script was weird in terms of the content. Well.. maybe I ain't any hardcore fan. Then again, worth the watch… considering so much effort being placed in and not to mention… it's a hype. 
Rating:
Surf's Up official site:http://www.sonypictures.com/movies/surfsup/index.html
If you love animation, the sea… surfing and cute penguins, then this is the perfect show for you. I personally think this is way better than Happy Feet. Seriously~ Probably because I am not into realism 3D. I had lots of fun, laughing and woohoo… I just cna't get enough of the surf style~ Ah… now I wish I could surf~
Rating:
4: Rise of the Silver Surfer official site: http://www.fantasticfourmovie.com/
Definately not as good as the first one… but the cool Silver Surfer sorta save the show. It's less action packed and Jessica Alba looks like she grew older by 10 years. What is wrong with the stylist? Of course I personally think it was alright only. Oh, did I mention the fact that the car was built was not fully utilized. It was to my BIGGEST disappointment. I saw the "making of" in TV… and they all say and talk about how cool and interesting the car is and stuff. When I saw the movie, I was immediately disappointed with the fact that it only appears like 10 minutes max in the show.
Rating:
Pirates of the Caribbean: At World's End official site: http://disney.go.com/disneypictures/pirates/atworldsend/
Where is the rum? Captain Jack Sparrow is back, this time… he even bring along Chow Yun Fatt. Sad to say, Pirates of the Caribbean fails to impress me this time. No, Johnny Depp did well as Jack Sparrow. So did everyone else. But I find the story rather complicated… or I should say complicating. Scenes were so messed up. I can hardly tell why is that happening. Why is this happening. How? What? Who? Sigh…. not to mention, they shoo me off the cinema and I didn't get to see the mysterious ending 🙁