SS2 is really a food heaven. You get to eat like practically anything you crave for. From local cruisine to Taiwanese food to Hong Kong Char Chan Teng up to Korean Food, Japanese food and not to mention western food. Greenwood Cafe actually serves both local and western food. The signage of the cafe didn't actually score for my first impression but the clean and comfortable environment manage to lure me in to the shop.
My darling ordered an Iced Chocolate (RM5.00). I would have to say it doesn't really quite did the job for satisfying any chocoholic cravings. Not to mention I think it barely worth that much. I does seems like loads of milk with just a little dash of chocolate sauce.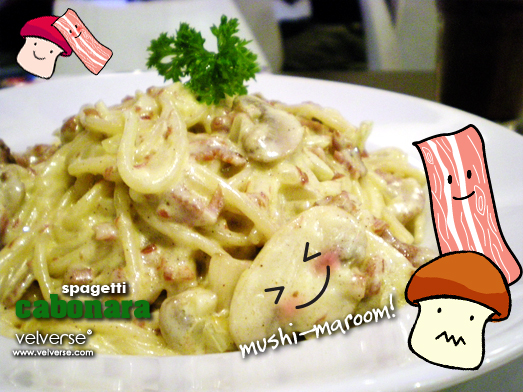 For his main, my dear ordered the Spagetti Cabonara (RM14.00). It tasted okay, except for the fact that it is a little too wet and buttery. I love how they use loads of small beef bacon bits. Haha… I don't have to chew that much! Aha… and yes… loads of button mushroom to my delight. Still, I think it is a little over priced for it's standard.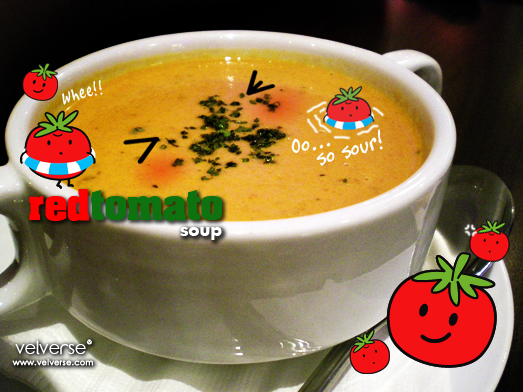 I must say, I love most is their Red Tomato Soup (RM5.00). Maybe because I love sour soup. It really have this rich and creamy taste. I must really agree the tomato taste is really strong. I finish the bowl of soup in less than no time. Hehe.. my baby don't really like sour stuff, hence… the supposed idea of sharing ended up with me having the whole bowl to myself. *evil smile* 😀
Okay… as for me, I actually orderd the Dinner Set which consist of a Pocket Beef Steak and a glass of Coke (RM18.00). It got me waiting for like maybe 30mins. No kidding… my dear finish his spagetti already when my dish came. It tasted great! It have cheese and bacon stuffed at the center. I love how they didn't overly cook my steak. I would say this set is worth the price I'm paying for and yes, it does fill my tummy! *burp*
Address:
Greenwood Cafe
5, Jalan ss2/67,
47300 Petaling Jaya,
Selangor Darul Ehsan.
Telephone: 03. 7877 8577