Rating:
The Dark Knight official site: http://thedarkknight.warnerbros.com/
A long awaited LONG movie, the last Heath Ledger movie and probably one of the best Batman movie ever. I totally love the show… especially how dark it could be… and how psychotic Joker would be. I never would have thought Heath Ledger could carry the role so well. Perfect storyline, perfect character development,  perfect cinematography and a perfect joker. But I somewhat think Christian Bale is too thin to be Batman (especially his face) and his voice after he suit up being Batman… haha… hilariously funny but annoys me to time to time. But what disturbs me most… Edison Chen. OMG!!! He is like so super duper extra in the movie. I would think he acted in a bigger role. But what is worst, they blured his face out! Sigh~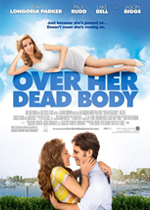 Rating:
Over Her Dead Body official site: http://www.overherdeadbodymovie.com/
Haha… seriously, from the poster… once could practically get the whole story. Yup, the lead actor's dead fiancee just wouldn't move on… even after she passed away. Well, it is quite funny in a way.. but somewhat reminds me of the Ghost Whisperer. Count on Eva Longoria to do well.. why? Cos her role is somehow similar to her Desperate Housewife character. Of course… Jason Biggs add in alot of laughter and humour to the movie.