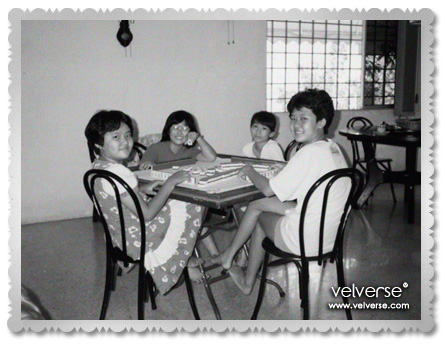 Ahhh… when I saw Nicole's post about the good old (err… young) days pictures… it suddenly strike me that it's really been a while since the four of us gather together. Yup, me, my sis, nicole and also joyce. I remember how the four of us would be so excited and eager to get together. Hehe… why? MAHJONG~
Hehe… now looking at the pictures, we are highly trained since young. Hehe… yeah, ever waiting for our parents to go toilet or tea break so that the four of us could just take over. It's just so noisy and fun.

Hehe… of course it is still a tradition for us each time we get together. It is just so fun for us but I guess the last time the 4 of us got together and play was back 10 YEARS AGO! OMG! And I seriously do miss the times where we get together. It seriously brings back all the happy moments for us as kids.
Aren't we cute kids with cool talents? Okay… probably a little chubby but hey… chubby kids are cute! Hemm… Nicole, when are you coming back and let's Mahjong!