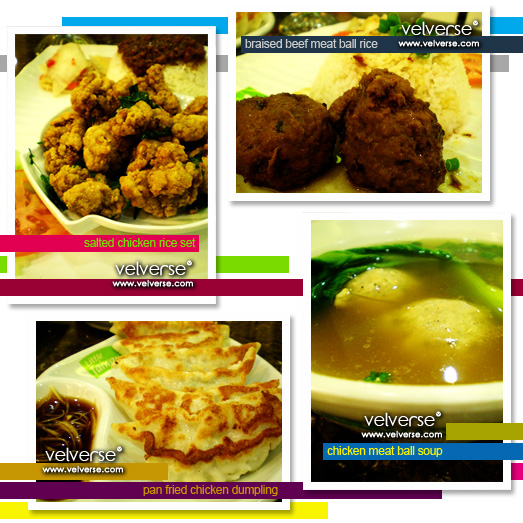 I guess I am easily influenced by TV programmes. I love watching taiwan's travel and food show. So, I would think taiwan have many good food. Which automatically attracts me to this shop called Little Taiwan in 1 Utama.
Of course I would have to credit the scrolling lightbox as well 😀 *wink*
In my humble opinion, a good chinese restaurant is one that serves superb dumplings. Yes, so we ordered the most common… Pan Fried Dumpling (RM8.90) and to my disappointment… it taste like frozen food. It doesn't have meat taste to it and tasted blend.
My dear ordered the Salted Chicken Set Lunch (RM13.90) inclusive of Bubble Red Tea. Additional Pearl costs RM1.00. The physical look of the dish is nice and makes our tummy goes goo goo gaa gaa…. but taste wise, it's really lacking of standards. The salted chicken is not crispy and "not salted". I seriously didn't enjoy this dish at all as I have seriously tasted better salted chicken.
I've ordered the Taiwanese Beef Meat Ball Set Lunch (RM15.90) inclusive of Bubble Red Tea as well. This dish comes with 2 huge beef meat ball. I seriously don't know how to explain this… it's nice and tender… cook to perfection. However, it has this strong "beef taste" which I would think make a lot of other people to not like it.
We add-on the Chicken Meat Ball Soup which cost us only RM2.00 since we ordered the set lunch. I personally think it's overly priced cause the chicken meat ball tasted like the Ayamas frozen chicken meat ball served in an oily soup.
To be honest, I though the whole lunch was a huge disappointment to me. Probably cause I expected a lot from it's name, probably they should invest more in taste testing.
Address:
Little Taiwan
Lot LG 325 & 326, LG Floor,
1 Utama Shopping Centre,
No. 1, Lebuh Bandar Utama,
Bandar Utama,
47800 Petaling Jaya,
Selangor DE.
Telephone: 03. 7729 5582