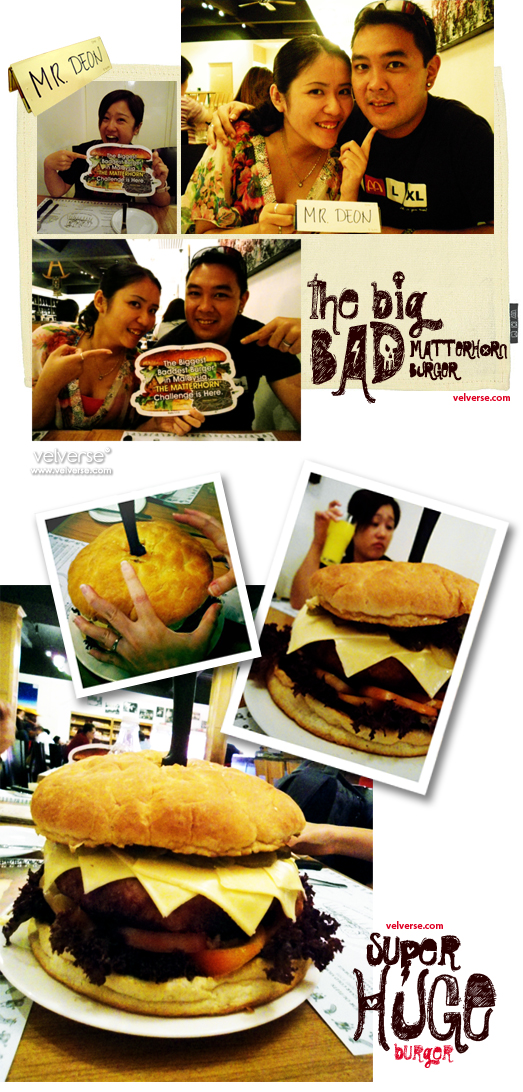 Wow ,  we finally get to try out the BIG "Bad" Matterhorn Burger.
Deon earlier tried it with his friends and colleagues, and he just can't stop telling me how good it was.
So this round I decided to also invite my VVIPs to try it out together.
Reservation is needed, since they need to prepare the materials at least a day before.
Then on the day itself, we will need to call up the restaurant 1 hour in advance for them to prepare the HUGE burger!
The burger is definitely the highlight, all eyes turn around and look at the burger when it is served.
While I am prepared, I know it will be big but still I am shocked.
The BIG Bad Matterhorn Burger just seems so much bigger and thicker than what I expected.
It is made of:
2 large burger bun (around 450g – which is like 9 inch in diameters)
loads of tomatoes (around 370g)
cucumber pickles (around 200g)
lettuce (200g)
4 slices of bacon,
11 slices of cheese (around 200g) and
this super thick and juicy pork burger patty (around 1.5kg!)

The size of the burger can literally hide our face.
Surprisingly, the burger is not dry and the patty is not rough despite how big and thick the burger was.
The burger taste really good and very juicy!
The only problem is there is no way to avoid the mess as you will definitely need to cut, serve and dig in with our 2 hands.
This burger is really for sharing, I would say at least with 3 or 4 other person.
I love every single bit of the burger and will come back for sure.
Anyone want to join me?
This BIG "Bad" Matterhorn burger cost RM112 if you order it on ala carte.
However for big eaters, you can join the MATTERHORN CHALLANGE.
In the challenge, you will need to chomp down the Matterhorn burger in 45 minutes.
It's an individual challenge, so no sharing is allowed.
If you manage to complete the challenge, then you get to enjoy the burger for FREE!
For more info and terms and conditions, please click here.
Address:
Euro Deli,
No. 41, Jalan SS 20/11
Damansara Kim 47400
Petaling Jaya, Selangor D.E.
Telephone: 03. 7726 7495
Website: http://www.eurodeli.com.my