Mmm… I'm in the mood for Korean food.
So into it… that I decided too make my own.
Something soupy… something easy!
Cause cooking for one self, things just got to be fast, easy and effortless!
Korean Kimchi Beef Soup with Enoki Mushroom it is!!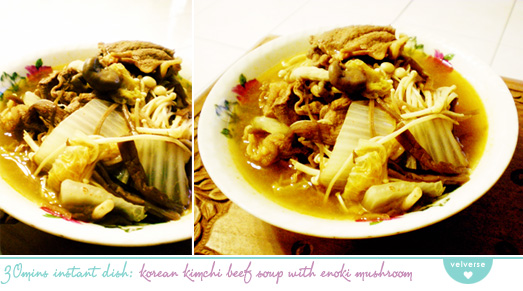 Prep Time: 10 minutes
Cook Time: 15 minutes
Serves: 1 – 2 person
Ingrediants:
1/8 chinese cabbage or  nappa cabbage, washed and cut
1 packet enoki mushrooms, stalks removed and pulled apart
1/2 cup of jarred kimchi
1/2 onion, thinly sliced
500ml beef or vegetable stock
10 pieces pre-sliced 'shabu shabu' beef meat
1 tablespoon oil
salt and pepper to taste
Instructions:
1) In a pot, heat oil on medium heat and sautee onion until brown and fragrant.
2) Add in kimchi  and continue to sautee for another 2 mins.
3) Add in beef stock and chinese cabbage and bring to a boil. Once boil, reduce heat, cover and allow dish to simmer for 5 mins.
4) Uncover, add in enoki mushrooms and then taste and adjust seasoning (salt and pepper) based on personal preference.
5) Bring dish to a boil and add in pre-sliced 'shabu shabu' beef meat and gently swish beef gently back and forth in the boiling soup until it changes color (10 – 20 sec)*.
6) Switch off fire and serve soup in a bowl immediately.
*Note:
I personally prefer beef to be medium-cooked. The moment I add in the sliced beef inside, I would switch off the fire and then gently swish beef back and forth as beef will still continue to cook in the hot soup.