Wee…. samurai *chop chop chop*. The furious, the masters of sword. Everyone somehow known the samurais for their great sword fighting. The long and sharp sword. This week, we hereby honour our fellow samurais by ilustrating our version of little samurai.
Radio, a friend of takeru emailed me a cool yet funky samurai. I totally love the colour play witht he funky colour. Not to even mention there is a hidden word in the illustration. Hehe… I found the word dy… so did you find the word?
Takeru just keep making me say wow from week to week with his cool illustrations. This week he submited his Takeru Samu which literally means Master Takeru. Right… I gotta bow to the master for his skillful illustration skills. Totally love the red background!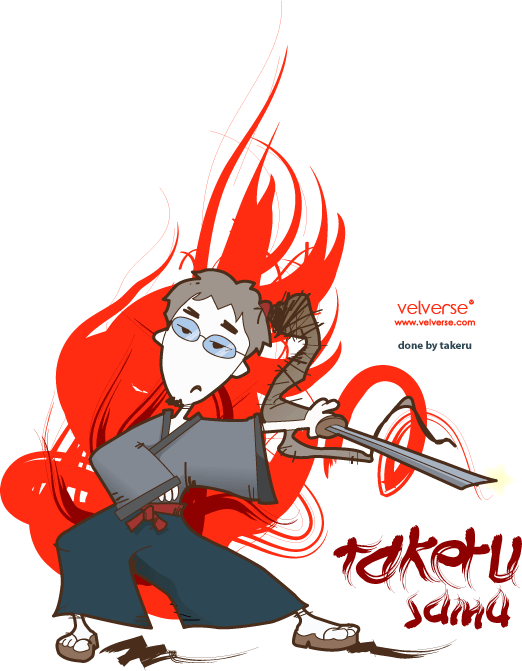 Brian submited his cute little sheep samurai. Hehe…. with two egg look-a-like eyes and hehe kiddo samurai sword, the little sheep look just so stunning and adorable. Samurai Kick! Way to go man!
I also manage to submit my own version of samurai. With the touches of chinese caligraphy mixed with some western style. I can't help to use some of the rough brush edges lines ad I notice it give a more asian feel to the illustration.
What is up next week?
Project theme: Jack-In-The-Box Project description: Woo… don't you just feel how scary it was when suddenly there is a big scary clown face that just pops out of the box. Those were the days when scary movies always use the Jack-In-The-Box to scare us. Now, I guess it's our turn to do a version of our own (right… it doesn't mean it have to be scary).

Project deadline: 25 July 2006, Tuesday.Submit to: mandy@velverse.com
Anyone and everyone is welcome to join. Be it good or bad… it's just something we do for fun! Generate some cool ideas and well.. surely fill up some of our boring times 😀
Click on the banner go link to the project crossroad gallery.