I went to the stadium quite early. To my surprise there were quite a big number of people there. Yes, I was quite shocked. I tot I was early. Never knew there were people there earlier than I do. Maybe they were there since noon time. Never know, people can be so unpredictable at times. 
I walked around to notice many people holding Andy Lau's poster. Yes… I am dying to have that poster. Haha… I was crazy enough to plan to steal those buntings that were hang along the road (I finally find out I wasn't that crazy after all, when I saw a few guys pulling the buntings from the street lamp when the concert is over). I walk up down left right. Look high and low to see where they got the posters from. Before long, me and my mum walked to the stalls and saw lots of Andy Lau merchandise being sold.
There were lots of stuffs being sold. Erm… let's see… there are stalls selling t-shirts, some glow in the dark stuffs, CD's and even karaoke CD. Without hesitation, I totally gone crazy seeing the shirt. I know, I know… the shirt wasn't any fancy. Nothing much was printed on the shirt, but then "Andy Lau Vision Tour 2005" is a special enough reason for me to get the shirt. Haha… guess what? Mum decided to buy me that shirt as my birthday present. Thanks~ I love you ma!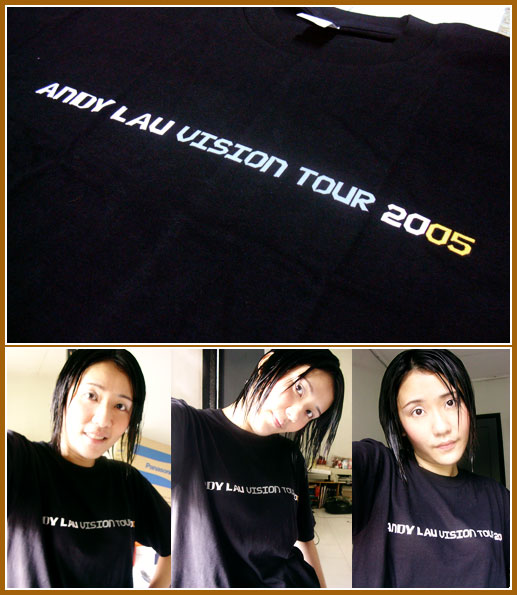 Mum asked me what else I wanted. Well, nothing else caught my attention so the salesgirl packed the black colour shirt and gave it to me. Me and mum continue to walk to the next stall.
It's a stall that sells VCD. Well, I must say this store is really something. They were selling VCD there (original copies of course), they were promoting the "All About Love" VCD collection which have this ring necklace that Andy gave to Charlene. I guess it was a hit thing there and then as I saw many young girls wearing that necklace that day. The funny thing was, they put up this table standee with this promotional buy one free one thing. Yes… none of the shows is relevant or have anything to do with Andy.
I still couldn't find the poster anywhere. I was about to give up! Just as I was to turn away, I saw this guys giving out a big piece of paper. There were a few people standing in front of him, waiting for him to pass them the paper. I move closely towards him. Yeay~ He is giving out free poster. Yes! I finally found it. He gave me one and gave my mum another piece. So in total, I have 2 piece. To my surprise, as the concert ended, there is this guy who took like 10 pieces of poster. I wonder what he's gonna do with the posters. Hug hug and kiss kiss before sleep? Eeeeeeeeeewwww…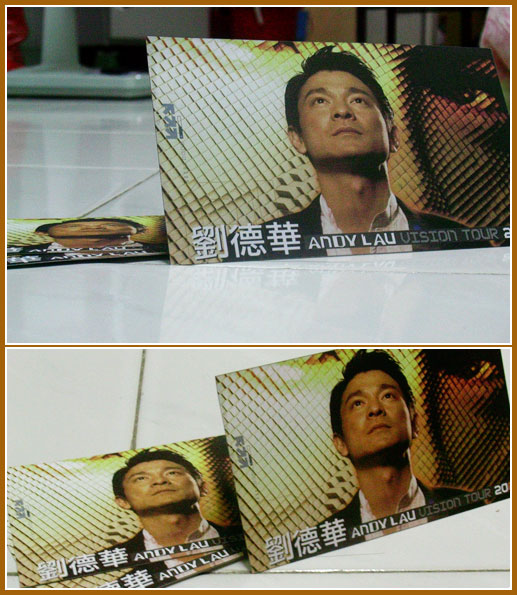 I guess it was my lucky day. They were even giving out bookmark sorta thing. Yeah.. it was being stick to my office wall of fame.