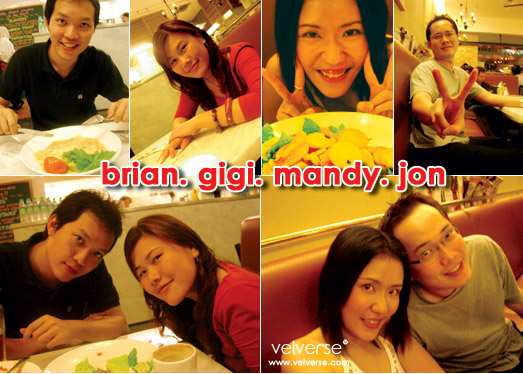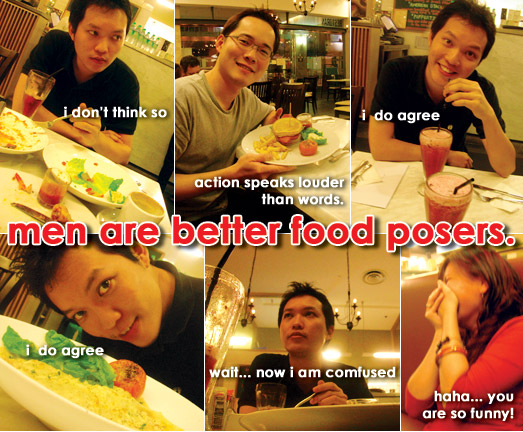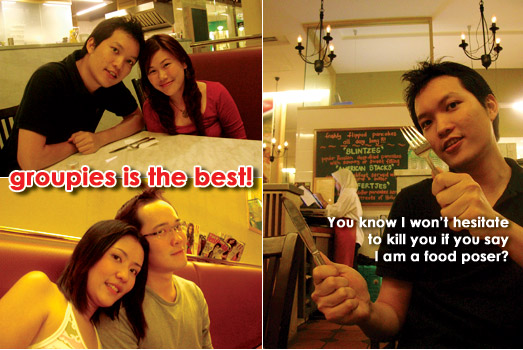 Backdated post. Actual event took place on 9 March 2006.
House of pancakes… woo hoo… I love this place.. but well.. I do hate this place at the same time. I mean.. each time I step in, I have this love and hate collide thing. I love how they manage to make so many different type of pancakes
. I mean.. well I never know there were so many types of pancakes. And well.. why I hate this place… ermmm too many choices. I am bad in making decisions… worst when it comes to food… coz I tend to want to eat everything on the menu. Worst if they have nice pictorial menu.
Everyone was rather amazed with the menu selection. Yes… you will be in deep trouble if you are indecisive like me.
I kinda like the earthy colour used in shop. It makes the whole environment rather warm and cozy. Best part… we all order different different stuffs to share around. So.. it turns out.. I can eat and try everything
Well… obviously there were more thing to do after eating such full meals. Hehehe… taking pictures of course. Ermmm.. nothing can beat the ultimate photo taking session. Yes.. go run around the curve and look for this shop. Surely is good food.
Erm… I will post the food pictures on the next post. Don't worry
Paddington house of pancakes official site: http://paddingtonpancakes.com/