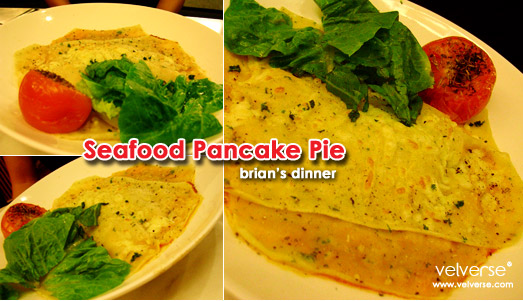 Backdated post. Actual event took place on 9 March 2006.
Yeay.. a continuation from the previous post.. this time.. solely on food.
*drool*… I just love doing that each time I talk about food better even when talk about chocolates.
We decided to order different different types of food to try out. Seriously there is loads of pancakes. I guess there were more than 300 combinations (if not mistaken). Yeah… can you imagine… if I was working nearby… it takes me 3 months to finish trying every single thing on the menu. And the best part… I think my memory tells me it is surely more than 300 types. *blink blink*
Jon ordered the Fried Dory Fish Pancake Burger. Hahaha… reason so… he is as forgetful as a dory (in Finding Nemo). So yeah… a forgetful person eating a forgetful fish burger… How matching. Hahaha… I had a bite of it.. it taste good.. except I have never really eaten dory fish before… and I still do wonder if it is blue in colour. Yeah yeah *busy googling coz "I feel lucky"*
Brian ordered Seafood Pancake Pie. I has this similar feel to a lasagna. Yeah…. but seriously.. it is really good with good portions of seafood. Fish, mussels, prawns and squids… yummy.. but well… I just wish the sauce was thicker coz it seems a little too watery for me. But then again… everyone's taste is different. Oh yeah.. forgive me for not taking pictures of what is beneath the pie… ahahaha… I'm creating a sense of mystery.
Gigi took Brian's recommendation and ordered this Dollar Pancake. Hemmm… rather good choice I would say. Everything was cut into small pieces. Even the pancake itself is smaller than the ones we normally seen. Hahaha… it's so easy to be eaten as everything is mostly bite size. Not much cutting here and there needed to be done.
As for me… I ordered this Grilled Chicken Pancake Burger. Ermmm.. well they had a special name for it.. but I sorta forgot *my bad my bad… please forgive me for my long term memory lost* Ermmm.. well.. the dish was superb… combination of grilled chicken topped with some thick tomato sauce… cheese… loads of melted cheese.. and best part of all.. crunchy hash brown. All these different texture being seperated by a soft pancake. Ah…. *drool again*
As for drinks…. gigi with her normal cafe latte routine. Me and brian ordered the same drink… which is the Fizzy Berry. Wow… I can only say… it sure is very berry! Jon… ordered something similar to ours.. just different fruits. Yeah… if you noticed… I forgot what it was. I actually put all the blame on the pancakes which looks and taste so good that I forgot everyone else.
I think I need to go back there for like 4 months (everyday)…. to finish trying everything!
Paddington house of pancakes official site: http://paddingtonpancakes.com/