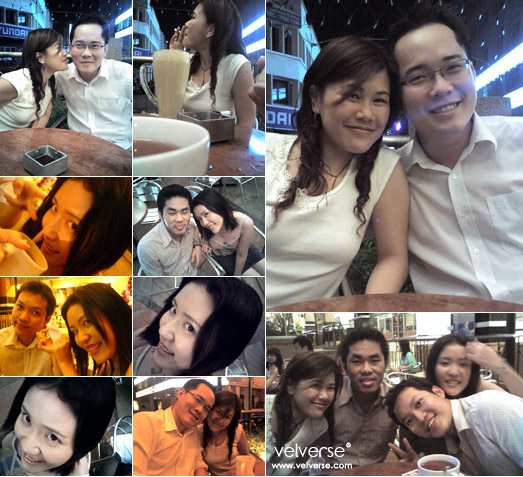 Backdated post. Actual event took place on 29 March 2006.
Oooo.. it was Jon's actual birthday. We have pre-arranged to go dinner and then have english tea with Jon at the Curve. But well, Gigi was rather busy that day and couldn't make it thus we decided to go for drinks somewhere else to celebrate Jon's birthday.
Yeah, I made a promise to celebrate birthday with him on his actual birthday mar. So yes… phone is ringing non stop since we were late and well… as usual.. where to meet… where to wait… yada yada yada.
We finally arrived at Friendster at around 10-ish to find out that they have a function and only will be open to public at around 10.45pm. Me and gigi then decided to go dine somewhere while waiting for Jon and his friends finish up dinner at the Curve. Yeap… he had dinner with few of his friends. Like I say.. we were suppose to join.. but…. sigh… I failed to capture some pics again
But well…. Jon arrived and we head straight to friendster after dinner. Yes a weird name for a cafe as it has similar name to the online friends networking site. The place was rather quiet but I would say the service is rather poor considering the amount of money we are paying. I mean… I am not fussy but… I asked if you have any cakes for sale… and they say no. But when we walk in they have cakes on the fridge and when ask… they say it's for sale. Ah… so pathethic.
Well…. we all hang out lepak… and have our drinks. Hehe.. since it was Jon's birthday… we decided to make him the happiest man! Hahaha… big big birthday kiss for him
. Gigi left a lipstick mark on Jon's face and Jon isn't allowed to rub it off until he reaches home. Haha… lucky you Jon!
The slice of cake that we order finally came. Well.. it was supposed to have some writing saying "Happy Burpday Jon" However by the time it reaches our table… it is all smeared up and we can hardly see anything.. just patches and patches of chocolate syrup.
It was a fun day. Yeah.. first time hanging out with Shawn (besides meeting him at Jon's Christmas Party). Didn't know he actually like to take photos as well. Yeah.. sama sama gang!
HAPPY BIRTHDAY JON. opppss… oh yeah I forgot… this is a belated post. Hahaha…