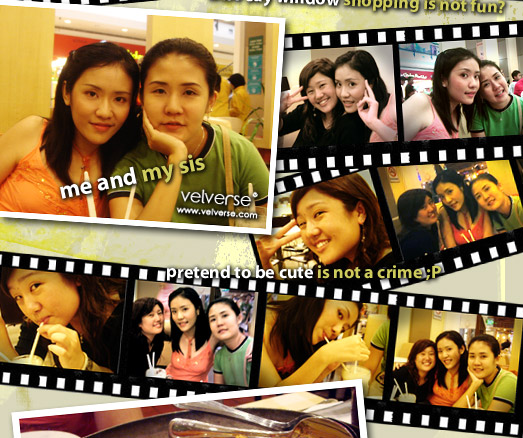 Backdated post. Actual event took place on 14 October 2006.
We head to Alamanda for a little walk after stopping by my sister's new place. Yeah, we need to go somewhere nearby to KLIA and yet shopping is available to kill some time. My sister sugested Alamanda since she hasn't been there before. It was a great place. It isn't exactly a huge mall. I think it's almost like… let's see… KLCC, probably a little bigger. Not very sure about the size but well.. that is just what I felt.
We walk around… do some window shopping… mess around in people's shop, secretly take some pictures without the owner's knowledge. Haha… It's pretty much fun and well… a good way to kill time without spending much money 😀
We then decide to get a drink. A&W is the best choice since Nicole say it's hard to find Rootbeer over there. Ah… yes.. double scoop ice-cream for my float please. I wish they could have more. 😀 Like half mug is ice cream while the other half is rootbeer. Of course taking picture is a norm… since in like less than 3 hours more my great cousin is going to leave to Australia.
Of course the day just didn't stop there… we went on walking… walking and walking.. when we decided to eat before sending Nicole off. The sad part, we forgot it was buka puasa time and we really have a hard time finding places to eat as it wall all packed or fully booked.
We ended up at Manhattan Fish Market. No doubt the service was poor but well, at least they are not fully booked. We ordered a Seafood Platter, Garlic Butter Mussels and some salad to share around. Right, the food came like god know how many hours later. Haha… we had to rush them like gazillion times. Well… I didn't want my cute cousin to miss her plane 🙂
As for the food… Hemmm…. I never actually have any problem with the food. I seriously love Manhattan Fish Market. It's way better compare to Fish & Co. Well… just my personal opinion. Anyone wanna go dine with me? Hehehe… yummie~
We then make our way to the airport. No kidding… It was an interesting journey as the signboards was seriously confusing. A few times we almost took the wrong turn, but well… at least we manage to send Nicole to the airport in one piece… and on time. 😉
Address:
Alamanda Putrajaya Shopping Centre
Jalan Alamanda Precinct 1
62000 Putrajaya
Wilayah Persekutuan
Malaysia
Telephone: 03. 8888 8882
Fax: 03. 8888 5299
URL: http://www.alamanda.com.my/
A&W Restaurant
LG05 Lower Ground
Alamanda Putrajaya Shopping Centre
URL: http://www.awrestaurants.com/
Manhattan Fish Market
G83 Ground Floor
Alamanda Putrajaya Shopping Centre
URL: http://www.manhattanfishmarket.com/