Backdated post. Actual event took place on 18 April 2006.
It wasn't such a good thing. I guess it's the first time after 9 months of working in my current company that it rained during lunch time and we weren't able to leave to building. Thus, we will have to eat later, which will be very late since we went down around 1-ish or eat at the hotel. Right! My office is located in a hotel building. Yes I know it sounds weird but well, it isn't that weird after all.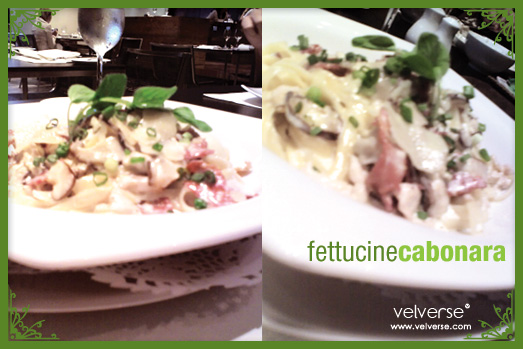 We decided to dine at Maya Brasserie. It's a nice place, Well at least I like the black marble walls with the bamboo touch. Best of all big mirror to make it look bigger and not to mention, girls always love mirrors.
We all ordered ala carte. I ordered Fettucine cabonara as I have such cravings for italian food. Hehe…. It was alright however I think the sauce was rather thick which makes me feel full very quickly, but I must say, they really put in loads of ingrediants like bacon, mushroom and chicken. Ah… so full.
Loh ordered this Chicken with Sweet Potato. I know… well, it sounds a little weird. I mean the combination. I think it seems weird as I dunno… I never really try this sorta thing but the presentation does look interesting. A cylinder shaped deep fried sweet potato topped with grilled chicken. There were loads of vege and mushroom covering the chicken. I almost felt like swapping food with him!
Ah.. yes, the most expensive lunch (to date) in my new company!
Maya Brasserie at Hotel Maya
Address:
138, Jalan Ampang,
50450 Kuala Lumpur,
Malaysia
email: info@hotelmaya.com.my
Reservations: +60 3 2711 8866
Hotel Fax: +60 3 2711 9966
Reservation Fax: +60 3 2711 2277