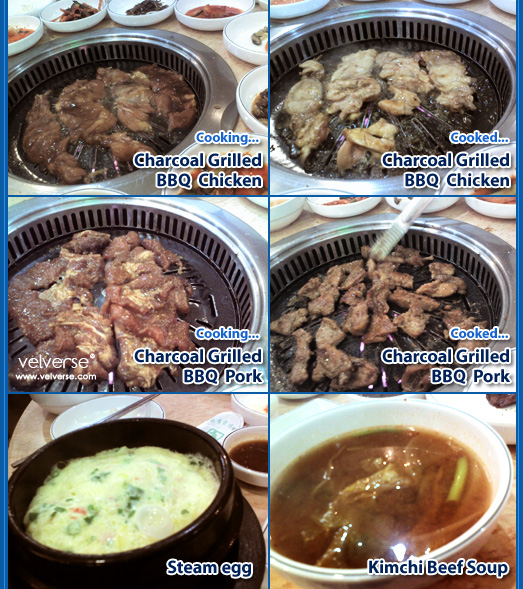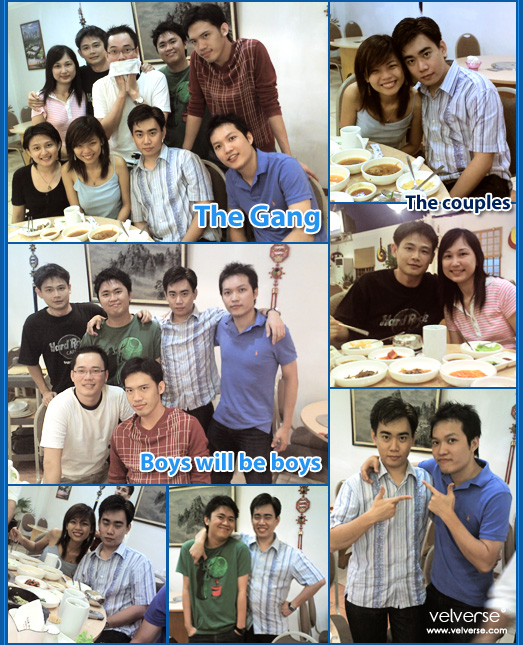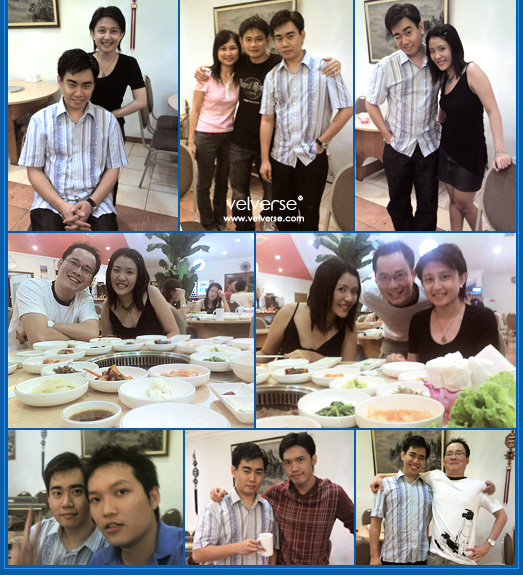 Backdated post. Actual event took place on 16 April 2006.
Time of the month to celebrate some birthdays. Hehe… Yeah…. I just love to celebrate birthdays. Thinking of the new places I will be exposed to.. and not to mention the good food and the good company I am going to get while dining. I believe in order to taste the best food in life, besides good recommendation, there is a lot of factors that determine it.
For instances, good companion… I won't like to dine with someone who eats two piece and say they are full or on diet. I dun like people keep telling me.. this is fattening and lecture me on calories while eating. Good ambience… it's not like I don't eat at the roadside stalls and all… I do but then again… there is alot of factor that define the ambience… for instances I dun like rats and roaches as company. Quality food… I dislike eating expensive and food that I felt people who only knows how to cook maggie can do better than that. Last but not least, the mood to eat. Well, I always like to someone to tell me earlier on some outing to eat coz I have this habit of having an idea of what I can create the mood to eat. Yes, if I don't have the mood to eat, I just can't eat… but when I do… I can eat like mad. Yah… people that sees me eat plates and plates and plates… hahaha.. you know what I mean!
Back to the topic again (yeah, I am good at diverting stories)… it's Wai Khiong's birthday and this time around, we celebrated it at a Nak Won Korean Restaurant located at Desa Sri Hartamas. It's located at some quite quiet place which I have no idea actually any stalls were located there. Well.. the shop is located behind Soda Disco. Yah… in order to park and enter the place, you will have to drive in to the car park located next to Soda.
Well… forgive me for not taking any front shots of the shop as we were late for the party. Hahaha… yup, I can conveniently blame it on Jerry as he comes and pick me up late! Yeay~ Well, I guess he is not really in the mood that day as his girlfriend could not make it to the dinner. But well… when we arrive, every arrived and guess what… food is served! Talk about the right timing!
Jessy is the organizer for this time birthday dinner. She ordered loads of stuff. We have so much people that we break in to 2 tables. Our table manage to have Charcoal Grilled BBQ beef while Wai Khiong's table have the lamb as most of the people there doesn't take beef. The beef was superb. It was tender and the meat absorbs the marinate sauce so well. We have Charcoal Grilled BBQ chicken and Charcoal Grilled BBQ pork as well. Yeah… food was simply fantastic. Everyone simply just can't have enough of it. But well… like I say, I still prefer the beef to the other meats which well.. I normally prefer pork!
The loads of small plates of appertizers makes me go crazy
! Every one of it tasted so different yet delicious. The best part, it's refillable. We refilled and refilled almost like everything. And eat and eat and eat and munch and munch. I can't tell you how much I love the kimchi's and the spinach with sesame seed! Ah…. I want more and more and more!
Besides that, Jessy also ordered the Steam Egg. It was somehow unique. It tasted a little like Chawan-mushi. The texture and the filling is almost the same except this one tasted a little lighter. Hehe… not many guys on the table likes this stuff. They say it tasted weird and they are not used to steamed eggs.
Everyone of us have our own bowl of Kimchi Beef Soup. I think it is a complimentary dish. It tasted fantastic and I must say… it is the main highlight of the day! Yes… nothing on the table can beat the taste of this soup. The beef taste with the spicy yet a little soury taste. Ah… I simply just love it. I wish they serve extra 3 bowls per pax.
They even end the occasion with some traditional Korean dessert. I have no idea what it was… they say it was some rice water. Well, it actually looked and tasted like barley to me. No idea, there isn't anything I can investigate with as it's purely water and has nothing inside for me to look around at.
Well.. some might like it… some might not. For sure Jerry didn't enjoy his meal as he was complaining all the way. Well, he's the type that must have proper meal like rice… and rice kind of person. I don't know, He doesn't fancy steamboat, he doesn't fancy grilling or BBQ stuff, he doesn't really fancy buffet. Hahaha.. don't ask me what he likes. I guess he would love Chinese food, since he love to eat rice. Haha…
Well… since the night is still early, we then went for second round right behind the restaurant. We went to have drinks at Coffee Bean (right next to Breakers). Yeah… more pictures next post!
NAK WON KOREAN RESTAURANT
Address:
Lot 48672, Hartamas Square,
Jalan 23/70A,
Desa Sri Hartamas, KL
Tel: 03-6201 3004/016-225 9800.
Business Hrs: Daily (11am-11pm).