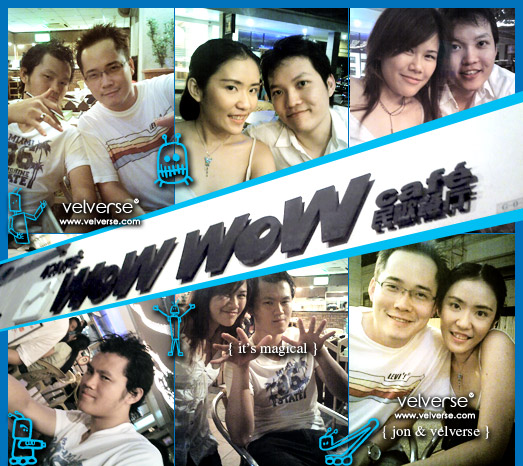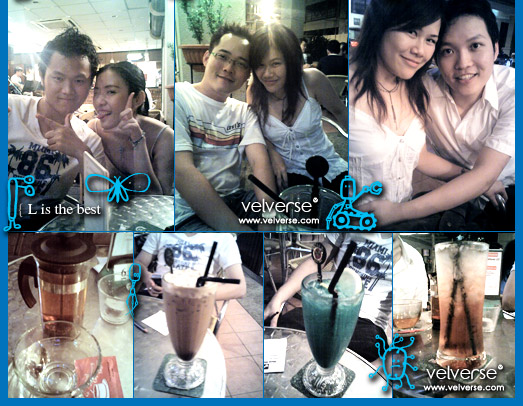 Backdated post. Actual event took place on 9 September 2006.
From Souled Out.. we venture to Wow Wow Cafe at Plaza Damas. Jon suggested the place as he think it is a nice place where everyone can just sit down with a decent drink and just hang out. Like most of the chinese style cafe, this one have people performing singing lots of chinese songs and of course you could make song dedications.
We all sat down and enjoyed some of the tunes… but of course some were not up to my expectations. But it's okay. We then place our orders.. Italian Soda Berry (RM10.90) for me, Ice Hazelnut Mocha (RM10.90) for Jon, Jess Blue (RM10.90) for Winson while Gigi and Brian share a pot of Earl Grey (RM8.90) and some Potato Wedges (RM4.50).
While sitting down relaxing and chit chatting, Gigi suddenly took out something she won while buying a drink at Souled Out. Haha… a kiddie arm float. We then ask her to blow it up and pose with it which was cute and funny. It got everyone at our table laughing. And amazingly we even took short video's where everyone is require to do 3 different facial expressions.
Haha… lots of laughter and talking when we notice the night is not young anymore. Talk about getting old 😀