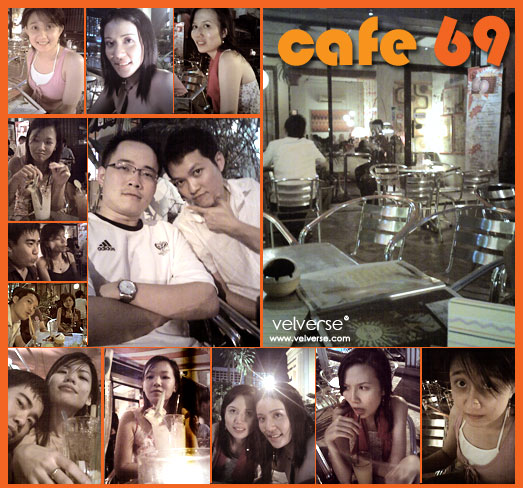 Backdated post. Actual event took place on 27 May 2006.
The night is still young when we finish our Mongolian food. *double burpz* Jerry and his girlfriend need to leave early for the KL International Motor Show. But before he left, he suggested that we go to this cafe named Cafe 69. It was a cool cafe. According to recommendations, this cafe is famous for it's retro and cool interior design.
Right… my picture only feature the outside part, which practically looks like any other cafe. But the inside is a little different. It has this retro look. Every little section have a different design to it. Quite cozy and comfortable. Too bad it was rather packed and not catered for big groups like us, so we are left with sitting outside option.
According to sources, this place is also famous for tarrot card reading. Right, normally it would be a packed place. But yeah, they didn't have that on that day. Jon finally manage to join us. He supposedly join us for dinner but was caught in this massive jam. So he ordered some snacks to eat. Everyone of us just ordered drinks.
Well, I just can't keep track of what everyone ordered as the table is sorta long and well… my mind was rather occupied with thoughts.
I can surely say their food is creative and cool. I think how they decorate and cook the Tau Fu Pok is simply amazing. They took of the inside part of the tau fu pok and cut it to a tulip like shape. They then fried it. Served with salad where you stuff inside the tau fu pok. Wow… perfect combo. The crispy skin and cold and cooling filling. Just the best type of snack I would wanna have after a heavy dinner.
Cafe 69 was located behind Berjaya Times Square (most people call it Time Walk). It's one of those old houses that has now been converted to commercial shoplots. It's quite a quiet and peaceful place. Food were reasonably priced. Would surely go a few times more, this time.. I'll cover the details 😀
Address:
Sixty Nine Bistro
4 Jln Kampung Dollah (off Jln Pudu, just behind TimeSquare-KL)
Telephone: 03. 2144 3369
Business hours: Open daily. (Monday – Friday) noon – 1:30am, (Saturday and Sunday) 2pm-1:30am.
Horoscope and tarot card readings: 4:30pm-1:30am