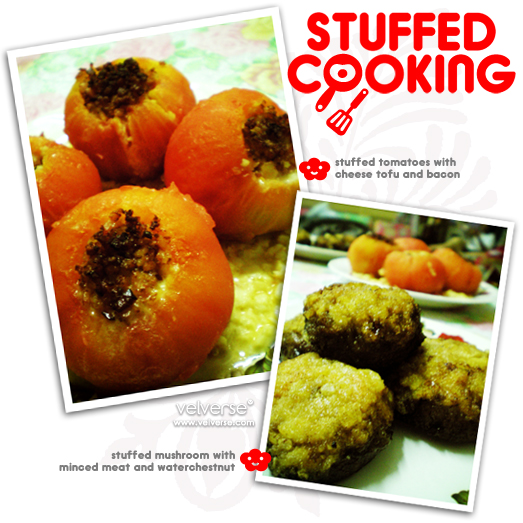 It's been really long since I mess the kitchen! Guess my mum will say thank god. Cause the cleaning up process takes longer hours than preparing the food! *LOL* 😀
Well, in my opinion… I think cooking is not as hard as it seems. I think it's way easier than cleaning up! Haha… which is ironically, me and my mum can partner very well… cause she prefer cleaning to cooking!
So, one fine weekend… I decided to cook for my parents! Which seriously shocked them, since I never cook for quite some time 🙂 . The Stuffed Tomatoes with Cheese Tofu and Bacon was new recipe which I adapt and alter from some chinese cook show! I thought it tasted ok only. Hemm… added too much water which affects the reduction! And I think this dish screams "more cheese please!!"
Mmm… as for the Stuffed Mushroom, well that was easy-peasy and I guess it's been done by gazillion people! So… yahoo!!! Mum say it was perfect! Ok ok… I made that up. She said it was yummy. Dad was speechless. He say not complaining means it taste good.