Food.. glorious food. Eating has been a big part of what everyone including the very me do. We eat whether we felt like it or not. To me.. eating is something fun to do. People say eating can release stress and tension. Best of all it can make one happier.
The truth is, it actually depends on what you eat. Some makes people felt terrible, or worst.
Ikea is the right place to go if we wanted to eat something Swedish and something fast! Best option, actually the only option I know of when I felt like eating Swedish food.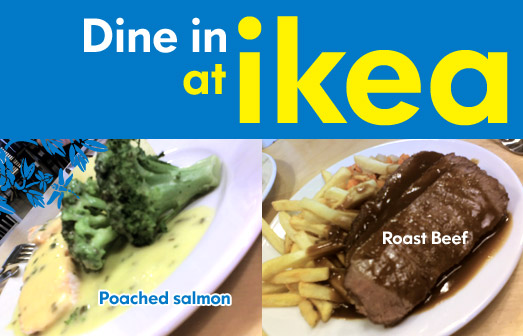 I always loved their Swedish meatball with extra sauce and cranberry sauce. I never actually like cranberry sauce. Not that I don't like cranberry sauce, just I think it felt strange and wrong when eating main course with some sweet sauce mixed together. Then again, someone taught me how and tell me why cranberry sauce is important in the dish. I am grateful for that someone and I must say is a lesson well learnt and it surely taste good.
This time along I decided to order seomthing different besides meatball. No sweat, I have a hard time battling meatballs as I kept wanting to order them until I saw this big sign on the board "Chef's recommendation". There is always no harm in trying what other people recommend. So yes, roast beef it is for me.
I somehow felt the overall presentation for the dish is cool. The 3 big slices of beef, the french fries sticking out here and there and the diced onions, celery and carrots were just superb. Right.. carrots and beef.. they were like couples, unseperable and obviously they both were meant to be. The sad part I must say, the beef was rather cold which make some people not eat it because they are affraid of the taste and smell of it. Hemm.. maybe next time I could ask them to give me some cranberry sauce? 😀
My sis have poached salmon. Well… I didn't get to taste what she had as she was rather hungry. Hehe… right.. the whole salmon for herself. Yeah, accompanied by steamed brocoli and boiled potatoes. Everything seems okay except the fact that the yellow sauce disturbs me. I don't know… the look of it scares me and to be honest with.. I think it doesn't go well with green… especially brocoli.