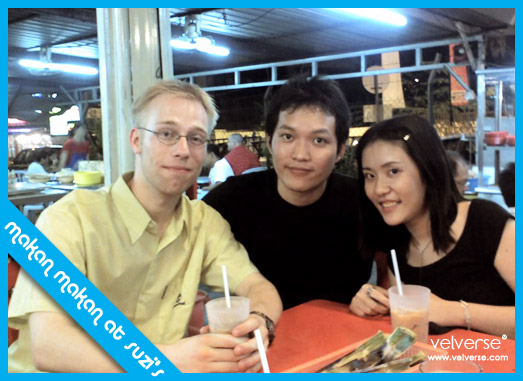 Backdated post. Actual event took place on 07 May 2006.
There is always time for Suzi! It's a great place and I am not bored of going there over and over again.. eating the same food over and over again… posting the same old pictures of the food. I won't say it's the best ever place to eat but well… it's good enough to make me want more and come back.
This time around, I am bringing first-timers. Right… first time for Brian, Jon and their friend Andrew. Hehe… Andrew is an intern working in Jon's place. He is actually from Canada, so yeah… I must bring him try out local food.
Wooo.. the otak otak was good! It was marvelous. I wanted more.. more and more… all for myself. Too bad the stall don't open regularly. Haha… the stall open as they wished I guess. So yeah.. I was pretty lucky. The claypot nasi briyani ayam is cool. Each cook individually in a claypot taste simply cool. It comes with some curry and indian style coslaw. I somehow prefer the claypot nasi briyani kambing more. Hehe.. more spicy
The satay was the another I won't miss out food here. I think it was good. So good that nothing was left on the table. Nothing I must say. Everything was being whacked up.
After finish eating.. we sat down, chit chat a little about cultures in canada and over here in malaysia. It was fun at times listening to Andrew's story. The juciest part, he told us he was one of the cowboys in the restaurant/bar in Brokeback Mountain. No kidding! I still hasn't watch the movie yet or else I will surely print screen that particular scene and show you guys. So yes… how interesting, I ate dinner with some star! *blink blink*
Location:
Suzi corner is located at the intersection of Jalan Ampang and Jalan Hulu Kelang (it's nearby Flamingo and Ampang City).