The knight of shining amour. Ah… often related to handsome dudes, shining amours, big shields and heavy swords. I watch lots of this sorta movie when I was a kid. When they all looked just so handsome and brave. So manly you cannot resist to fall in love and live happily ever after. Worst is when it's a ever white horse that will never turn brown even with all the dust and mud around.
Brian and his mighty knightsheep. Ah… felt like the roman type of knight but from the shield somehow look a little swiss. But anyhow… a brave knight that fights for everything and anything. Probably for it's lovely maidensheep. Go knightsheep! Save the world from the evil and destruction.
I love my nike knight. Potrayed as a brave chess piece, nike knight will stop at nothing at all. Stand guard protecting the king (which obviously is not in the picture). Haha… and obviously I had a backup black knight. yes everybody, one for all and all for one!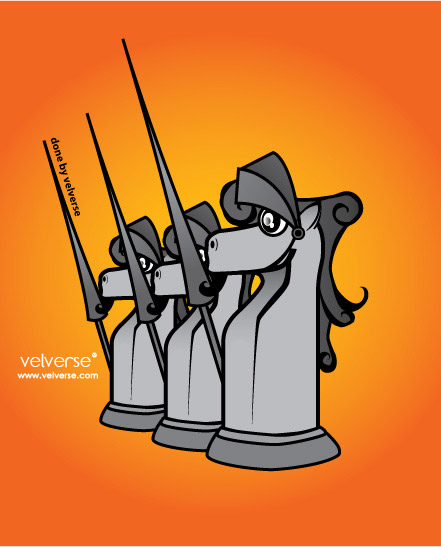 What is up next week?
Project theme: Gangster Project description: Theme needs no translations as everyone should be very familiar with the word and issues we see everyday in newspaper.

Project deadline: 27 September 2006, Wednesday.Submit to: mandy@velverse.com
Anyone and everyone is welcome to join. Be it good or bad… it's just something we do for fun! Generate some cool ideas and well.. surely fill up some of our boring times 😀
Click on the banner go link to the project crossroad gallery.