You bet, I am still wondering how they could just do amazing things like turn newspaper to money. Make stuffs disappear and appear in others pocket. I was always amazed.. until my mum spoils it for me. My mum will always tell me, if they can change newspaper to money that easily, they won't have to perform and earn money. Which is true and make sense. But well, one just can't help but to wonder! So this week, it's all about the magic, the little white rabbit, the doves, the sexy assistant and obviously the magician.
LB return from his long long trip and has manage to throw his brand new iPod nano away for 5 minutes and drew this. The White Rabbit is all set to rule the magic land. Woo… looking at the sexy almost naked assistant. Er… eh LB, can take away the hands ar? *opss I did it again~~~*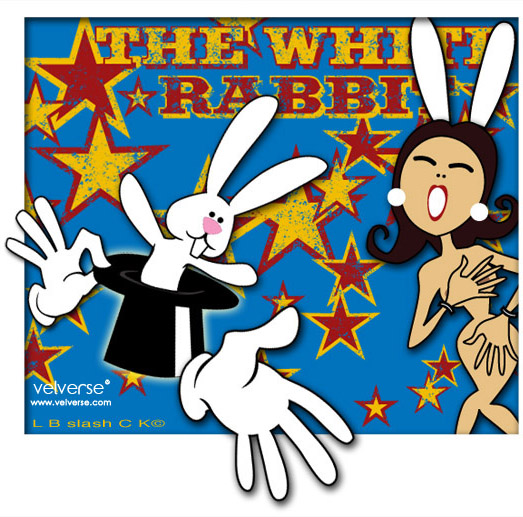 Okay, even Brian make it to the podium finish by submitting his magic-sheep. Well, looks more like a wizard than magician.. I would say it does look magical, hypnotizing and colourful. Makes me wanna go get a big lollipop and just slurp it all the way. Very different approach, really very colourful. Haha.. first time ever I see the sheep with colourful eyes. Like the gameboy says "Level Up"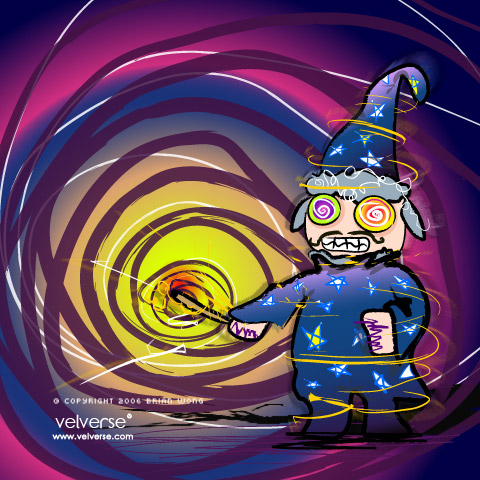 My version of magician is rather cute one with the beanie's bottom. Hehe.. I always love this beanies thing. Yeah… mine was with 2 cute little rabbit hiding in the hat. Ermmm.. nope, no sexy assistant as I am never good at drawing curvy body. So in the meantime, you all can just drool at LB's drawing.
What is up next week?
Project theme: Joker
Project description: Ah… pretty much self-explain theme. Erm, in case one wonder, they can always check the deck of playing cards, or even watch Batman.

Project deadline: 11 October 2006, Wednesday.Submit to: mandy@velverse.com
Anyone and everyone is welcome to join. Be it good or bad… it's just something we do for fun! Generate some cool ideas and well.. surely fill up some of our boring times 😀
Click on the banner go link to the project crossroad gallery.