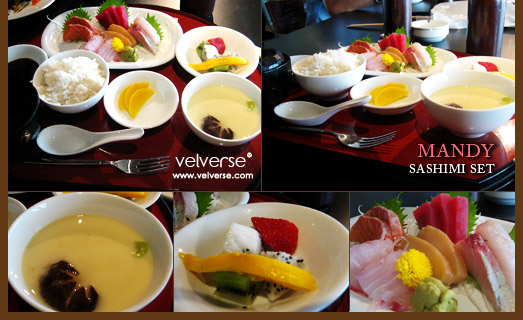 Backdated post. Actual event took place on 26 June 2006.
Yet another company lunch. So much fun, so much food… *burp*. Haha, it is Zul's birthday. So yes, we jump right downstairs and had lunch. This time around, we decided to go another place at the hotel. We dine at Still Waters.
Still Waters provides a contemporary dining experience with strong Japanese presence known as 'Sosaku' cuisine, which means creative cooking. Yup there is a lot of fusion thing going on around this place. The exotic Japanese cuisine is fused with European and Asian flavours.
I like the surrounding with lots of japanese sake bottle. The calligraphy on the bottle looks beautiful and colourful. The ambience is so beautiful with ropes and lighting. Looks so nice. Too bad Adrian have to meet a client and can't make it to join us.
Prem ordered the Grilled Lamb. It looks good with this fusion taste to it. It has got this japanese sauce with the western feel. Loh ordered the Chicken Terriyaki which have a very good presentation. I didn't try what he had as my food arrived and.. yeay.. so many things to eat, don't know where to start first.
Mine, azli and zul's was the set lunch. Woo… What can I say.. it's really filling. Yummie.. waiting to celebrate the next person in the office's birthday.
Still Waters at Hotel Maya
Address:
138, Jalan Ampang,
50450 Kuala Lumpur,
Malaysia
email: info@hotelmaya.com.my
Reservations: +60 3 2711 8866
Hotel Fax: +60 3 2711 9966
Reservation Fax: +60 3 2711 2277