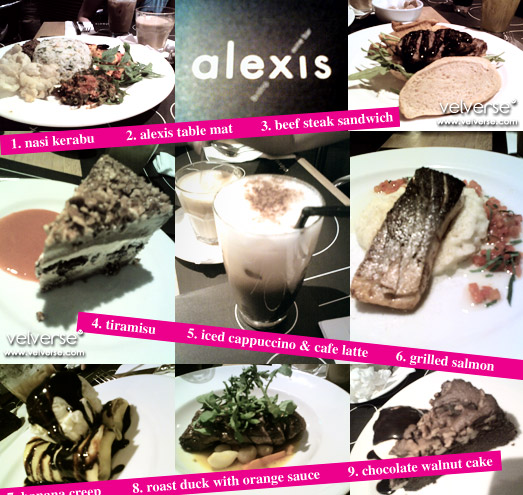 Backdated post. Actual event took place on 21 August 2006.
Ah… after a fun trip to Thailand… I finally see Jimbo again… er… after 2 days. Haha… Gigi and Brian decided to dine and chit chat a little with Jimbo before he heads back to Aussie. The location… ah none other than the Alexis Bistro at Bangsar.
Why? Let's see… Jimbo likes kacang and Gigi says Alexis serves the best tiramisu. Why? Coz it's coated with honey gazed nuts on the outer layer of the tiramisu. This makes it crunchier and simply the best. Well.. I did try it out before. Haha.. talking about it.. it was a funny story. It is rumoured that eating tiramisu will give you this sort of first love feeling. Hehe… best huh? Not exectly for me (read more).
Food was amazing. Er… true to the core.. the food served here is better than the Great Eastern Mall branch. Even the cake isn't falling apart when it reaches the table.
Name it.. we have almost all the different type of meat on the table. Beef, chicken, fish, duck, prawns… ah.. lots and lots of variety. Not to mention the different different type of cakes and pastries. I went for something more western since I think I had overdose of asian food for the last few days.
It was fun. Loads and loads of food.. we were busy talking about the trip… it's amazing. Burp… jom makan lagi!
Address:
Alexis Bistro
No. 29 Jalan Telawi 3,
Bangsar Baru, Kuala Lumpur,
Malaysia
Telephone: 03. 2284 2880