Ah… my backdated post jump back to action. Yup… pretend time stopped in June. Yeah… whereby Nicole is still in town. She woke up to a shopping spree day at The Curve. Whereby we decided to bring Nicole to shop at the flee market, and of course celebrate Father's Day with my dad.
Since we decided to go for western food for dinner, I choose to have lunch at Kim Gary. The tea here never fails me. And I must say, I always love how they serve some of their specialty drinks in cute jar like mugs.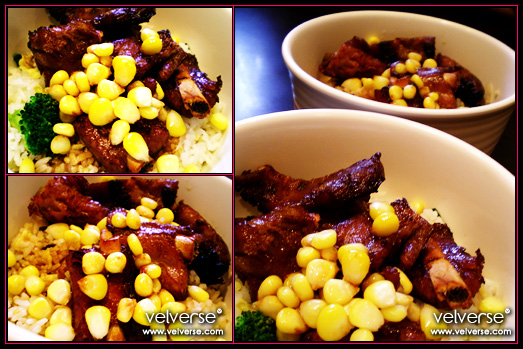 I guess my parents both know what each other is thinking. They never really discussed what they want. They seems to order something different but end up they look and taste pretty similar except for the fact one have brocolli and one has none. My dad ordered the Honey Baked Spare Rib while my mum ordered the Shanghai Style Honey Spare Rib with Vegetables. So yes… make a note.. Shanghai or not Shanghai style… they are actually the same thing.
As for me… I crave for beef. I want beef… MORE BEEF! So yes… I go for the Baked Rice with Slice Beef in Twin Sauce. Yup, I hated to make choice between the finest. So, nothing better than 2 in 1 rite? *burp*
Nicole ordered what everyone agrees to be… Kim Gary's specialty. Their Baked Pork Chop Rice with Cheese. It's really very tasty. Er… okay… filling and cheesy too. Then again… it's always addictive especially when it's served hot.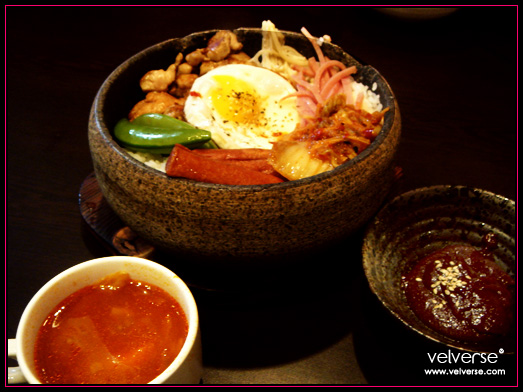 This is pretty much new in Kim Gary. Breaking the tradition of serving Hong Kong Style dishes, they now introdue this Korean Style Dish. I don't really remember what this dish is called but well, it's on a seperate menu. Hence, one can really tell. It's really our local version of Bibimbap.
Note: It's a set lunch thing and it comes with soup (cup) and a drink.
Nicole dive herself to more food. French Toast it is. I can say… Kim Gary really do serve one of the best French Tost in town. Somehow, I seems to find that the branch in Sungei Wang seems to server better French Toast than this branch. Ooo… butter…. peanut butter….. HOOOOOOOoooNey~ *drool*
Address:
Kim Gary Restaurant
140, 1st Floor,
No.6 Jalan PJU 7/3, Mutiara Damansara,
47810 Petaling Jaya,
Selangor, Malaysia.