Day02 – 21st June 2007
Has it ever cross your mind that you tend to sleep less when you are on a holiday? I felt so. My dark circles worsen. I always thought I could rest more during the holidays. I wanted to… yet, I didn't want to waste time and wanted to cover more areas or places of visit.
I force myself to wake up at 7.00 am. I seriously have not wake up in such early hours for… as far as I can remember. Probably my working hours have been pampering me too much. After spending our half day lepaking around Khao San Road (yesterday night), we decided to do the tourist thing.
Upon waking up, we went on and doing our girly things and then head down for our complimentary breakfast. Yeah, my stomach is making noise the moment I step out from my hotel room. Upon reaching the breakfast place, many people is already there… mostly foreigners.
They serve lots of stuff. Many many different type of bread served with different type of jams and butter, pork sausages (yes, only pork), ham, scramble eggs, salad bar, congee with many different type of pickles, cornflakes and cereals with milk, soya bean with "yau char kwai"… and the list goes on.
My favourite would still be the limited but tasty thai food. I still remember how I go goo-goo-ga-ga over their thai food the previous time I stayed here.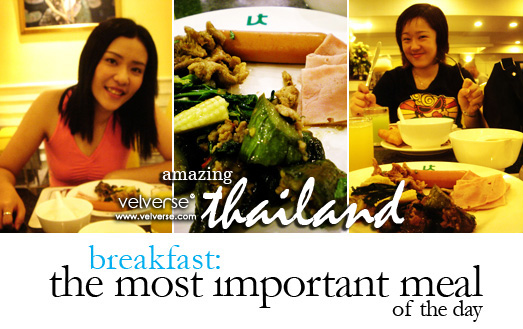 Right after breakfast, I took out my bangkok map while Nicole busy reading her guidebook… and we both started our journey. Like a normal tourist, we walk and walk and walk while busy looking around. Everything seems so new and fascinating. Until now I still can't figure out why.
I could still remember, we were looking around figuring our way and where should we head towards next. We stop at this crossroad junction when suddenly a woman who claims that she is a college student greeted us. Noticing our "I think we are lost" face, she offered help. I felt really happy. I mean, when you are in cofusion of where to go and someone seems to just pop out from no where, so generous to help. She took our map, and showed us where we are. Then ask us where are we heading towards. I just said we are walking around trying to find our way to the nearest tourist spot.
She then start asking me and Nicole to go places that claims to be the "OPEN FOR ONE DAY ONLY" temples. Yes, she repeatedly asked us to go visit the Lucky Buddha, the Black Buddha and some other form of Buddha statues. That very moment remind me back of the incident which happens to me and Jiimbo on my previous trip (click here to read). I should have seen it coming. Yes, I have been noticing her outfit and her LV bag just didn't fit the college profile. For those who don't know, I think all their college and university students wear uniforms. And I must say, their uniform… especially the girl's ones are extremely sexy. I seriously won't mind wearing uniform like that.
She then keep on repeating the fact that there are special promotion and "TODAY IS THE LAST DAY" one will get a special rate because the Thailand Tourism Board is trying to promote Bangkok to the tourist. I kept pulling Nicole away insisting that we shall travel by foot. And that there are many places we want to look around.
The lady then walk away. Me and Nicole continue to look at our map. After 5 minutes, she re-appear behind us and ask us how come we are still here and that we should just take her advice. Haha… seriously, the more she talk about it… the more scary and bad senario keeps passing through my mind. We both quickly cross the street and just continue walking. Serious, I felt keep on moving to god knows where is way more safe than just standing still trying to figure where we are suppose to go next.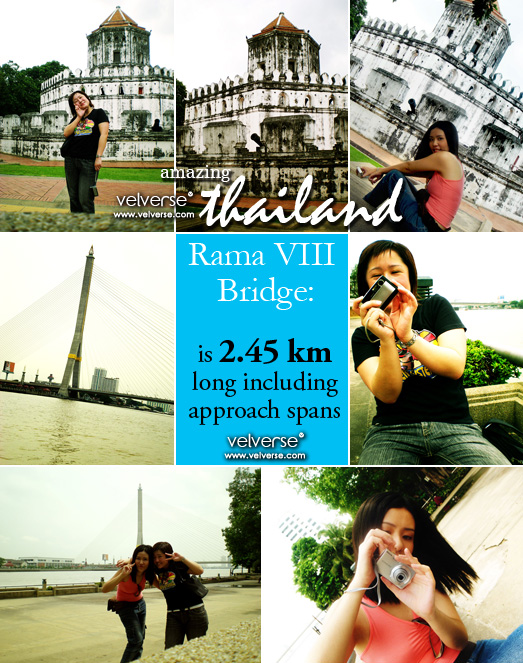 Ah… I finally found the familiar landmark. Yeah, I could see the Santichaiprakarn Park from far. I have been there on my previous trip (click here to read). I think it's really a lovely place to hang out. It's really quite a big place with a few sections.
Prasumen Fort/Phra Sumen Fort is the main attraction of Santichaiprakarn Park. Prasumen Fort is one of the two remaining fort in Rattanakosin Island (an area that demarcates the old city area of Bangkok) and is situated at the north-east corner of Rattanakosin Island.
Description about Phra Sumen Fort from the information board in front of the fort:
Phra Sumen Fort was built in the reign of King Rama I. It was made from bricks coated with cement in octagon-shaped. Its front sides faces towards Bang Lamphu Canal. The basements of the fort and the wall are made to be wide flattened bases and are situated 2 meters under the ground. The size from the northern side to the southern side is 45 metres wide. Its height from ground to the top of Bai Sema (battlements) is 10.50 metres, inside the fort. Also it has earthwork and a shelter that protects the ammunition.
The ground floor of the fort is divided into 2 parts by a wall which having Bai Sema of the sharp-point ede type, separating the ground floor's wall and the upper floor's wall. There is a door that opens to the front side of the fort, and there is another big angled Bai Sema at the staircase at the back. The wall also having Bai Sema with sharp-pointed shape, the lower parts are bored cavities of the curved shapre, there are 4 cavities in each side.
In the middle of the fort, there are 38 rooms for ammunition and weaponry storage. However, the 7 angle-shape battle tower and the roof were tumbled down during the reign of King Rama V and King Rama VII. In 1981 the Fine Arts Department renovated the fort by using old photos taken during the reign of King Rama V and registered it as a national monument in the year 1949.
Then, there is this big park  by the fort. You can see a lot of school kids around, some tourist is walking around taking pictures and some were plain sleeping on the grass, enjoying the bright and sunny day. As for me and Nicole, our best way of enjoying ourselves would be taking pictures and pose around.
One will see an empty concrete ground facing the waterfront. You can see lots of benches by the waterfront. Tourist can actually sit down and rest while looking at the breathtaking view. Yes, one is actually facing the Chao Phraya River. Looking further north-east of Chao Phraya River, one can actually see the Rama VIII Bridge.
The Rama VIII Bridge officially opened on 20th September 2002. The brige is 2.45km in length (including approach spans). The Rama VIII Bridge has become a new tourist attraction. 
 
The Santichaiprakarn Pavilion, a beautiful Thai-style pavilion is located at the middle of the park. A lot of cultural performances is being performed at this pavilion. And I must say, the view overlooking the waterfront is simply amazing.
Looking towards the south, we can actually see the Phra Pinklao Bridge. In recent years, a walkway along the waterfront is built. Tourist take a long walk along the waterfront heading towards the Pinklao Bridge. So you see, one couldn't ask for more. I'm just at the first stop and it seems like I have visited way many area.
On my previous trip, I took the waterfront walkway route. So, this time, I decided to walk along the main road to catch more exciting views.
Oh yeah, did I not mention, the moment I stop by in front of Santrichaiprakarn Park.. some "appears to be friendly" tuk tuk driver approach us.. trying to explain to me about the park and then tells me how boring and how there isn't any interesting place to visit around. Again, he insisted that me and Nicole to go visit the same few places. And the best part, he kept lowering his price to convince us to hop on the ride. Mmmmm… from then onwards. I am convinced, it is all a scam.

We walk and walk and walk. Little do I know, by choosing a different route… everything one see just changes. We then manage to walk towards the National Museum (view virtual tour) section along Na Phrathat Road. It really cross my mind that I wanted to go in and visit the museum. However, it really seems like a huge place.  And our travel schedule is really pack to the max. We hardly have time to slot in a short tour around the museum in our agenda.

Address:
Bangkok National Museum
Na Phrathat Road
Phra Borommaharatchawang Sub-District
Phra Nakhon District
Bangkok 10200
Telephone Number: (662) 224 1333
Fax: (662) 224 1404
Opening Hours:
Wednesday – Sunday: 9am – 4pm
Closed: Monday, Tuesday, Public Holidays
Website: http://www.thailandmuseum.com/thaimuseum_eng/bangkok/main.htm
We then continue to walk till we pass by a few university. Yeah, we are actually on our way to visit the Grand Palace. The funny part, along the way… everyone starts to ask you where you are going. Me and Nicole soon found out the trick… that is to stay quiet. Don't care and just walk straight.
For those who travel by foot. You will really know you are at some very famous tourist spot when there are many people around you trying to ask you where you are going and trying hard to divert you to some place else. Besides that, you will see many stalls selling drinks and of course some would walk around selling souvenirs.


We know the Grand Palace is just around the corner, cause one can really see the golden colour shrines. But as we were walking… some young guy just walk pass us and tell us that if we are heading towards the Grand Palace, it's closed and will only open after 1.00pm because it's Buddha's Day and they need to pray.
Me and Nicole got shocked. Cause we really planned things out and we have many other places to go after that. The guy then ask us to go visit some other Buddha statues places (just like what the previous few people say). Then on, we knew there is something fishy and continue walking on. It's how great he pretend that he is just a university kid walking towards the university compound… he saw us and knew we are tourist and decided to give us a head's up.
The nightmare soon start. Everyone… everywhere would just keep asking u where you are going. Some would just shout or tell you it's close cause it's Buddha's Day or something along the line like it's close for prayers and only locals can enter.
It sounded a little weird cause according to Nicole's guidebook and what I read over the Internet, the place should be open. So yes, after a tired walking day, we decided to just grab a bottle of water (10 baht), drink up and then continue.
We didn't want to be hassled by more people so we decided to find some quiet place. We spot this park/field like place called Sanam Luang. It seems to be a quiet place… and best of all, there are some benches where we can sit down, look at our map and guidebook.
Sanam Luang is actually an open field right in front of the Grand Palace and Wat Phra Kaew. This place used to be the official royal cremation ground (Thung Phra Mane). It is a place to cremate the kings, queens and princes since King Rama I. The area is actually around 30 acres and the last cremation that took place at Sanam Luang was for the Queen Grandmother in 1997.
King Rama IV changed the name Thung Phra Mane to Thung Sanam Luang in 1855. The name was then shorten and is now known as Sanam Luang. The Fine Arts Department has listed Sanam Luang as a historical place in 1977.
Oh yeah, if you plan to walk around, sit down and relax on the bench… please make sure you are not afraid of birds. I don't mean one or two.. I mean a big group of them. If you are walking along the place, it's really fine.
But once you sit down, some lady with come up to you and force you to hold a bag of bird food. Even when you refuse to take it, she will just leave it on the bench next to you. And the next thing they would do… is to throw bird food right in front of you. So yes, all the birds from all around will be flying and fighting right in front of you.
And yes, I am totally afraid of animals. And now that I can't go anywhere… I seems to be stucked. Haha… okay, Nicole is afraid of the birds too. Having no choice, Nicole took the bag of bird food and threw it far away so the birds would go far far away. Needless to say, everyone knows what happen next.
The lady came back and asked Nicole for money (20 baht if not mistaken). So yes, we did pay her off cause at the end of the day, we really just want to sit down and just continue on with what we were doing. Yup, Nicole is pissed off. The only way to cheer her up? TAKE PICS!!!
More exciting stuff… more exciting places… next…