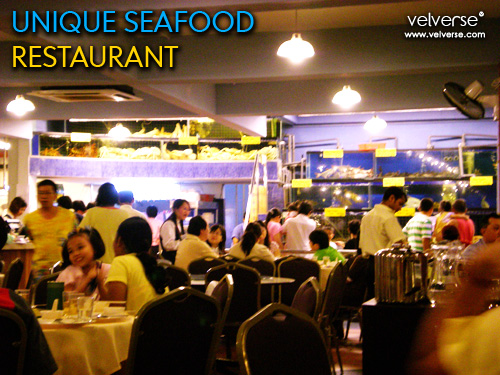 There was this one day, when I had this sudden cravings for seafood. I was out watching movies and shopping with a friend in KLCC. But when ask me what I want for dinner… all I could think of is seafood. Crabs seems to just jump out from nowhere.
I just gotta have crabs!!! That's the exact word I told Winson. He just laugh. Then the thinking hard session comes. Seriously… I don't know how I could not even think of Unique Seafood Restaurant since it is like so near to my place.
I pass by the place quite many times and always said I wanna try it… and I finally did.
It's a norm for restaurants to serve you peanuts when you first sat down. Yeah… something to munch or chew on while waiting for our dishes to arrive. But at Unique Seafood Restaurant, they serve Meat Floss (RM2.50). I was seriously addicted to munching this stuff 😉
We ordered the Fried Rice Indonesia Style (RM12.00 – small) to go along with our dishes. It tasted a little different from the fried rice I normally have. It's a little spicy compared to the normal fried rice. I love how they are being so generous with the amount of seafood in the fried rice. But the killer would be the stir fried dried chilli and dried shrimps topping.
Ah… I am dying for Mantis Prawn (RM130 per kg). It's really been some time since I ate mantis prawn, hence we ordered the Salt & Pepper Mantis Prawn (RM78 for 600gram). We don't really know how to gage how much to order. So I practically entrusted this task to the captain. I sorta like this dish. Salt and Pepper could never go wrong. But I think it would be better if the garlic are a little more crisy. Slurp slurp… Oh yeah, did I mention the size of the Mantis Prawn… hemmm… is almost as big as a lobster. Okay okay… probably a little smaller.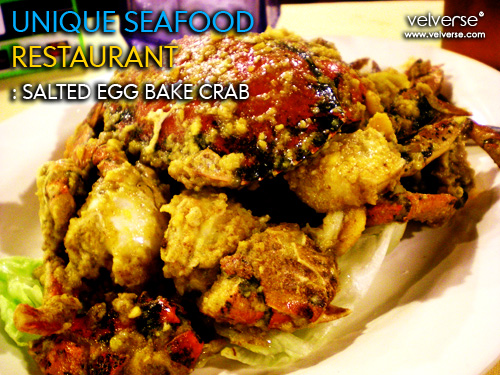 Yeah… what I have been dying for! Salted Egg Bake Crab (RM35 per kg). Yes! Yes! Yes! It tasted just perfect. Generous amount of salted egg… the amount of sauce is just right. Every part of the crab is covered with the salted egg. Best of all… you can really see a lot of big salted egg yolk chunks. Woo… just lovely. The crab meat is so fresh and juicy. Now I felt like drooling.
It is a little pricey. But hey, what can I say… they serve good food. It's okay to pamper yourself once in a while :). Er… I know I pamper myself way too much. But I work hard for it…
Yeah, I think I would bring my parents there when they drop by. Yummie~
Address:
Unique Seafood Restaurant
11, Jalan Perusahaan Kiri,
53200 Setapak,
Kuala Lumpur
Telephone Number: 03. 4022 0988