Rating:
Sweeney Todd: The Demon Barber of Fleet Street official site: http://www.sweeneytoddmovie.com/
A show that very much reminded me of Edward Scissorhands. I totally love the colours… the black and white feel, the gothic like mood… and best of all the singing part. It's really cool to see how they actually transform a broadway musical show to a movie. It's a nice movie with nice look and feel and everything, not to mention it is topped with one of the best actors in town. But the movie was somehow too draggy and got a little too boring in the middle. The script were a little weird and somehow a little lost. But I like the ending and the twist. It is a great show… but definately not the best of Johnny Depp.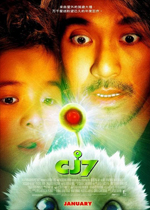 Rating:
CJ7 official site: http://www.sonypictures.net/movies/cj7/
What can I say… too high of an expectation and overly promoted. Or maybe I always think most Stephen Chow show should be funny. I have no idea… but I think this movie is too surface. It didn't go in depth in terms of character development, emotional development and it's script. Too movie wasted too much time on how the little boy imagine CJ7 would be. It's suppose to be a touching movie but it fails to nailed it cause the ending was rather rushed. It failed to be a super hilarious show… sigh… I can't really tell… but I can seriously say for the second time, Chow disappointed me .