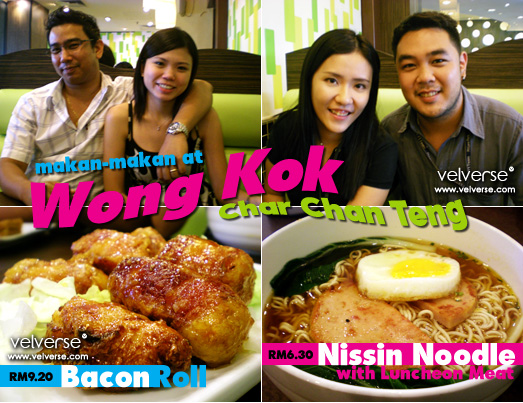 It was one of those Friday's that we all decided that we should relax and have a nice lunch. hence we drove to 1 Utama to have a long and relaxing lunch. Thinking of what to eat is really a hassle. Seriously, we complain when there isn't anything to eat. Then, we complain when there are too many options. Of course Hong Kong Restaurant is always our last resort, and so… we landed at Wong Kok Char Chan Teng.
I ordered the Bacon Roll (RM9.20) and a cup of Cold Yin Yeong (RM2.90). The bacon roll doesn't look exactly as yummy as potrait in the menu. Yeah, I know… I know, for illustration purposes only. As for the taste… hemmm… it wasn't that great. I think it's more of the fish paste and I can't really taste the bacon taste.
Maggie ordered the Imperial Soup Rice with Mushroom and Dried Oyster (RM9.30) and White Fungus and Guai Lin Gou (RM5.50). Looks kinda interesting. Something like porridge or more like rice with soup overload! Think I'm gonna give that a try someday.
Deon ordered Nissin Noodles with Luncheon Meat (RM6.30) and Cold Coconut Tea (RM4.20). Hehe… he loves Nissin Noodles. Yeah, most of the time when we go to any Hong Kong restaurant, he will order Nissin Noodles :). As for the Cold Coconut Tea, hemmm…. it tasted a little strange for my taste buds. But one can't really taste the Coconut taste. Hahaha… I guess that's what I mean by strange.
As for Ramesh, he just ordered French Toast (RM4.20) and Bubble Cold Milk Tea (RM4.80). I personally think the Kim Gary's French Toast taste better than the one served here. Yeah, this one tasted rather dry.
Address:
Wong Kok Char Chan Teng
Lot F225, 1st Floor,
1 Utama Shopping Centre,
Bandar Utama,
47800 Petaling Jaya, Selangor.
Telephone: 03. 7710 8611
Business Hours: 8.00am to 2.00am daily
Website: http://www.wongkokcharchanteng.com/