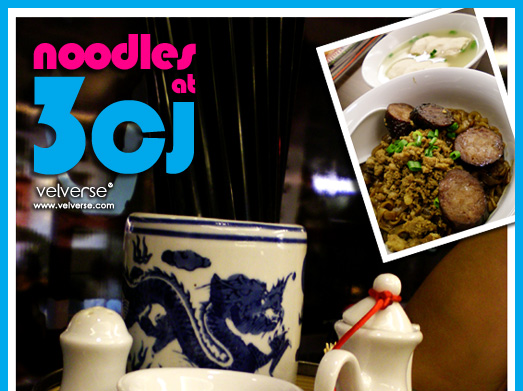 Restaurant 3JC, is a little restaurant hiding at a corner between the old wing and new wing of One Utama. It caught my attention because their name in many ways connects me with CJ7 (the most recent Stephen Chow movie), minus the cute little boy playing with it's alien toy.
We ordered a few different types of noodles but concluded that all their noodles are actually similar. We ordered 3JC in Dark Soya Sauce Handmade Noodles (RM7.90), 3JC in Dark Soya Sauce Kuey Teow Noodles (RM7.20) which comes with minced pork, spring onions, sausages and a row of 6 pork balls in soup.
I personally think the noodles were just okay, but I do credit the amount of meat in each bowl of noodles. It's definately worth every single cent.
We also ordered the 3JC in Curry Soup Handmade Noodles (RM9.50). The curry soup was thick and flavourful and comes with a lot of ingredients, tau fu pok, sausages and pork balls.
As for drinks, we had Cold Herbal Tea (RM2.20), Hot Coffee (RM2.30), Cold Coffee (RM2.80) and Cold Green Tea (RM2.00).
The verdict, nothing too fancy with standard pricing for most food outlet in shopping malls.
Address:
Restoran 3JC
F238, First Floor,
1 Lebuh Bandar Utama,
Bandar Utama City Centre, Bandar Utama,
47800 Petaling Jaya.
Tel: 03. 7727 4911
Website: http://www.3jc.com.my/