I was just complaining at my parents that they always bring me to the same place to eat in Seremban since I was young. It was always the pork innards porridge, pepper fish head noodles or pork satay… and I beg to have something different this time around.
A friend told me Seremban is famous for it's Baked Crabs… and so, my dad brought me to this place called Choy Kee Food Stall which was highly recomended by my dad's colleague. The place doesn't look that posh or proper… but like I always say, don't judge good food by the looks of the restaurant!
Since it was our first time there, we tried dishes that are recomended by the restaurant staff. The stew pork belly with white carrots was simply awesome. The pork belly is so tender and the carrots practically melts in the mouth! Ooo… and the sauce just goes so well with white rice. I seriously gives it a 2 thumbs up!
The steam fish with dried preserved vegetables was also awesome. The fish was so so so fresh, and this is my first time eating steam fish cooked in such way. The taste of the fish is simply refreshing and it was not too salty and the best part, without having ginger in the dish, I can't taste the fishy taste! I seriously praise the chef for throwing in a few cili padi which brings the whole steam fish to a whole new level!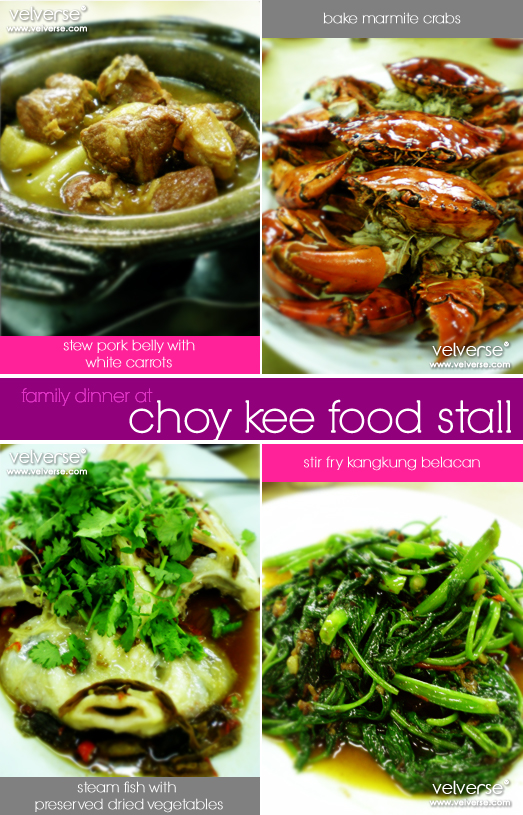 The stir fry kangkung belacan… how would I put it, I don't normally talk much about vegetables… cause there isn't much to talk about… but this was good. It was cooked to perfection. If there's something I should critique… probably it's a little too oily 🙂
The main dish has arrived! The bake marmite crabs are the signature dish in this restaurant. I find this quite good, probably cause most of the time… the crab dishes that I ordered are really strong in taste, for instances buttercream, salted egg or kam heong.
This bake marmite crabs has this light caramalized marmite taste and yet we can still taste the actual sweet and meaty crab taste itself. The crabs are so fresh… and forgetting to mention, the crabs are really huge! Super huge, which actually comes with a huge price tag (RM50 per kilo).
My stomach was so full by the time I finish everything, but it's definately worth gaining a few kilos. Before we left, I told my dad… "see, trying new places to eat.. is not such a bad idea."
Address:
Choy Kee Food Stall
Lot 3794 – 3795, Jalan Tuanku Munawir,
70000 Seremban, Negeri Sembilan D.K.
Telephone: 06. 7610 010