Ah…. My burp-day passes by a long time ago. In case you were wondering and partially complaining why I am still blogging and writing like as if anyone cares.. ermm I actually don't. You gotta stuck this small little fact in your mind. I'm blogging so that I can look back in the future what I've done, refresh my memories about the people, the food and the place I went to and met before. I don't blog to satisfy your up to date taste and reading needs. 
Okay, now the opening scene after the short drama. Hehe.. yeay, I got presents. Lots of them actually. I kinda like my birthday presents. Hehe… mum knows my taste. What can be better than cash. Buy what I want and what I need. Sis… hemmm she has been skipping away with my presents. Hahaha… yeah.. damn I was being conned last year… and this year too. But it's okay, she treats me to nice dinner.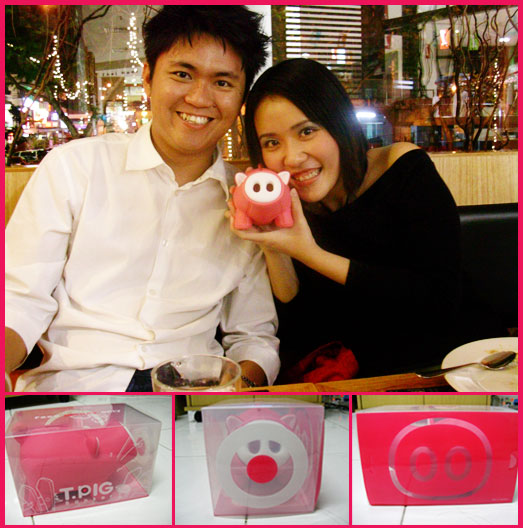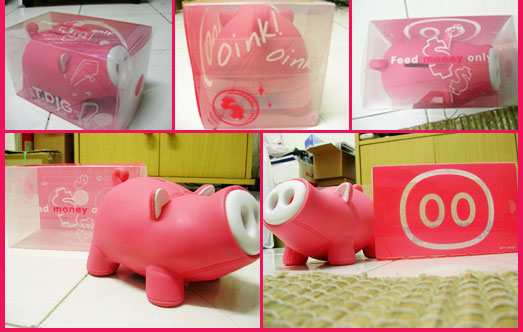 Hehe… my bro got me a big cute pink "T.pig Banker". Hahaha… it's just so sweet and neat. Yeah, I love pigs. I know, I am not the only one who loves pigs. Many and most girls do. I love pigs yet I eat them. I am cruel. Hehe… oh okay, back to the piggie bank. It's just so cute. I mean hahaha.. that's the first time I saw something this cute. *ya ya me just jump out from the forest*
Hahaha… the packaging was just so cool. On the top of the box it stated "Feed money only". Yup not much tender loving care needed. All I need to do is just feed it with money. The more the better I suppose. My bro Jerry has already fed the pig before he gave it to me. Yup RM12.11 inside. Yeah, it's suppose to be my birth date. *how sweet*
Hahaha.. there is this cute warning sign on the bottom of the box. "This product is NOT a toy and NOT recommended for children." At the pig's butt, there are cute warning signs which stated "Feed money only! Not recommended for food!" Hahaha… *PIG shall not kill PIG.*
You may buy as many pink T.pig as you want. You could hold your T.pig and look at my pics and say, "Hey, I have the same T.pig as yours." I bet you, you are wrong. Your T.pig shall and will never be the same as mine. Hehehe.. coz my T.pig got my bro's signature and famous character "AH KOK". Doubt you can find it anywhere. And if someday he does become famous.. then I'm rich! Haha~
I got another pressie from my lpc, Eunice. Hehe… what is lpc? Eh… you either know it or you don't. Not wasting the word counts to explain what that means. Hehe… I was shocked when I saw a nicely wrapped present with a golden ribbon. I seriously have a heavy heart to unwrap it, but the evil side of me can't stop wondering what's inside.
Aha.. I got the best of both world stuff right inside this box. Teddy bear and chocolates. The both thing I always liked. Hemmm.. what is even more special, It's a Birthday teddy bear. Yup… a different bear for ever day. So yeah, you are right 365 different bears. Okay Meiji, if I am not mistaken, I have seen this brand around before. Yeah quite famous Japanese snack food company. This teddy bear comes with marble chocolates. *Yum yum*
The teddy bear is rather flowery. Haha… maybe it is to hint how flower hearted I am. Hemm… yeah I guess it is. But it's purple… I love purple, velverse is purple. Hehe… such coincidence. Look, it's got the birthday tagged to the flower bear. Ah… all the present has my birth date on it. How sweet~
It's sad to hear that Eunice couldn't find her own birthday bear. Hemmm better luck next time.. Hehehe no worries, if I saw your birthday bear, I'll get one for you! *huggies*