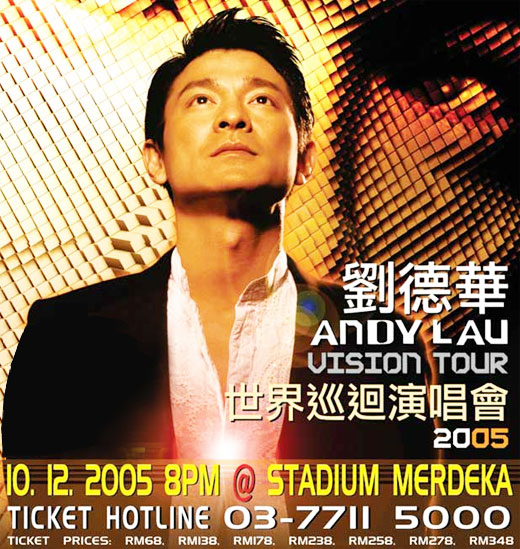 I can't wait anymore. Tomorrow seems so far away. But well I have waited long enough (since I bought the tickets in September)… I can make it through. It's just 30 hours and 26 minutes more from now.
It seems like raining.. and yes I am lazy to take the lrt today since I left home at 9am. I was on the cab and in that 15 minutes journey to my office, I heard tons and tons of ads for Andy's concert tomorrow. Yes! Andy kept saying "See you there tomorrow". I am really glad to hear that.. coz I will surely see him tomorrow.
It seems like he has put a lot of effort to make the stage. Yes that is what I heard in the radio. It took 200 people 2 weeks to finish up the stage. Well.. if i din listen wrongly.. I think it's about a few storey high. Not very sure… will see it tomorrow.
Ermm… nope nope.. I won't bring camera's with me. Yes! You don't get to see pictures of the concert. Ermmm why? Coz I dowan to risk being caught with camera and being thrown out. And well… I doubt my camera could even snap anything at that moment. Yes… I will be so excited and well… my hands will be shaking badly.. so don't waste my time. I wanna concentrate looking and listening to Andy. And lastly.. it's rainy season. I din want the poor camera to catch a cold.
Damn… I am just so excited and I guess I gotta let it all out! ANDY! ANDY! ANDY!